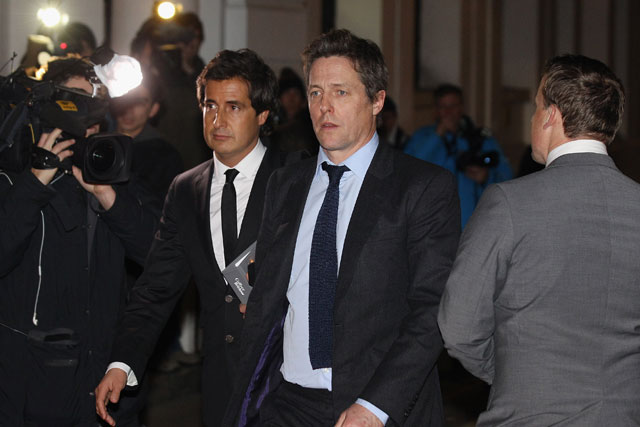 The Leveson inquiry is, for a certain type of journalist, a circus beyond their wildest (or, indeed, wettest) dreams. It's the opportunity of a lifetime - the sorts of people who don't often get to write about Sienna Miller and Hugh Grant can now do so without feeling even the teensiest bit guilty.
This is politics as showbiz (more so than normal, that is) and showbiz as politics, served up with a garnish of slightly surreal hysteria and lashings of the sorts of humbug that are inevitable when North London media types affect to be overcome by moral rectitude.
Last week, one newspaper commentator confessed on Twitter that the whole business was utterly exhausting her. And no wonder.
We all join in wishing her and similarly exhausted colleagues on rival titles a good long holiday when it's all finished - though she should probably be mindful that hit shows like this tend to run and run. Maybe she'll just have to make do with a quick dash to Mustique over Christmas.
One of the questions she and her exhausted colleagues might ponder while they're away, though, is whether there will be a newspaper industry to return to when they're fully restored to fighting fitness.
The medium entered a gloomy sort of place back in the summer when News of the World was closed following an advertiser boycott, a campaign by Guardian journalists having been amplified by social media into an ugly lynch mob.
But if that whole business seemed localised and specific (and there were those who argued that it was), we are, as the Leveson show goes from strength to strength, perhaps entering a stage where condemnation is increasingly likely to become rather more generic.
Commercially, the medium was already in a fragile state - and, of course, it has been struggling to forge a new commercial destiny for itself for the better part of a decade. It's perhaps not entirely ironic that the Leveson inquiry has coincided with one quality title all but admitting it has entered the endgame where its future as a print product is concerned.
So, at this stage, more than ever, the medium needs to be reassured that it can count on the continuing support of the advertising industry. How uneasy should publishers be? Are advertisers increasingly having second thoughts about running ads in a "tainted" environment?
Alison Brolls, the global head of marketing planning at Nokia, says that everyone should be supportive of the Leveson inquiry and its ultimate aims. She adds, though, that the longer-term challenge for the medium remains as it always has been (in living memory at least) - declining audiences. Individual advertisers will always take specific decisions on their merits, she adds; and she reckons Leveson revelations will inevitably be weighed in that balance. Yet, for all that, it shouldn't be forgotten that newspapers are a powerful advertising medium. She says: "For many advertisers, press media still presents a very viable and effective route to deliver targeted advertising to sizeable readerships."
Absolutely, Dominic Williams, the print director at Aegis Media, agrees - on the one hand, the medium has undeniably robust merits but, on the other hand, it's also true that assessments of the attractiveness (or otherwise) of an editorial environment are a concern.
And he adds: "Providing the editorial environment is not savagely offensive, we approach all titles on their individual merits. Circulations, readership, the editorial position and targeting are the core fundamentals. Some clients do have stern opinions about certain titles and their editorial content. We have to respect that. But we also challenge this stance, when appropriate. That is what we are expected to do."
Meanwhile, Steve Goodman, the managing director of print at Group M, says he has not heard of any increased client concerns. He states: "I'm not sure that there have been people starting to question the medium in general. In fact, you could argue that the very existence of Leveson reassures people that everyone on the publisher side has been tidying up their act."
And Vanessa Clifford, the head of press at Mindshare, concludes: "At the moment, as far as I am aware, clients have not been raising concerns about this - but it's something we'll continue to be mindful of as Leveson continues. Our feeling is that this isn't at the forefront of people's minds generally. The Leveson inquiry is clearly a good thing, but it's not as prevalent an issue in the wider world as it seems to be in the media - and especially in newspapers themselves."
MAYBE - Alison Brolls, global head of marketing planning, Nokia
"The Leveson inquiry may ultimately have an impact on decision-making by some advertisers to run campaigns in certain press titles. Each advertiser has to view the situation as it sees it."
NO - Dominic Williams, print director, Aegis Media
"Leveson is not great news for the press. Will it ever recover? Absolutely 100 per cent yes. The medium is too strong and remains one of the most trusted. To date, clients have not been having second thoughts."
NO - Steve Goodman, managing director, print, Group M
"We're not aware at this stage of any major concerns. Yes, clients had many concerns back in summer, but they were focused on specific issues surrounding News of the World."
NO - Vanessa Clifford, head of press, Mindshare
"I get the feeling that there's a lot less about Leveson on TV and radio than in newspapers, which is interesting. I don't think the inquiry tells people generally very much that they didn't already know. So it's not a question that tends to come up in client conversations."