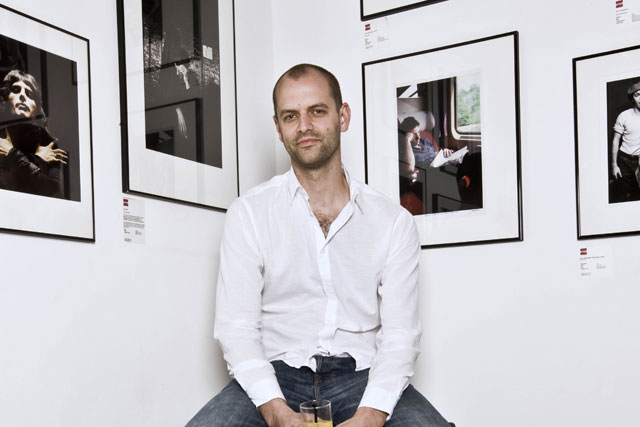 It has to be said: many in the advertising business (even those lucky few who have actually met him) don't quite know what to make of Mark Frith. And perhaps his problem, if that's the right word, is that he's just too pretty. He's gorgeous and he knows it.
Colleagues may talk about how knowing and ironic and smart he is really - but that's not the way he used to come across when he was a fixture on TV, and it's not the message that comes through loud and clear from that famous picture taken by Sarah Lee (it's the first in line on Google images) for a newspaper profile a few years back.
The one with the big fur-and-shearling collar thing going on - the one that pitches him in that space between pop star and matinee idol.
So when people in the ad business hear all that stuff about him being the most talented magazine editor of his generation, they file it alongside their understanding that Katie Price is a talented author or that Matt Cardle is a superb singer.
Frith has, in short, become all tangled up in the values of the celebrity culture he helped to define while the editor of Heat between 2000 and 2008.
He's a star name by any reckoning - and, of course, the industry is more than a little curious to see what impact (not least in circulation terms) he's going to have when he returns to Bauer Media as the editorial director of the group's lifestyle titles come January.
But more than anything, emotionally, agencies (both creative and media) can't wait to find out if he intends to engage with them. Because he did a little bit of that while he was at Time Out - and they liked what they saw.
Frith (born, according to his Wikipedia entry, in Sheffield in 1970) had been something of a prodigy at Emap when, within a couple of years of joining the magazine, and aged just 23, he became the editor of Smash Hits.
And having helped very successfully to reinvent the title, he left to edit Sky magazine and then Heat, which, at the turn of the century, was languishing in the relative obscurity of a 65,000 sale.
By the time he left, a couple of months after Emap's consumer properties had been swallowed up by Bauer, Heat's circulation was almost 600,000.
He next pitched up at Time Out, which he edited for more than two years, stepping down in the summer. Apparently, he made a point of coming to agency presentations - and did a fantastic job in reinforcing the title's commercial proposition. "He's actually pretty charismatic," one normally hard-headed source, who had expected to be underwhelmed, says.
There are, as always, one or two cynics around. The sort of cynics who argue he's likely to be the sort of editorial director who'll spend 60 per cent mucking about on The Graham Norton Show; 35 per cent kicking around ideas in "brainstorming" sessions with his editors; and 4 per cent helping to take an evangelical message to the advertising industry - leaving a little bit of wiggle room to fill out his expenses.
And there are those who point out that, actually, he faces rather a thankless task. He left Heat at exactly the right moment, they argue. The consumer magazine medium has been on the slide ever since - and there are one or two very fragile properties in Bauer's lifestyle portfolio, which includes FHM, Q, Heat, Grazia, Closer, Empire, More, Zoo, Yours and Top Sante.
"Yes, it's a very different market these days," Eve Samuel-Camps, the head of press at UM London, says.
"But he has an incredible track record and the company (as it has evolved from Emap into Bauer Media) has a good heritage of creativity. I think he'll help reinforce that heritage."
Frith also faces a rather testing digital challenge. Bauer has been good at developing its print brands into multi-platform properties: Heat, for instance, is available in several digital formats, including Heat Radio, which you can access via DAB and online.
However, there are those who argue that Bauer hasn't quite got its commercial strategy right where digital is concerned; and (more pertinently for Frith) some of the products could do with some judicious tweaking too.
We'll soon see, of course. But there's no doubting the buzz this appointment has already created.
Paul Keenan, the chief executive of Bauer Media, reminds us that Bauer has also just appointed Abby Carvosso to the new position of managing director of lifestyle and advertising - and, clearly, she'll take a lead role in continuing the group's relationship with the advertising community.
But he also points out that Frith's role is absolutely new - and that, as well as raising the group's editorial game, he'll be expected to provide leadership at a more strategic level. It's this aspect of the job that might take him into interesting forms of dialogue with agencies.
For example, he'll be expected to develop a mutual understanding about how consumer habits are changing, not just from an editorial perspective but from an ad industry perspective too.
And Keenan adds: "I don't think people appreciate what an innovative editor Mark is. What he did on Smash Hits was brilliant and, of course, he did it again with Heat. He is a rare talent."
Clearly, he expects Frith to provide some uplift in raw circulation terms - but he also argues that the longer-term game is about how multi-platform brands perform in terms of market share (and the demographic quality of that market share) against specific target audiences.
For many in media agencies, though, expectations are slightly more straightforward. Sarah Tsirkas, a group head at Initiative, agrees that, with the market in its current state, Frith faces some big challenges ahead; but she adds that his appointment "sends a powerful message to the marketplace".
And Claudine Collins, the head of investment at MediaCom, concludes: "Very simply, I have always been impressed with Frith and his editorial vision for the magazines he has worked on - so, yes, I would expect him to make a difference in circulation terms."