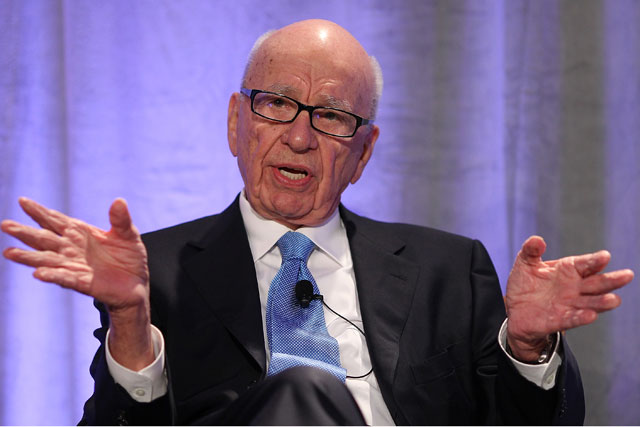 Last week, as the media world mulled over News Corporation's announcement that it was splitting itself into two new companies, there was a widespread feeling that this represented a terrible defeat for Rupert Murdoch.
The Financial Times, in its pursuit of a somewhat elaborate metaphor, portrayed him not only as a magician (one who had now run out of tricks) but also as the magician's assistant, about to be sawn in half. Or sort of - the Financial Times was arguing that he was about to have his heart (newspapers) detached from his head (audiovisual entertainment).
While Murdoch is to chair both parts of his newly divided empire, he will remain the chief executive only of the entertainment division. Another chief executive will be sought for the news assets, including, of course, News International in the UK.
Many commentators agree with the Financial Times on this - the move is likely to involve a terrible emotional wrench. Murdoch is, by instinct, a newspaperman. But the entertainment side of News Corp has better prospects - and he is nothing if not hard-headed. So the restructure could have profound implications for the group's UK assets. They've been managed by some very able people down the years - and that will doubtless continue; but Murdoch's strategic vision has played an important part in keeping the news brands on course.
The first question that sprung to mind following the news was whether this puts a BSkyB bid back on the agenda. Early indications suggest not. But then Murdoch would say that, wouldn't he? To extend the Financial Times analogy even further, the whole point of sawing a body in half on stage is not to draw real blood, but rather to draw gasps from the more impressionable members of an audience. It's an old trick, but it's a good one.
But, yes, Murdoch has suggested that his focus for growth and investment will now unambiguously be the US. However, Mark Craze, the UK group chief executive of Havas Media, argues that, as long as the UK assets are still under Murdoch's wing, he'll continue to exert a huge influence.
He says: "The special interest Murdoch has taken over the years in the UK newspapers he owns has made them what they are - among our most important media assets and a central part of our culture. You have to applaud that. And, like all great managers, he drives the company and has an amazing grasp of detail."
Meanwhile, Derek Morris, the chief operating officer of VivaKi UK, points out that there are no implications here from a cross-platform trading point of view - because News Corp has (despite all the talk) never really developed that side of things.
He explains: "When it comes to advertising inventory, the two sides of News Corp are very separate. In spite of many fanfares heralding change, they have never really cracked integrated selling. What was a good idea on paper seemed to founder on the rock of two separate sets of profit-and-loss responsibilities."
The heart of the matter, though, according to Colin Gottlieb, the chief executive of Omnicom Media Group EMEA, is that all news brands (not just Murdoch's) continue to face a fundamental challenge - how to monetise content and audiences in the digital domain. This restructure doesn't make that challenge go away.
So, in that respect, he suspects there won't be much appreciable difference in the short-to-medium term. He adds: "In fact, there could be liberating aspects to a structural separation if it provides a different focus for the newspaper brands. The challenge for the sector is to change people's behaviour and to realise the value of content. I think we'll see some interesting ideas emerging over the next couple of years - and the successor company to News Corp has to be central to that."
Yes, Phil Georgiadis, the chairman of Walker Media, agrees - and, actually, he would frame the proposition in more robust terms. "I have huge respect for what Rupert Murdoch has done over the years, but I think there has been an unhealthy obsession internally at News International with keeping Rupert happy," he concludes. "If you run a business as an autocracy, you disempower creativity within it. People don't ask themselves 'what is the customer going to buy?'; they ask 'what's Rupert going to buy?'. So it's probably a good time for News International to be looked at with a fresh pair of eyes. It might be liberating."
NO - MARK CRAZE, UK GROUP CHIEF EXECUTIVE, HAVAS MEDIA
"I would argue that, even if he has a different job title, he's not going to change overnight. He's still going to be very hands-on. In that respect, there might be very little difference."
NO - DEREK MORRIS, CHIEF OPERATING OFFICER, VIVAKI UK
"From an advertising point of view, the news and entertainment sides of the company have always been separate so, as far as the media market is concerned, this will be a 'small earthquake in Chile, no British dead'."
NO - COLIN GOTTLIEB, CHIEF EXECUTIVE, OMNICOM MEDIA GROUP EMEA
"What's important now is for management to continue to focus on monetising digital content and audiences. Dividing the company may enable that. If it allows strong management to come through, that has to be a good thing."
MAYBE - PHIL GEORGIADIS, CHAIRMAN, WALKER MEDIA
"Managers might start making stark assessments of the news brands when they're viewed outside the broader News Corp fold but, on the other hand, it might be liberating."