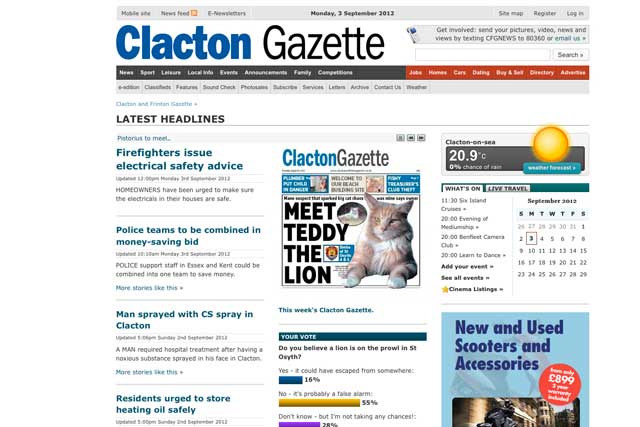 Last week's "Essex lion" story could be read not only as a prime example of silly-season fun, but a case study in the serious issues faced by regional media.
News of the missing lion cascaded across social networks, affording national press and digital news channels information to cover the story in close detail. While the local Clacton & Frinton Gazette (owned by Newsquest) also followed the story, it was hard to see what value the local news sites, let alone their sister print titles, could bring to the party when national sources were breaking the news that the "lion" was most likely a pet cat called Teddy Bear.
Against this changing backdrop, the news emanating from regional news organisations in recent times has been less than encouraging. Wobbles in revenues at Johnston Press and Trinity Mirror's regional division were followed last week by more bad news on the print circulation front. Major evening titles such as the Manchester Evening News (down 13.2 per cent year on year), Nottingham Evening Post (down 13.3 per cent) and Yorkshire Evening Post (down 7.4 per cent) all lost circulation in the first six months of 2012. Morning titles didn't fare much better. Circulation of the Birmingham Mail fell 10.5 per cent, for instance.
Yet there were signs of hope on the horizon. On the online front, many regional titles showed double-digit growth in readership.
Johnston Press' aggregated web users rose 29.3 per cent year on year to 560,721. Earlier this year, its chief executive, Ashley Highfield, stated that it plans to derive 50 per cent of its revenue from digital by the turn of the decade.
Trinity Mirror's websites grew daily readers by 14.9 per cent year on year, Northcliffe Media's rose 6.3 per cent and Newsquest's 9.4 per cent. Yet, with paywalls still at an early stage, it's a model that's largely dependent on advertising. Would brands back online editions of local papers to the degree that they have supported print?
Robert Ray, a media communications consultant and the former marketing director of the Newspaper Society, says: "Over the past 12 or 18 months, there has been a real push from senior management to future-proof the business, but the key thing is to ensure that content is fit for purpose online. Without trusted, strong editorial, newspaper groups won't have an audience. The increases in online readership are testament to local media's place at the heart of a community."
Neil Jones, the group commercial and marketing director at Johnston Press, would echo that. He says: "It is still early days, but we are really encouraged by the latest Audit Bureau of Circulations figures. Our newspapers are getting much better at managing the editorial balance between print and digital content, and mobile-specific versions of our papers are showing increases. Revenue growth will be driven by bundling of our print and digital offering, particularly to local advertisers who make up the large proportion of our revenue base, and a focus on key vertical markets such as jobs and property."
However, John Prentice, the head of PHD's regional arm Space Station, argues that regional media will struggle to make up the revenue shortfall brought about by declining print circulation. "It is hard to see digital revenues catching up with the ongoing print decline, at least not in the next few years. The hole will only be plugged if print revenue decline slows," he says. "Digital revenues are at such a low base in comparison to print revenues that even relatively good year-on-year growth in online sales can't currently fill the smaller per cent decline in offline sales.
"It's not entirely bleak, however. I think it's fair to say that while a lot of publishers will fondly remember the £3 billion revenue and 30 per cent-plus profit margins circa 2004, no-one believes those days are coming back. The industry has adapted to a new world of lower revenues and smaller profit margins and remains profitable - albeit through cost-cutting and still saddled with debt."
Charlie Varley, the planning director at Carat Manchester, also believes newspaper groups are realistic about the new world they are inhabiting, but is broadly enthusiastic about the future: "From such a low online readership base, these things are relative, but against a backdrop of such difficult times, you would have to say bringing in online revenue is easier than print revenue. There are now lots of technical opportunities in terms of geo-targeting and, as the technology develops, we're seeing a lot of the publishers coming forward with good ideas."
YES - ROBERT RAY, CONSULTANT
"Local newspapers can leverage their premium values at local level, but there are opportunities for advertisers to tap in at a national level. There are now good examples of brands, especially retailers, using these opportunities."
YES - NEIL JONES, GROUP COMMERCIAL DIRECTOR, JOHNSTON PRESS
"We provide unique local content that consumers can't find on other sites, and we know this drives readership growth that local advertisers find attractive. Across the first six months of 2012, digital local display advertising revenue grew by 48 per cent."
NO - JOHN PRENTICE, HEAD, SPACE STATION
"Online local newspaper reach continues to grow. The issue publishers face is the difficulty in monetising this reach. They are trading in a different world to their paper products - a far cry from the semi-monopolies they often enjoy in print."
YES - CHARLIE VARLEY, PLANNING DIRECTOR, CARAT MANCHESTER
"We're seeing a change in client thinking - they're seeing opportunities on a broader canvas. Agencies and clients have grown up, so we're seeing revenue go in the right direction."