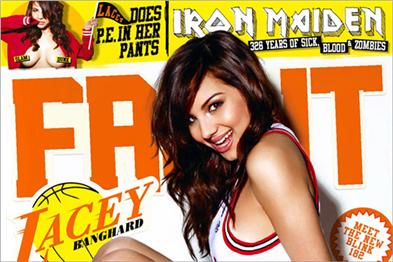 Mainstream media owners have always seemed comfortable drinking in the legendary "Last Chance Saloon". In their heads, it must feel like the sort of place where the bar staff are flirtatious and accommodating and the prices reasonable. Indeed, it probably feels like a Soho House for beautiful people - the sort of watering hole where, as in that Carlsberg ad, there are always cabs to be had outside.
For instance, in 1997, the nation, sickened by the behaviour of paparazzi, was agreed that, where privacy was concerned, it was time to call last orders. And yet here we are more than a decade later, with super-injunctions on one side and people being accused of hacking into Kate Middleton's bank account on the other. So, how the Bailey Report will be remembered in a decade's time is anyone's guess.
Commissioned by the Prime Minister, David Cameron, to investigate the commercialisation and sexualisation of childhood, it called on the media and ad industries to put their house in order - and if self-regulation doesn't work, then there's the threat of formal legislation to come.
The Teenage Magazine Arbitration Panel was set up in November 1996 to address just this sort of issue but the past decade has been peppered with instances of MPs or judges arguing that magazines aimed at mid-teen girls regularly overstep the mark. And that lads' mags became so offensive that retailers moved to reclassify them as top-shelf titles.
And many TV channels - especially those targeting youth audiences - see it as their duty to push the boundaries. For some, it's a central plank of the strategic business plan.
Last week, the ad industry was unanimous in welcoming the Bailey recommendations. But the issue isn't so much whether advertisers are ready to comply - because advertisers have a pretty good record, by and large, when it comes to self-regulation. The real issue might boil down to whether media owners are willing and able to keep their end of the bargain.
However, Ian Twinn, the director of public affairs at ISBA, says that, though there are complex issues in play here, we have to believe that everyone will be ready to play their part. But some recommendations will be easier to act on than others.
For instance, he states: "The assumption that the existing conception of the TV watershed is relevant to protecting children from accessing inappropriate content seems wrong. And much of the digital content is going to come from non-UK and non-European Union providers - which raises obvious questions about compliance and enforcement."
Hugh Cameron, PHD's chief strategy officer, is similarly concerned about that aspect of things and says it's by no means assured that our own media industry will grasp this chance to take a more positive role in shaping culture.
He adds: "Our hope must be that the majority will recognise that the Government - instinctively liberal, it seems - will impose uncharacteristic regulation if there is not widespread collective action. A time for media to reflect society and culture's widespread desires, and contribute to shaping it for the better."
Alex Altman, the chief executive of Initiative, agrees - but he's slightly more optimistic about the eventual outcome. He says he's confident about the ability of media owners to do the right thing. He adds: "I think everyone can see that the report reflects a significant cultural shift - and that it's in everyone's interests, not least from a business perspective, to respond to public concern in this area."
But many observers are worried that the international digital dimension will make a mockery of the good intentions of UK-based media owners. It's naive, they say, to suppose that the UK can hope to be the last refuge of innocence in a naughty world. And media owners are always arguing that they have to be given unfettered scope to compete on a global basis.
So online providers will surely view the report with cynicism.
Absolutely not, Nick Suckley, the managing partner at Agenda21, counters. He agrees that online media owners may find themselves breaching the protocol unwittingly - but good intentions shouldn't be a problem.
He says: "Media owners take a lot of syndicated editorial content and advertising from third parties - often without vetting it. So, in that sort of case, it would be difficult to apply editorial principles. But I don't think mainstream publishers will be tempted to ignore guidelines just because they are competing on the internet."
YES - IAN TWINN, DIRECTOR OF PUBLIC AFFAIRS, ISBA
"This is dangerous territory for politicians as well as for advertisers. Parents' concerns, we are told, must be listened to. But it is parents who buy the products and give children access to the media."
MAYBE - HUGH CAMERON, CHIEF STRATEGY OFFICER, PHD
"Creative minds will always seek to push the boundaries in pursuit of an audience and a story. Similarly, the curious minds we want to nurture will find, or stumble upon, things that are not appropriate."
YES - ALEX ALTMAN, CHIEF EXECUTIVE, INITIATIVE
"The greatest onus will be on TV - there's been an increase in pre-watershed material that could be deemed to be of concern. But people at media companies realise this and I don't see them getting this issue wrong."
YES - NICK SUCKLEY, MANAGING PARTNER, AGENDA21
"Internet companies are not above the law - and it was interesting in that respect to see Twitter play ball over the whole injunction thing. Most serious players will play by the rules - and will see this as an opportunity to enhance their status."
Got a view? E-mail us at campaign@haymarket.com