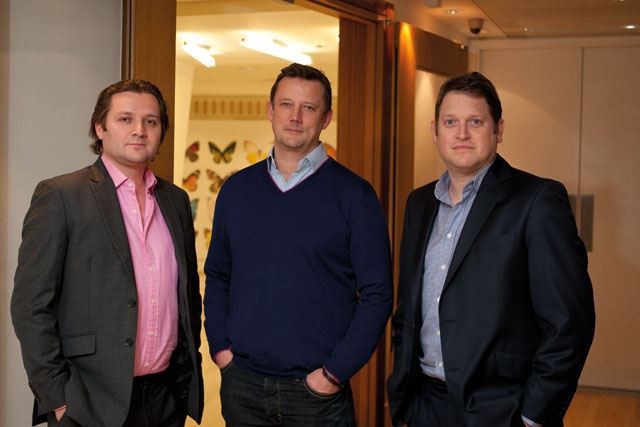 To some, the promotion of Joseph Petyan, James Whitehead and Russell Ramsey to executive partners at JWT London would seem to be the logical move for an agency that is so beholden to global business (particularly so, given that two of the triumvirate - Petyan and White-head - are account men by trade).
It could be argued that after several failed attempts at bringing in new blood to try to change perceptions of the agency (the most recent experiment being that of Guy Hayward as chief executive), it made sense to split the role among the remaining management team and carry on, business as usual.
Unsurprisingly, Petyan, Whitehead and Ramsey don't agree with the analysis, and this week's win of the Army recruitment business seems to confirm this. In fact, they see the change that was implemented in January after a five-month interregnum as akin to bringing a start-up management culture to an established agency. Whitehead argues: "If you look at a lot of the start-ups that have been really successful, they come in threes. We've had clients and staff already saying that it looks and feels like a start-up leadership team."
The three won't be drawn on how far they pushed Toby Hoare, JWT Europe's chairman and chief executive, to demand the top role be shared between them. But after the agency's head of planning, Tony Quinn, handed his notice in just weeks after Hayward, there's no doubt they had a strong hand to play. Indeed, when questioned on whether the three, who claim to bring a start-up culture, ever thought of doing this outside of JWT, they just laugh heartily and refuse to comment.
Ramsey seems the most unlikely member of the threesome - a downbeat Geordie, he contrasts with the public-school chumminess exuded by Petyan and Whitehead. He describes the process of their elevation as a natural one that simply reflected how the job had split. He says: "After Guy left, we started to run things and talked about what we wanted to do with the agency. It evolved there and it felt good and instinctive."
They also deny that it is some sort of fudge or compromise, but rather a modern solution to an age-old problem of succession management. Petyan comments: "The agency world is not bound by traditional construct any more. I think that we didn't put any rules down on how the leadership is going to get set up here."
And while it seems unusual for a large agency (particularly a WPP one) to be run apparently on the lines of some sort of Christian fellowship, the three do seem to have worked out a division of labour that services their wants and needs.
Petyan says: "When it comes to running the business, it's entirely equal - we're working together as a partnership and the numbers have to be delivered by the three of us, as does the work and the direction of the company."
It's a view shared by Whitehead: "I think we've got shared needs and views on where we want to take the agency. The period over the past six months has pulled us close together as a three. Because we've all come out of the business, we understand the business better than anyone. Our approach is very hands-on management."
This hints that the previous regime was less hands-on than the three desired. "I think that, by its nature, it was insular," Ramsey confirms - although, in fairness, JWT was in a process of build and acquisition, particularly in the digital, mobile and shopper marketing spaces. Whitehead adds: "The last couple of years have been about internal focus. We think that's now done - we've that offering in place."
This, he assures, will be revealed throughout the next 12 months: "We'll be revealing what's under the bushel."
New business, in particular, has historically been a concern - although, on top of the Army, JWT has made strides in winning business in the digital space - and the past year has seen it lose some of its juicier accounts, such as Rimmel, Dairylea and Baxters. Whitehead is typically measured in his assessment of its previous new-business efforts. "Potentially, there was a problem in converting new business in the past," is all he'll say.
However, the team has emerged on the front foot in 2012, having also picked up Royal Caribbean International's UK account in a pitch against VCCP Blue and Isobel, becoming its first UK agency in the process. Whitehead assures us that this momentum will continue.
While new business has been disappointing, Ramsey says that the agency's revenue growth actually ran at somewhere around 15 per cent last year, with additional money coming from areas outside of traditional advertising, such as branded content.
For many observers, this may seem surprising - JWT has long been seen as one of the more traditional ad agencies and little has been achieved in shifting these perceptions. It's something that is an obvious frustration to Ramsey, in particular - as is the reaction that its Male Cancer Awareness Campaign viral featuring Rhian Sugden is "not very JWT". "You're seen as the traditional one and that's baggage that we have to overcome," he says with mild irritation.
Nonetheless, along with a stronger showing on the new-business table, more evidence of the quality and diversity of output from the creative department (which is by no means broken) should help to shift these misconceptions.
And it's not something that appears to faze Ramsey: "People will say 'they said this, they said that'. People are going to be waiting to see where we are in six or nine months. The results will be there for people to make a judgment."
JWT'S MERRY-GO-ROUND
September 2008: JWT London's chief executive, Alison Burns, announces she is leaving to take the role of global client services director at the agency's New York office.
January 2009: Tom Vick and Joseph Petyan are promoted to joint managing directors to run the agency after Burns' departure.
November 2009: Guy Hayward, a co-founder of 180 Amsterdam, is drafted in as chief executive.
October 2010: Vick resigns without a job to go to. He later emerges as a partner at the headhunter Lighthouse Company.
November 2010: James Whitehead is promoted to joint managing director.
September 2011: Hayward quits to join BETC as its head of global development.
November 2011: JWT's head of planning, Tony Quinn, who has worked at the agency since June 2008, resigns to join Publicis London as its chief strategy officer.
January 2012: Petyan, Whitehead and Russell Ramsey, the executive creative director, take joint charge of the agency as executive partners.