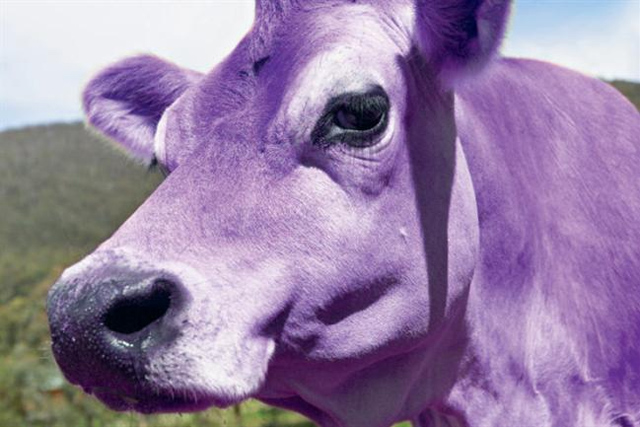 When I say remarkable, I mean it in the truest sense of the word: something that you are bothered enough about to physic­ally remark upon.
Seth Godin introduced the concept of a "purple cow" 10 years ago. He tells the story of driving for hours past fields of ordinary cows without noticing a single one, but when he passes a field containing a single purple cow it causes him to turn to his passenger and say "F*** me, did you see that purple cow?". The lesson, of course, is that every day we see thousands of advertising messages, but only occasionally do we really properly notice one – enough to mention it to someone.
Today, that lesson seems even more relevant. Consumers see more advertising messages in a day than ever before; it's rare that they see one that is interesting enough for them to comment upon, but, when they do, they have the opportunity to tell a lot of people about it very quickly through their social network. The magic is to make sure that not only is your message remarkable, but also that it is likely to convince more people to buy your brand. Sounds difficult, but in reality, I think it's pretty simple. In How Brands Grow, Byron Sharp describes the secret of brand growth as increasing brand penetration by reawakening "memory structures" in lapsed or non-buyers.
In other words, you will grow your brand if you convince non-buyers to give you a go by communicating, in a fresh and remarkable way, something that they already knew.
At Unilever, we have had great success by deploying this approach. The best example is probably Marmite. We produced a lovely ad last year, "Love it. Hate it. Just don't forget it", that brought the now-familiar proposition back to life. The work, which spoofed animal-rescue documentaries and featured Marmite Rescue Teams saving neglected jars of the spread from the backs of people's cupboards, generated a huge amount of social-media interest. As a result of the campaign, there was a nice step up in penetration and sales have grown by a healthy 14%.
But the best example of all in recent times has to be the most recent John Lewis Christmas campaign. A remarkable piece of film, it is wonderfully consistent with what the brand stands for, masterfully amplified across multiple channels, and has driven what seems like industry-leading levels of growth.
So the next time you worry that you are being a bit slow to latch on to "the next big thing", take the time to focus on your message. If it is truly remarkable and consistent with what your brand stands for, the rest should largely take care of itself.