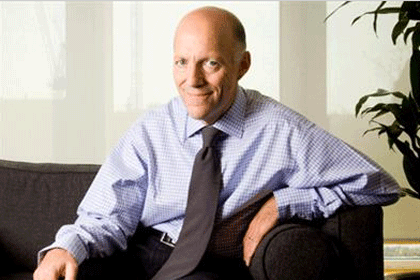 In his new role, Eccleshare will be charged with coordinating Clear Channel's assets globally and leveraging its scale, relationships and best practices to provide better advertising solutions for advertisers.

Eccleshare, who held senior international roles at Y&R and BBDO before joining Clear Channel, will also help global advertisers develop new marketing strategies using Clear Channel's new digital networks around the world.

Following the changes, Eccleshare will relocate from London to New York and Ron Cooper, currently chief executive of Clear Channel Outdoor's Americas division, will leave the company after helping Eccleshare with the transition.

Eccleshare said he will look to recruit a chief operating officer for the Americas to work alongside Jonathan Bevan, chief operating officer of Clear Channel International.
The change does not impact the running of Clear Channel UK, which will continue to be headed up by chief executive Matthew Dearden.
Following today's announcement Eccleshare told Media Week: "The new structure is designed to ensure we work more effectively together. We have gained a huge amount of learnings in terms of our US business. Equally, the US business has lots to learn in terms of marketing and how we present our business to our customers.

"We will keep the two divisions separate but there is no question that we have seen a missed opportunity by not working more closely together."

Prior to joining Clear Channel in 2009 Eccleshare was chairman and chief executive at the ad agency network BBDO from 2005. Before moving to BBDO Eccleshare was the European chairman and chief executive at Young & Rubicam.

In his early career, Eccleshare spent 18 years at JWT from 1978, where he progressed to become the network's worldwide director of strategic planning. He left JWT to take the chief executive of Ammirati Puris Lintas in 1996.

Eccleshare said although he expected Clear Channel Media Holdings' private equity owners Thomas H Lee Partners and Bain Capital to look to sell the business at some point, he did not expect them to do so earlier than the next three to five years.

"It would depend on a number of external factors including the economy and the market. These changes are about how best we run this business over the next five years," he said.

Eccleshare said the international division of Clear Channel Outdoor accounts for around 55% of revenues and the Americas division taking up the remainder 45% but the Americas division is more profitable due to geographical synergies.

Eccleshare's promotion follows the arrival of MTV founder Bob Pittman as executive chairman of Clear Channel Outdoor Holdings and chief executive of Clear Channel Media Holdings.

Pittman said Eccleshare's success at Clear Channel International, experience developing relationships with clients and agencies and ad agency background meant that Clear Channel Outdoor would be able to serve partners with its full range of assets.

Pittman said Clear Channel Outdoor would be able to "reinvent how we do business with all of our advertising and marketing partners" by learning from its experiences across the world and "tapping into the company's talent."