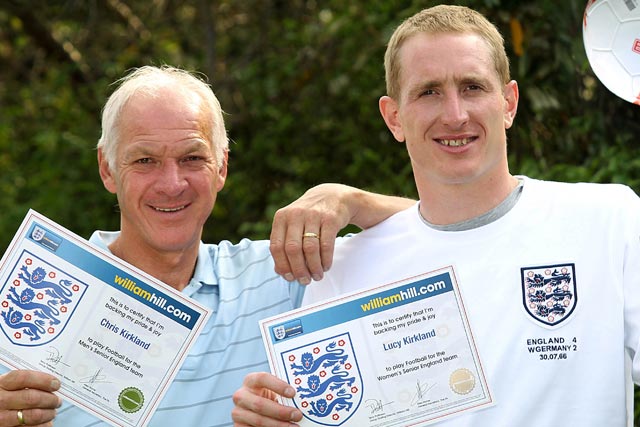 William Hill, which is the official betting partner of the FA, will hand out 200,000 bet certificates worth £5 and at odds of 1,000-1 to parents as it seeks to take advantage of the hype ahead of Euro 2012.
To qualify for the free bet, customers have to place a £10 football bet in-shop or online and then visit a "play for England" microsite (www.williamhill.com/playforengland) to customise their free £5 bet certificate.
Former England goalkeeper Chris Kirkland and his father Eddie are backing the campaign, having won a similar bet themselves.
Eddie Kirkland placed a £100 bet with William Hill at odds of 100-1 when his son was 12 that he would one day play for England.
He collected his £10,000 winnings when Chris made his debut for England against Greece at Old Trafford in 2006.
At the time the bet had to be placed by writing a letter to the bookmaker, which was accepted by William Hill in writing.
Tony Kenny, William Hill spokesman, said: "Chris and Eddie are living proof that bets like this come off, but we are keen to see future England talent nurtured.
"It is a novelty bet with a serious side and that is that we should all be backing England going forward in the future."
Follow Matthew Chapman at @mattchapmanUK