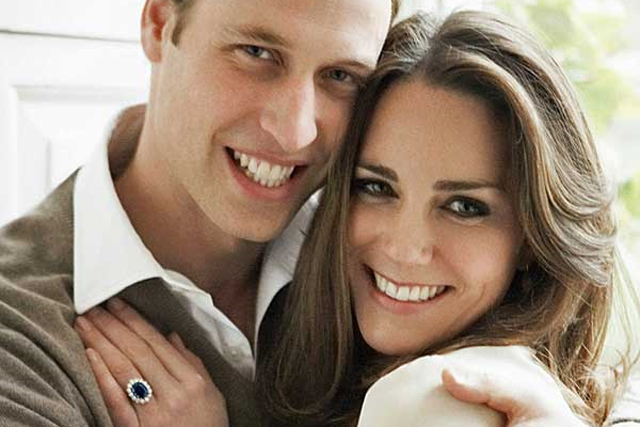 The agency surveyed 2,523 adults and found an estimated 40% of the population will follow the couple's nuptials at home on either BBC One or ITV1, with 94% stating their media of choice on the day will be television.
MPG Media Contacts indicated this figure is much lower than early projections by some pundits, who suggested it could topple the 1966 World Cup final's 32 million viewers across BBC1 and ITV, the most-watched UK TV programme ever.
When Prince Charles married Princess Diana in 1981, 28 million people watched across BBC1 and ITV, 3.7 million fewer than the audience for Diana's funeral 16 years later. Charles's marriage to Camilla Parker Bowles in 2005 attracted an average 6.2 million viewers. The Grand National, on TV earlier the same day, attratcted a bigger audience.
However, the agency pointed out that there will be a significant amount of shared viewing, at street parties or in pubs, which wil not be measured by Barb, the official audience measurement survey. Additional viewing could take the total to more than 20 million.
According to those polled, 11.4 million people said they will spend more time with media during the Royal Wedding weekend compared to a normal weekend.
Breaking this down, 42% of men said they'll be spending less time with media over the course of the Royal Wedding weekend, while 77% of females think they'll be spending the same or more time reading magazines, newspapers or watching TV, clearly influenced by interest in the Royal Wedding.
The fact only 26% of men will follow the wedding coverage on the day, against 54% of women, according to the survey, means MPG Media Contacts expects an excess of TV advertising with a relatively female bias.
Tom Simpson, group account director at MPG Media Contacts, said: "While our survey suggests that viewing figures will top out at 18.3 million, we would be confident in predicting an actual audience of closer to 20 million on the day, putting the Royal Wedding up there with 'The X Factor' final in terms of sheer numbers.
"While a majority of viewing of the wedding itself is likely to take place on the BBC, there will be rich opportunities for advertisers to capture the heightened interest and projected uplift in TV consumption around the event, through related programming, particularly in terms of hitting the female demographic."
Interestingly 37% of women think they will take advantage of the extra holiday by spending time with a partner – the fact that only 30% of men feel the same might suggest some women will be left disappointed.
The survey for MPG Media Contacts was carried out by market research company OnePoll amongst 2,353 adults across the UK and Northern Ireland.