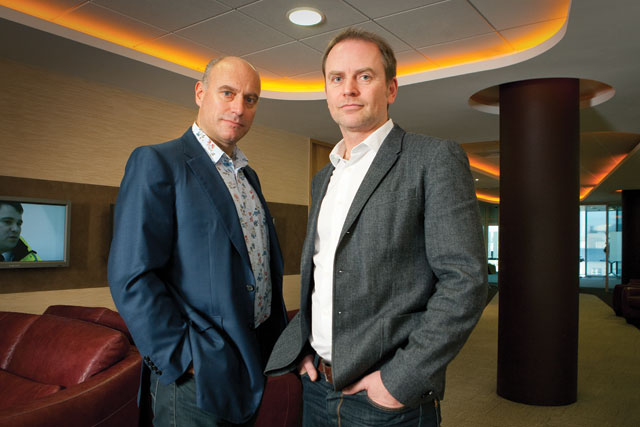 Kelly Williams and Simon Daglish want to clear something up. The tales we heard from the recent ITV sales team away-day are spurious, they say. They refute that they have instructed their staff to move their sales positioning from "angry bears" to "happy bears", as revealed in these pages.
If the phrasing was wrong, the sentiment is not far off. ITV's managing director of commercial and online, Fru Hazlitt, hired Williams and Daglish in the same move that cost six senior sales executives their jobs. Out went the atmosphere of "fear" and the "horrible face of ITV", and the role of the respected operator Gary Digby was divided between the altogether jollier Williams and Daglish.
Conveniently, MySpace was imploding and so Daglish could start right away, but Williams, who was working out his notice at Channel 5, had to wait until August. Rumours suggest even then he was not able to speak to clients due to a non-compete clause. Not so, Williams says, who repeats the chief executive Adam Crozier's line that he started on 1 August and "has been getting on with the job".
Neither Williams nor Daglish will comment on speculation that Richard Desmond, the chairman of Channel 5's owner, Northern & Shell, was given a favourable deal to promote his Health Lottery on ITV and that this helped smooth things over. Whatever the truth is, Williams has now been in the job for four months and they are ready to talk.
Williams' job title is head of TV trading, while Daglish joined as the director of multi-platform and partnerships but moved to (Digby's old title) group commercial sales director after a few months. However, they are a partnership that should calm those who suggest that, although he is a natural salesman, Daglish might not be the right person to lead the deal negotiation on behalf of the company. In Daglish's own words: "Dags for the show and Kelly for the dough."
It looks to be a very happy marriage. However, it was an arranged one because, despite having both worked in media for 20-odd years, they did not know each other. Daglish started out in press, but operated in radio for the majority of his career (he worked for Hazlitt at GCap Media), followed by a stint at the News Corporation-owned MySpace. Williams has been in TV since he left college - aside from a student stint as a holiday-camp Redcoat.
Daglish went to an army boarding school and served in the forces before joining the media industry. He is described as one of the last bastions of the "red braces" brigade and recently took part in the Walking with the Wounded charity expedition to the North Pole with Prince Harry.
Williams is the quieter, more considered of the two, but appears to have the wilder backstory. From a single-parent family in the North-West, Williams dedicates his spare time to a dance outfit called Community Spirit, trips to Ibiza and his beloved Liverpool FC.
Despite the apparent differences in personality, Daglish and Williams agree on many things, such as the new high-profile additions to their sales management family. Chris Goldson, the former commercial director of Absolute Radio, joined this week as strategic engagement director to lead the new creative team. In March, the MediaCom chief operating officer, Steve Bignell, will take the role of sales director alongside Mark Trinder.
"We're thrilled," Daglish says. "Chris is one of the most creative guys in media, hence we gave him this role. Steve comes from an agency background, which allows us to have another perspective on our customers."
Although it is true they are looking to diversify revenue streams, they are not trying to move away from the 30-second spot. "That's what gets written," Williams says. "The strategy is to maintain and grow our 30-second spot revenue. By a country mile, it's the most important revenue stream we will have for the next five - probably ten - years."
They also refute claims from some agencies that ITV could lose share of TV revenue this year. As reported in ITV's third-quarter results, TV ad revenue will be up a couple of percentage points year on year and ITV will be ahead of the market, Williams notes.
The pair are circumspect about the end of the year (Daglish calls it a "curate's egg"), but they do not expect a return to the depths of 2009 next year. "I think the 2009 downturn proved to advertisers the effect the knee-jerk reaction to cut budgets for TV had on their business," Williams says. "Which was why the revenue came back, and more."
It is not hard to find plaudits for the pair. Ralph Bernard, Hazlitt's predecessor as the chief executive of GCap Media, says Daglish is a "very personable chap" with a "great enthusiasm for whichever medium he's working for". Mark White, the former managing director of Channel 5, gushes that Williams is an "amazing, gorgeous man" who spends time thinking about the best way to approach and work with each agency.
Given the wholesale changes, both have thus far been understandably focused internally, and the industry is keen to see more of them - and their plans - in 2012. That said, media agencies say ITV has vastly improved the way it responds to briefs already - something Daglish says is attested by ITV's own research.
This year has been one of change at ITV. But the sales team has had a decent on-screen showing. Despite the tabloids screaming about declines, the ITV family's share of commercial viewing is up slightly year to date at 37.2 per cent. Media agencies and advertisers like the ITV product, and are impressed by the noises, but want to see a bit more action online, especially through social media.
Although Daglish says rival innovations such as Zeebox should be put in context ("It has 100,000 users"), there is still more to do be done. Hazlitt, Daglish and Williams have ushered in a new order, but we will have to wait until next year to see whether the new collaborative way of doing things will result in an increase in share. If it does, then they have every excuse to be those happy bears.