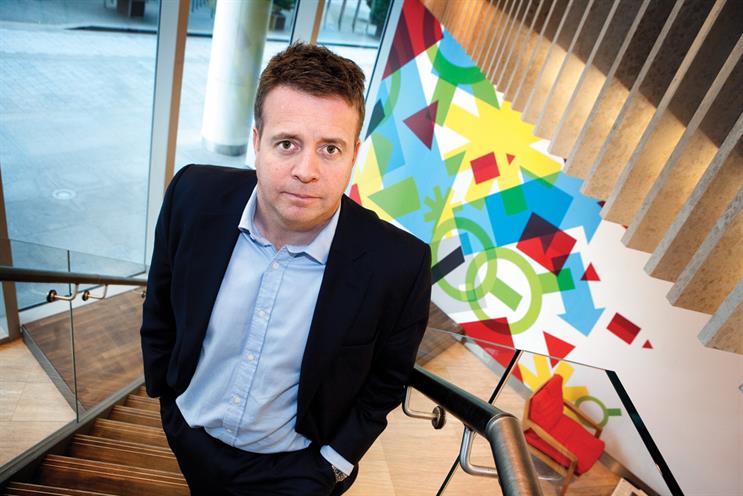 Dominic Williams, promoted before Christmas to chief trading officer at Dentsu Aegis Network's buying division, Amplifi, is a former amateur rugby player for Nottingham and Rosslyn Park. He has the thickset build of a hooker – a short, stocky player who must secure the ball against kicking, shoving opponents in a scrum.
This could be an apt metaphor for his role at Amplifi, where he is involved in close negotiations with media owners and signs off trading deals for TV, press, outdoor, radio and digital display for clients of Carat and Vizeum.
But Williams insists that trading is no longer the scrummage between agencies and media owners it used to be. He says that the industry has changed significantly since his early days working at TMD, which later morphed into Carat, in 1997.
"It's totally different from 18 years ago when it was a lunch and a cup of tea and a round of golf and you ended up with a deal," Williams says.
He acknowledges the old perception of gorillas with calculators going round the market having fights with everyone. A brief, robust stint in the media spotlight as an advisor to candidates working on the magazine episode of the BBC's The Apprentice did little to change the view. However, Williams has become more sophisticated, he insists.
Aegis was bought by Dentsu in 2012 for £3.2 billion and its trading arm was relaunched in 2014 under the Amplifi banner. Its bold mission is "to reinvent relationships with media owners for the benefit of all". Williams now wants to be viewed as "fair and balanced" since working his way up through press buying, radio and digital and now overseeing the whole gamut of media deals. He has had to change along with the industry, Williams concedes, but admits he is still "tough".
In truth, the media industry and trading deals that drive it have been revolutionised by technology, so this tough approach alone is no longer enough. An explosion of media touchpoints combined with the proliferation of devices means that getting ads in front of the right people has become a complex task requiring intelligence, data and co-operation between agencies, media owners and clients.
"It's all three of us going forward at the same pace," Williams says. "We've got to get the media owners on side; there's a job to do there and the clients as well. They fall back into their comfort zone and just put out a 30-second spot on ITV. We want them to take risks. Some are better than others."
[Clients] fall back into their comfort zone and put out a 30-second spot on ITV. We want them to take risks
That old trope of media buyers looking for a punch-up seems to be reinforced by the Amplifi website, which prominently features an aggressive image of boxing gloves – albeit worn by a smiling black woman. It's not all blokes, the message seems to be – Dentsu Aegis Network UK is headed by Tracy De Groose – but the agency will still fight hard on clients' behalf to land the knockout blow.
This has been a frenetic few months for Williams. Since his promotion, he leads the £1.5 billion Amplifi trading team and has presided over bedding in the government's £140 million business – one of the UK's most coveted media accounts.
"I'm going a bit grey," Williams admits, tapping a sideburn with his forefinger to demonstrate the toll that all his hard work is taking.
"With trading, it's non-stop," he says in London tones mixed with a hint of East Anglia – Williams was born in Wanstead and grew up in Ipswich. "I really need to have fun going forward because it has been a tough four or five months. I'm seeing light at the end of the tunnel and I'm looking forward to seeing a bit of my kids."
One of Williams' roles is to nudge clients in the UK to increase their media spend. That means persuading brands such as Asda, General Motors, Burberry and Shop Direct that they can get ex­cellent value from traditional media as well as the nascent social and native spaces.
He dismisses those who view Amplifi as the same as its rivals: Omnicom's OPera, Publicis Groupe's VivaKi and WPP's Group M – huge trading giants using scale to hammer out ad deals.
"What sets us [Amplifi] apart is that we are working with clients differently and we are working with media owners differently," Williams says. "I think we are doing it quicker, I think we are more open and I think we are getting better results for our clients. I don't lose sleep over Group M."
He thinks that, amid a media landscape seemingly in a state of permanent turmoil, Dentsu Aegis Network is ready for whatever the future may bring, buying businesses in emerging areas such as the mobile agency Fetch.
Williams lives in Walton-on-Thames and spends weekends with his wife and three children. He also does a bit of kids' rugby coaching. It means his role as the solid hooker remains a key part of his repertoire, even if his day job now involves more shades of light and dark than it ever used to.