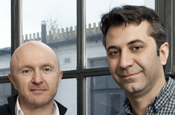 His partner in the venture is Domenico Vitale, the former chief strategy officer at Lowe New York.

Their agency, called People Ideas & Culture, will aim to offer clients tailored services without being encumbered by the overheads of mainstream shops.

Wilmont said: "We've both worked in big multi-nationals and have seen for ourselves how overheads can limit an agency's response."

Wilmont and Vitale, who worked together at Kirshenbaum Bond & Partners, will be the main shareholders, along with Bond, a New York design company.

The start-up, which will operate out of offices in New York and London, starts life with two as-yet-unnamed clients - a luxury brand and a children's product.

It plans to have a small dedicated staff, most with planning and online backgrounds, working with a global network of communication specialists.

"Clients only want to pay for what they want when they want it," Vitale said. "It's all about providing the right situation at the right time."

Both partners say they are happy to work for clients on a project or long-term basis, and have no qualms about launching in a recession.