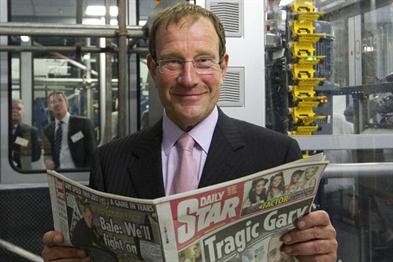 Desmond was said to be "outraged" by the Irish Daily Star's decision to publish topless photographs of the Duchess of Cambridge, Kate Middleton, today, without prior consent, and has since condemned the move in the strongest possible terms.
At 7pm tonight, Desmond told Media Week: "I am very angry at the decision to publish these photographs and am taking immediate steps to close down the joint venture. The decision to publish these pictures has no justification whatever and Northern & Shell condemns it in the strongest possible terms."
Desmond has published the Irish Daily Star, through a joint venture with Independent News & Media, ever since he bought the Express Newspapers for £125m in 2000.
However, a combination of tough trading conditions and the migration of readers to digital news platforms has placed the Irish Daily Star under financial pressure since 2008.
The daily mass market newspaper now sells fewer than 90,000 copies and Independent Star Ltd, publisher of the Irish Daily Star, recorded a €4.3m operating profit for the year ending 31 December 2010, a 10% decline over the previous year.
Last year, the publishing group was forced to close its sibling Irish Daily Star Sunday citing the tough trading conditions. The weekend newspaper has now been replaced on the shelves by the UK edition of the Daily Star Sunday.
How authentic Desmond's "outrage" really is can only be speculated, however, the media magnate undoubtedly already has a contingency plan in place.

Since November 2011, Express Newspapers began trialling selling the UK edition of the Daily Star in Ireland. To differentiate both products, The UK Daily Star has a blue masthead in Ireland and is titled the "English version".
While yet to be fully rolled-out, the decision to introduce the UK edition last year at all was called "bizarre" by media agency MEC at the time, seeing as it effectively competed with itself in an already contracting marketplace.
All of which suggests the Irish Daily Star should enjoy any circulation highs its topless pictures of the Duchess of Cambridge brings it this weekend while it can.
Follow @DurraniMix