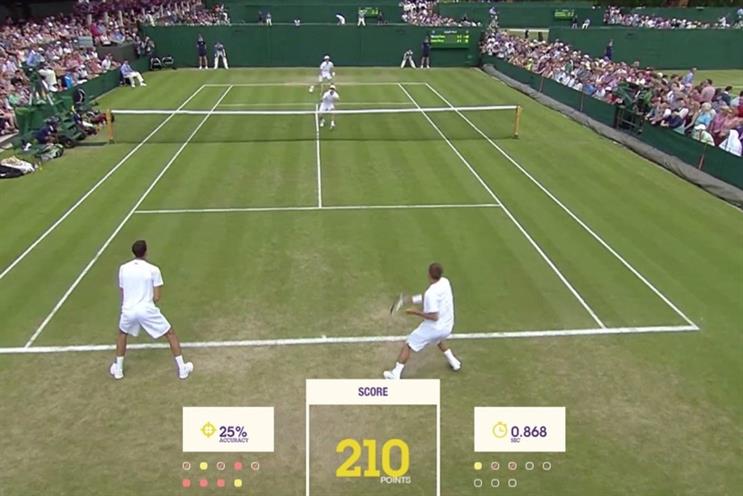 You'd be forgiven for thinking the statistics that come out of Wimbledon are automatically recorded. While Hawkeye can track player and ball movement, something more sophisticated is needed to assess and log the 3.2m data points captured every tournament – humans.
IBM recruits more than 50 tennis experts each year and trains them to become data capturers. They're the ones who note down the actions that fuel the 1000-plus graphics Wimbledon provides to its broadcast partners each year.
A new online game, IBM #MakeTheTeam, created by customer-engagement agency OgilvyOne UK, lets fans try their hand at logging match data, such as forehand shots, backhands, aces, faults, lets, the type of winning shot and where it went.
The desktop game uses a synced mobile device as a controller (the player has to go to a web page in their browser and enter a code). The desktop screen then plays a video of a point at Wimbledon.
There are four games, but only one is accessible unless the player logs in with a Facebook account. Once logged in, their scores are added to a leaderboard, with Centre Court tickets at Wimbledon 2016 up for grabs.
IBM's data capturers are young tennis players who play at county level or above. For every game at Centre and Number One Court, three capturers sit courtside. They are assisted, and have their data checked, by one person in the 'tech bunker'. An operations manager oversees it all and provides another layer of checks.
Wimbledon is trialling new ways to exploit its data this year. Speaking to Marketing last month about exporting the Wimbledon brand and the website's major redesign, Alexandra Willis, Wimbledon's head of digital and content, said: "Our digital properties are an exclusive source of live scoring, and there's a huge amount of information there. We are doing some stats analysis videos with [partner] IBM, which is all [about] painting a picture around a match, but not in a geeky way – more in a tactics way."