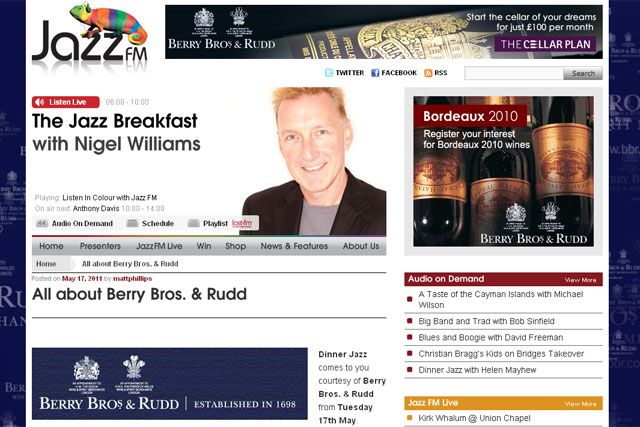 'Dinner Jazz with Berry Bros & Rudd' debuts this evening (17 May). The show will be presented by Sarah Ward and Helen Mayhew, Monday to Friday, from 7pm to 10pm on Jazz FM.
As part of the deal, guest experts will join Ward and Mayhew to talk about food-and-wine-matching, and how to order, drink, buy and invest in wine. Berry Bros & Rudd will offer a bespoke 15-bottle mixed case designed especially for 'Dinner Jazz' lovers.
Simon Staples, sales and marketing director at Berry Bros & Rudd, said: "We really feel Jazz FM listeners could be the future buyers of wine at Berry Bros & Rudd, as there is some real synergy between the two brands."
The sponsorship will be extended online with more information and news, links through to Berry Bros & Rudd's wine blog, a listen-again function, and a downloadable podcast of wine advice.
Listeners will also have the chance to win wine and champagnes from Berry Bros & Rudd every week.
Richard Wheatly, chief executive, Jazz FM said: "You couldn't find two more suitable partners. It is a marriage made in heaven in terms of brand fit.
"Each one reinforces the other. Listeners to 'Dinner Jazz' have a fine and discerning palette and they love their wine – what could be better?"
The Berry Bros & Rudd sponsorship was booked directly with Jazz FM's in-house sales team.