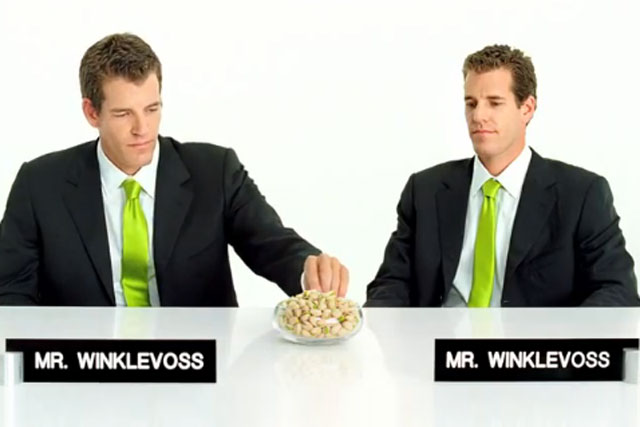 The Wonderful Pistachios' 'Get Crackin' campaign currently running in the US was launched at a Nascar event at Richmond International Raceway California last week.
The ad features the twins dressed in identical suits and lime green ties chatting over a bowl of pistachios.
When one of the twins cracks open a pistachio, his brother commends him by saying, "Hey, that's a good idea", the other Winklevoss twin replies, "Think someone will steal it?".
They both simultaneously ask the audience "Who'd do that?" in a humorous dig at the Facebook CEO Zukerberg.
'Get Crackin' has featured celebrities including Snooki and Levi Johnston in previous campaigns, which have been running for three years.
In 2008, the Winklevoss twins were paid £40m (£12.4m in cash and £28m in shares) by Zuckerberg, after lengthy legal proceedings during which they accused their Harvard classmate of stealing their idea for "the Facebook".
The case was later dramatised and immortalised in the Hollywood film, 'The Social Network'.