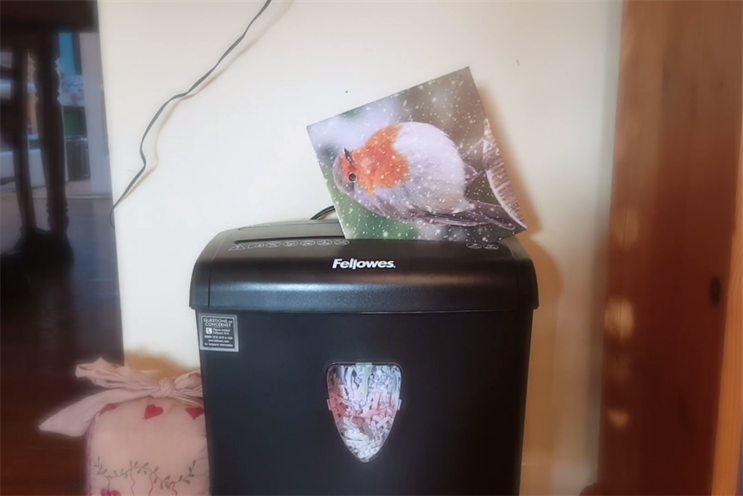 We were overwhelmed by the response, and ended up with more Christmas cards than our website elves could handle, which led them to join in the spirit of the season and go on strike. Sorry if we didn't manage to include yours. Additionally, we decided that taking part was more important than winning, which is why our champions will receive absolutely nothing, apart from a vague sense of superiority.
But without further ado, here are the five agency Christmas cards you deemed most worthy of your approval.
1. Watford Advertising
Watford team Miriam and Holly put together this rather alarming short film that ends with the kind of surreal elation many of us will perhaps be feeling over 2016 drawing to a close. The choice of protagonist seems to be inspired by this year's Christmas ad from a well-known upmarket supermarket, while the yearning for flight is straight out of the campaign for its department store sibling. The ending, meanwhile, has a nod to an iconic sequence from Disney classic Fantasia.
2. Proximity London
Many of you were charmed by this project to create gifts for children who will be spending Christmas at Evelina London Children's Hospital. Friends of Proximity were invited to send a tweet to @EmojiUpAGift, containing any combination of three emojis, with the agency's "Ho-ho-Matic machine" then used to translate the first 100 of these into presents, which were delivered to kids at the hospital yesterday.
3. Goldstein
Goldstein tapped into something by observing that Christmas music, which tends to be rather loud and boisterous, is not what you need when nursing a sore head the day after following one too many bonus strength festive ales with a nightcap or six of port. So they created this album of quiet and calm arrangements of carols that is so soothing, it makes Enya sound like hardcore drum and bass.
4. McCann
The temptation to shut out the outside world over Christmas is understandable, but while many of us are lucky enough to be looking forward to a relaxing break with family or friends, there is no let up for the millions whose lives have been devastated by conflicts in the Middle East. McCann's Christmas cards for Doctors of the World remind us of the reality of life in the region today by starkly juxtaposing traditional biblical nativity images with photography from present day conflict zones.
5. Mcgarrybowen
Lots of Remain voters will have felt a bit like they were left holding the dud end of a Christmas cracker after the explosive schism of 23 June, so these themed crackers, created by Mcgarrybowen for the Guardian, are an appropriate way to satirise the brave new world of Brexit Britain. The goodies inside include a yo-yoing pound, toy Brexit bus (which lets you play with promises to fund the NHS), and a miniature book of Brexit plans – containing Britain's entire exit strategy.