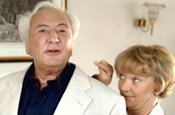 Talking to The Sun today, Winner, who stars in, produces and directs the ads, said he turned down the opportunity to film abroad – opting instead for the street on which he was born.
The original ads ran from 2002 until 2004, before being axed. Winner told The Sun how thrilled he was to be back at work after a near-fatal bout of food poisoning two years ago in Barbados.
Winner said: "We filmed these ads over just three days and it was a wonderful way to ease myself back into work."
Winner told The Sun how the initial idea for the spots came about after he struck up a personal relationship with Peter Wood, who ran Direct Line.

Wood went on to set up the spin-off company esure and Winner saw a golden opportunity to dip his toe in the advertising pool.
Wood and Winner attempted to obtain the expertise of the adman Greg Delaney, the chairman of Delaney Lund Knox Warren & Partners. However, Delaney was less than impressed, forcing Winner to go it alone.
Winner has finally managed to persuade Wood to rehire him, and is reprising his role as the face of esure alongside two former girlfriends.

The ads will be featured around the ITV and Channel 4 weather bulletins.