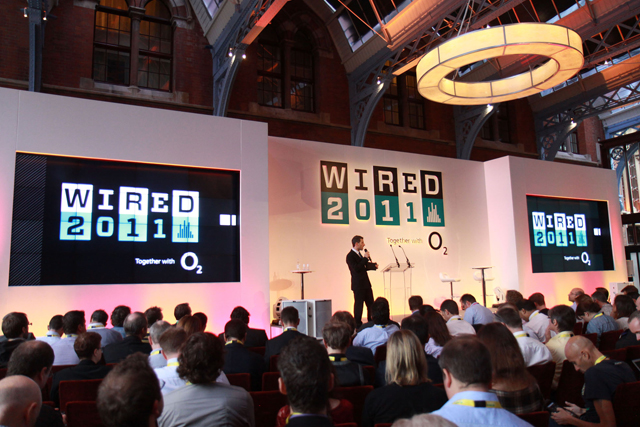 "My brain is entirely full" is how Ben Hammersley, the editor-at-large of Wired, closed its inaugural UK conference. I couldn't agree more. Wired is evangelical about ideas, technology, design and business; or, put another way, the future. Over two days at London's St Pancras Renaissance Hotel, Wired 2011 gave us a glimpse of what the future has in store. It was inspiring stuff.
Richard Seymour, the founder of Seymourpowell, predicted the first person to live for 1,000 years may already be alive. The social roboticist Heather Knight introduced us to "data", a robot that danced to Michael Jackson's Thriller and could understand elements of human emotion. Stanley Yang, the chief executive of NeuroSky, played a film where the plot is determined by the emotions of the viewer. If a brainwave scanner determines the viewer is nervous, the lead character is shot. If the viewer remains calm, the character dodges the bullet.
Lisa Harouni, the chief executive of Digital Forming, introduced us to 3D printing. Design a rubber duck, press "print" and a real 3D rubber duck comes out. Chris Anderson, the Wired editor-in-chief, explained how 3D printing and related technologies will lead to the democratisation of production - the world's third industrial revolution. And the author Rachel Botsman explained how collaborative consumption will become the cornerstone of 21st century capitalism.
Two days jam-packed with spectacular examples of innovation and creativity should have left me feeling excited. But it didn't. There were two things that profoundly bothered me. The under-representation of British innovators and, in particular, British creative agencies in shaping our future.
George Dyson, the technology historian, opened the conference with a brilliant lecture on the birth of the digital age. Yes, we all know about Tim Berners-Lee, but did any of us know about Alan Turing? Turing was a British mathematician, born in 1912, who is regarded as the father of computer science and artificial intelligence and the genius behind Bletchley Park's code-breaking computer. Britain also manufactured the first commercially available computer in 1951. But then it all petered out. As Dyson put it: "Britain invented the digital universe but America made it happen."
And that was most evident at Wired 2011. When it comes to technical innovation and its inventive application, the centres of gravity are very much in the US and Scandinavia. There are exceptions - Shazam and Moshi Monsters being two notable British successes - but considering our heritage, that's a poor return. This was compounded by muted input from the UK's creative agencies. Only two of the 44 speakers were from agencies - Rory Sutherland and Russell Davies - and only five make it into the UK's "Wired 100".
So what's wrong? Why are we so under-represented in shaping the future? Is it an education system with an innate snobbery of disciplines such as computer science? Is it our infrastructure? Matthew Key, the head of Telefonica Digital, is worried the UK is behind the curve following the Government's postponement of the 4G auction. Is it ambition? Michael Acton Smith, the creator of Moshi Monsters, thinks UK tech successes are too quick to sell.
There does, however, seem to be an obvious opportunity for the UK's creative agencies. There remains a disconnect between technical innovation and successful application. The most successful innovations discussed and displayed at Wired 2011 all share a common trait. From Facebook to taskrabbit.com to O2's mobile wallet, they all serve a basic human need. Sutherland, the vice-chairman of Ogilvy Group UK, talked about this sweet spot, the marrying of technology and psychology. And agencies understand human need and psychology better than most.
So why aren't more agencies trying to bridge this gap? Too often, technology and innovation remain on the periphery. It's the realm of "the lab" or the "creative technologist" or the "innovation director". Technology and innovation need to be at the core of an agency, working intimately with the key strategic and creative minds. Agencies need to get out of their comfort zone and start creating more stuff, not just communicating stuff. We need to build products, services and platforms that transform the brands we work for. We need to be more curious, more inquisitive, more innovative. We need to revere the tech geek as much as the Hoxton creative on his "fixie bike".
Some may argue that this isn't the responsibility of a creative agency, but we now live in a world where creative technology can change the fortunes of a brand more effectively than creative communications. If you're not involved in shaping the future, don't expect to be part of it.
As Hammersley pointed out: "Trying anything new is always going to be criticised until you wake up one day and you're Elvis."
And that's got to be worth a shot.
Michael Sugden is the managing director of VCCP