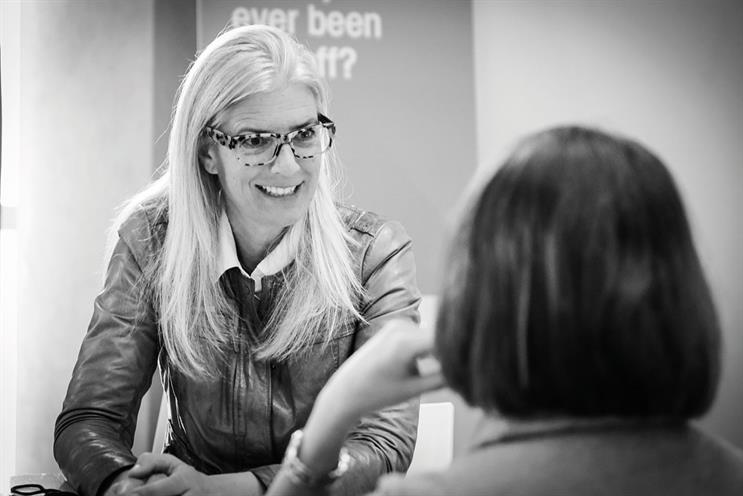 Kat Gordon was working as a copywriter at Hal Riney in the mid-90s when she had a lightning-bolt moment, as she likes to call it, about female creatives.
She was preparing for a pitch for Saab and it dawned on her that she was the only woman in a team of 17 people. When the agency lost the pitch, no-one was prepared to consider that it was because the team did not reflect modern consumers.
"I remember watching that happen in slow motion and thinking: 'They can't even see themselves; why don't they see that you need a diverse agency to work for a diverse client?'"
Today, Gordon is on a mission to redress the lack of women in senior creative jobs. She began hosting the 3% Conference (named after the percentage of female creative directors listed as working in advertising in a 2004 study) in San Francisco three years ago as a forum to discuss why so few women rise to the top in creative roles in advertising.
The 3% Conference has grown from hosting 207 to 600 delegates, and to a range of travelling events in cities such as Chicago, Salt Lake City, Seattle and Miami. And, on 12 June, Gordon is bringing the event to the UK.
Campaign caught up with her ahead of the first 3% Conference on these shores to discuss how the industry can change the status quo.


As a creative industry that's supposed to be attuned to culture, shouldn't advertising be ahead of the curve when it comes to promoting women?
"That's what I feel is the most embarrassing thing. We berate our clients for being risk-averse but don't hold the mirror up to ourselves and see that we're still in the Mad Men era.
"I'm hearing from clients that, when they see an all-male line-up coming through the door on a pitch, it's a big sign of irrelevance. It's an instant de-merit because it often doesn't reflect their consumers.
"I look at the magazines like yours and look at the new agencies starting and I see on the page a bunch of old white guys with goatees. They don't see what they're telegraphing with their staffing choices."

What is stopping women getting senior creative roles in advertising?
"It's clear that this industry doesn't have a recruitment problem, it has a retention problem.
"It's not one thing in particular; I call it death by a thousand paper cuts. It's a lot of things that slowly makes it untenable for women. But if I had to focus on one thing, I'd say it's the unpredictability of the schedule. You don't know if you're going to sell work in the next meeting or if you're going to get back on the plane and have to work all weekend.
"As a result, we value availability over creativity in this industry. We value people who just happen to be there all the time and the people who can do that are mostly young men."


That sounds like a tough thing to change. What can be done?
"To start, make women better at presentations by supporting these skills. If you can sell your work first time, then you don't have all those fire drills that make work unpredictable.
"Also, get my organisation involved with clients because they have made it difficult for agencies to be diverse. We say to them that, if they can be even a little more flexible, then they'll get a more diverse team, and that it's a trade-off they might want to consider.
"I was speaking to Susan Westre, the Ogilvy & Mather executive creative director, who said she'd realised that, if she was a surgeon, she would have more control over her time because she could schedule her surgeries. We ascribe clients a power and urgency that isn't necessary."


Has the 3% Conference helped get more women into senior roles in advertising?
"We recreated the original study that the 3 per cent figure was based on and found that it had gone up to 11.5 per cent. Obviously, we can't say that we've caused that, but it's an encouraging movement. We are also encouraged by the support from a number of big businesses that sponsor our events."

Do you ever come up against resistance to your message?
"There's only the occasional naysayer and it's usually a woman. We find that some of our greatest supporters are men, particularly those who have ever felt like an outsider in some form. The very few instances of resistance have been from older women who came up in times of great scarcity and don't want to rock the boat."

How long until the job is done and the 3% Conference is no longer needed?
"I've said it before and I'll say it again. My goal is to put myself out of a job. I'm currently looking at how to provide diversity certification for agencies."
Have UK creative chiefs experienced sexism?
Vicki Maguire
Deputy executive creative director
Grey London

I came from a fashion background working for strong women. So when, after only a couple of months into my first job, my creative director told me to change my name from Vicki to Mick on a script – "because the client doesn't want a woman on his business" – I remember thinking: are you fucking kidding me? That creative director has long since disappeared. So, too, the agency he worked for. And that's no surprise. I've tried to have a strict no-arsehole policy when it comes to agencies I've worked at and the people I've worked for. I've tried to find collaborative cultures and dodged the boys' clubs. Times are changing. Business is changing. Agencies that continue to hire from the same male, stale and pale talent pool are dying on their arse.


Caitlin Ryan
Group executive creative director
Karmarama

My start in the industry was in a different time, mentality and country. It wasn't the most empowering of experiences, but not so debilitating that it stopped me staying on for the ride. I did my placement in the epicentre of a very alpha agency and concomitant attitudes. Probably the less said about it, the better. My tips for agencies? Don't make it difficult for mums (or dads). I am convinced this is how we lose a lot of female talent. Don't tell women that to survive in a creative department they need to "grow some". Last time I looked, cojones had no special rights to creative ability. If there are baboons making it uncomfortable for everyone, have them shot and mounted on the wall. Don't just talk about it. There's frighteningly good young female talent in our industry. Find them. Hire them. Promote them.


Alex Holder
Co-executive creative director
Anomaly
There has been a fair amount of self-doubt, some nasty rumours and a year when I felt the need to dress exactly like a man to all client meetings – but, otherwise, I haven't felt that being a girl was a big deal. My creative partner – the wonderful Oli Beale – is a boy and my career has progressed in tandem with his. Maybe working with a boy has meant it's hard to typecast us, but I feel that the industry has been exceptionally welcoming. There is something on the horizon that I'm not doing with Oli. I'm having a baby. I recently did a count of all the female creatives I've ever worked with who were/are mums. Three. In 11 years in the industry – three. It has made me very determined to make a success of being a working mum. What happens to all the creative mums? I'm quite scared that I'm about to find out the hard way.


Caroline Pay
Deputy executive creative director
Bartle Bogle Hegarty
Nearly 20 years ago, I was the only girl in the creative department at Mother. Along came Kim Gehrig and, even though we were an all-girl team, we were lucky enough to work in an agency that didn't really care what you were, just how good you were and how hard you were willing to work. At BBH, about 25 per cent of our department is female. That's not good enough yet, but we do have women at every level, which is a start, and we are committed to improving the ratio. Agencies should hire with an open mind and a widely cast net, and actively promote the job to young women. We need to give more exposure to the girls we do have. And look after them, mentor them, fill them with the confidence they need to get to the top, make sure they're getting just as much opportunity as their peers, then watch them fly.


Nicky Bullard
Executive creative director
Lida

I've only felt sexism once. It was 20-odd years ago, I was the only female in the department and had to really, really fight to be recognised. My creative director, actually a lovely man, would often ask my partner after I'd left his office: "Did Nicky actually write that headline or was it you?" For a while, I lost my energy, lost my confidence and considered jacking it in. Then I got cross. I took a couple of weeks' holiday, secretly did a placement at TBWA and managed to get a Wonderbra ad through. Which got Ad of the Week in Campaign. That changed everything. My confidence soared, I landed a great job as one-half of a rare female team, had a blast and didn't look back. I passionately believe that, if you judge someone's work by their gender, race, colour or even weight, you don't deserve to be paid to judge anything.