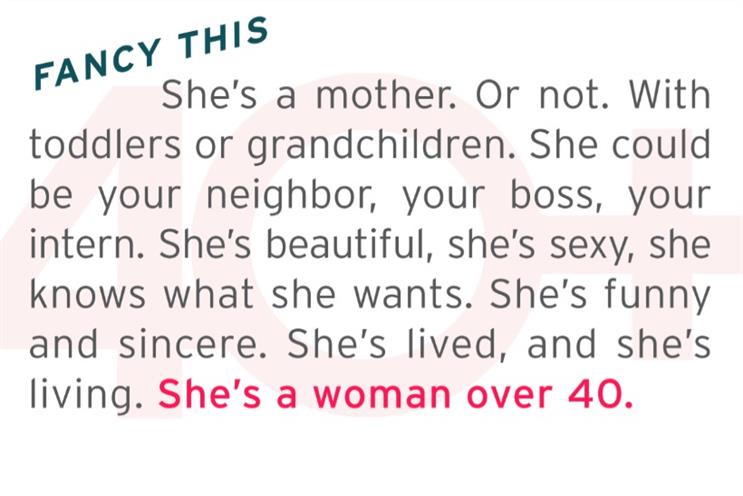 Plenty of brands actively target millennials and senior citizens, but one age group seems to be nearly invisible when it comes advertising: women over 40.
After doing some of its own research, female-focused creative boutique Fancy noticed that this demographic is "generally ignored and misrepresented by brands," said co-creative director Erica Fite.
"We hardly saw any brands speaking to them, and if they are, they're speaking to them in a way that doesn't resonate," she added.
Fite said that she and Fancy co-creative director Katie Keating also noticed that imagery and messaging aimed at women over 40 were often "ridiculous," such as photos of "old grannies" or decorating tips like "don't use plastic flowers."
Fancy decided to survey more than 500 women over the age of 40 across a variety of U.S. geographies, backgrounds, careers and lifestyles in order to tap into their views about advertising today.
The survey revealed that 64 percent of women feel brands systematically underestimate her spending power; 80 percent feel brands systematically underestimate her intelligence; and 84 percent feel brands systematically overestimate her preoccupation with her physical appearance.
"It's almost like they're invisible," said Keating, who added that brands have to remember that the "coveted millennial" is turning 40 in five years. Also, women who are over 40 have a lot of buying power, as well as power at home, work and in politics, the survey says.
According to Keating, women in their 40s can have college-age kids, toddlers or no children, and they can be at the top of their game career-wise or starting a brand new profession. Bottom line: it's a diverse group.
One of Keating and Fite's favorite findings from the survey is that women in their 40s felt sexier, stronger and more powerful than ever before and they don't want to be 25 again. However, 76 percent feel brands play a negative role in the perception of women over 40 and 80 percent feel brands perpetuate negative gender stereotypes.
But, this group strongly believes - nine out of 10 - that brands should play a positive role debunking gender stereotypes. Eight out of 10 women in the survey said brands should play a role in advancing gender equality and seven out of 10 said brands should advance women's issues.
"This shows that these women believe in brands and the power of brands. They're not walking away from advertisers," said Keating.
Fancy has also started its own consulting group within the agency to counsel brands on how to engage women over 40 in relevant, meaningful ways.
"Brands have to start speaking to this group or they're fools," said Fite.
Here are some tips for marketers from Fancy on reaching women ages 40 and up:
1. Include her. Make sure to put women 40+ in castings and show them in roles where they wouldn't usually be shown. This is a really powerful group which deserves to be represented more accurately.
2. Take a stand. Use your power and might to move the cultural needle forward for women. Take a stand on issues that benefit women - not just in your advertising, but in the way you conduct business overall.
3. Respect her. For the funny, curious, intelligent woman she is, and the life-stage she's living. Don't assume she wants to be 25, chances are she's feeling pretty damn good already.
4. Recognize the diversity within the group. She could have a toddler or a college student. Or no kids. She could be running a company, or starting her second act. It goes on. There is no stereotype.
5. Be honest. Women over 40 have seen a lot and done a lot. You can't connect with fakeness and bullshit.