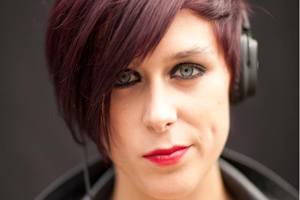 How long have you been at Polar Bear?
I have been working with Simon [Woodward] for a couple of years. He poached me from another company when he started up Polar Bear. I did a bit of everything for him, at first I worked doing the sound for his events, then in the warehouse and then as a project manager. I was working mad hours but it was all good fun.
What attracted you down sound and production career path?
I've been gigging since I was in my Mum's tummy. It's always just been there and It was fun, whenever I was on site at a gig or festival everyone was always having a laugh. Everyone takes the job seriously but if you don't smile it makes the job that much harder. When you have unloaded trucks full of gear, are stacking speakers in the rain, you finally get it all up and running and with a good band on and everyone dancing around it all feels worth it. People can waste a life time trying to find a job they love and I was lucky because it just fell at my feat. I don't know why I wouldn't want to do it.
How much have your parents inspired your career choices?
My dad has always been a monitor man, he likes working closely with bands to make them as happy and as comfortable as they can be (I might be biased but his stage always sounded the best). I got to travel around with him sometimes. I loved being at gigs and on the road and am at my happiest when I'm going to new places and meeting new people.
One of my first ever memories was with my parents at the side of the stage of the travelling festival, Lollapalooza, in the United States. On every channel of the monitor desk there where these two little buttons and my Dad's fingers were too big to press one without pressing the other so he got me to go along this massive (well it was to me at the time), 64 channel analogue Midas mixing desk looking out over a 30,000 people crowd. I also got to play basketball with Tibetan monks under the light of an orange Texas moon. There were more monks in our lives; I got to go on tour with my mum round the UK, Israel and Italy when she was working with the Shaolin monks. I got to hang out with monks my age and they taught me how to speak a bit of Chinese and a little Kung Fu. A real once in a life time experience.
How do you feel about being a young female working in the sector? Do you ever come up against any prejudice?
My mum started off her rock 'n' roll career doing one of the most important jobs on the road, feeding people. She soon moved on to be a wardrobe stylist and then on to backline, where she became the first female drum tech in the world (probably). She had to fight to prove she was up to the job purely because she was a woman, not because of her competence and frequently came across prejudice. Men didn't want women on the tour bus.
I think most of the hard work has been done by previous generations and I don't come across that much sexism now but it's definitely still out there. Only the other day I had just unloaded three trucks, the stage manager had commented on how fast we were tipping them and I went to jump in the back if the fourth truck and the German AV man (that had only just turned up), asked me to get out of the trunk and let the boys do the heavy lifting! Nevertheless, the nice thing was the all my crew stuck up for me and gave him a lot of stick, saying he was crazy and that I am the one person he wants in his truck.
What would be your dream career move?
I want to start up my own crew company and have done for a very long time. I think it might be on the cards very soon; Chloe's Crew has a good feel to it. I have made a lot of good friends and contacts in the industry over the years and I think I could use it to my advantage.
Want to find out more about our Women in Events campaign? Visit our dedicated Women channel online for the latest interviews and stories, and read exclusive campaign features in the print issue of Event. You can get it by subscribing here.
Comment below to let us know what you think.
Follow @rachelbullevent