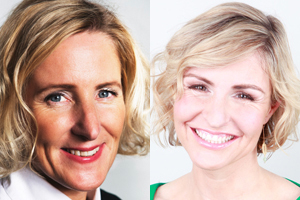 What was your experience of BBC Three's The Insider?
Hurley: It was fun, for Jo – the insider – it was a real challenge because she was having to hide herself all day to try and get the right balance of being professional and trying not to give too much away. For us it was a great experience because we could come up with interesting challenges that were related to events that we had on at that time.
We wanted to really test them and get a sense of them as all-rounders – from organisational and creativity skills, to how they coped under stress and how they conducted themselves.
How have you developed the business internationally?
Fielding: For the corporate event side of the business, it was clear we weren't going to be running at the same level as a company like Jack Morton, as it is a much bigger agency. But what we could do was to try to grow our global footprint to demonstrate we have international insight and capabilities. It has been a massive learning curve but we now have seven offices in Geneva, Dubai, New Delhi, Hong Kong, Singapore, Cote D'Azur and London.
Our most recent element of the business, as of this week, is Baku in Azerbaijan. It is really exciting because it is a brave new world – we are learning more about the cultural insights, the way business is done, and it is completely different from anything we have done here. They are incredibly progressive and entrepreneurial.
H: It is a very wealthy market which hasn't been hugely developed up until now, so there is an explosion of interest from brands wanting to go over there. It is a really exciting spot.
How big is your corporate events team?
F: Globally we have around 50 members of staff, but that's spread across the whole business. The good thing about our employees is that they are multitaskers, bright and adaptable.
H: The majority of our business is in the UK, so we have 28 permanent members of staff working here, and the rest of the team range from two people in Dubai, to approximately ten in New Delhi.
You recently opened an office in Dubai. Are you are seeing an increase in corporate events in that market?
F: There are prestigious brands over there such as Rolls-Royce, but there are other brands coming out from the region. It's not just European or Western brands, you have services and companies which are completely UAE grown. What we have found from this is that you need to get under the skin of the place you are hosting events. They have different ways of doing business, and organisations like to know that you have grown up from within, rather than what we can see from the UK and telling them how we think it should be done.
Getting that local and regional know-how can only be derived from having people living there, and growing up and working alongside that culture means we can then have solutions for clients.
H: Generally, it seems to be internationally recognised that the level of events coming out from the UK is probably the best in the world. When you're looking at any of the major international launches, as well as last year's Olympics and the royal wedding, usually there is a UK team at the core of it. So that is what we are looking at doing – putting sublime UK talent side-by-side the best national talent who have that knowledge of the region.
Which international markets are you looking to put your stamp on in the future?
F: We will look to move into Qatar and Brazil next year. Qatar has a lot of things happening within it; it is a very exciting country with an awful lot coming in. But it is also very important to us and we are treading very carefully to make sure that we have the right proposition to service the market that we are really appropriate for, rather than trying to be all things to all people.
With Brazil we want to set up a business that's not just for the Olympics, we will look to launch something that can sustain itself afterwards. America is another exciting market, but it is a big place so we are taking that one very seriously.
Is your corporate events division a profitable area of the business, and are you seeing growth?
F: It currently accounts for 60% of our business. It used to be around 95% of overall business, it did take a dip in the recession. With our international offices, it accounts for around the same percentage, but if anything they would do more in the way of corporate events than private. Places like Singapore account for around 80%, for example.
H: Private events were performing better during the economic downturn, but now they ride along side by side.
F: With our global footprint, and investing more in this area of the business because we are increasingly becoming more involved in retainer business rather than project work, we are starting to enjoy sight of more corporate business.
Comment below to let us know what you think.
For more in-depth and print-only features, showcases and interviews with world-leading brands, don't miss the next issue of Event magazine by subscribing here.
Follow @samedwardsevent