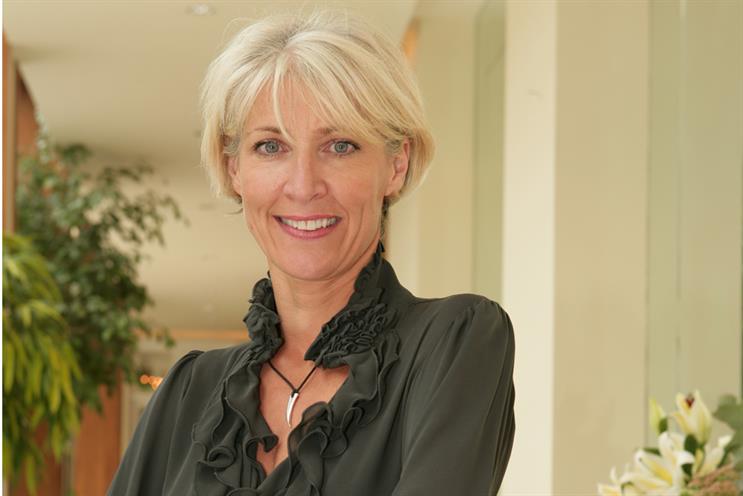 Rosie Arnold
deputy executive creative director, Bartle Bogle Hegarty
Having studied fine art at Central Saint Martins, Arnold joined Bartle Bogle Hegarty – then a tiny start-up – in 1983. Other than a three-month sabbatical, when she went to the Royal College of Art to study communications, art and design, she has worked at BBH ever since and has been responsible for some of its most iconic work.
These campaigns include Pretty Polly and Levi's in the 80s, The Independent and Tag Heuer in the 90s, Robinsons in the 2000s and, most recently, Baileys and Yeo Valley. Her work has amassed six gold Cannes Lions, six D&AD Pencils and three Campaign golds.
In 2008, she was appointed deputy executive creative director and, in 2012, she became only the second woman to be made president of D&AD. Arnold, who has two sons and three step-daughters, is currently writing her first book.
Karen Blackett
chief executive, MediaCom
Blackett is the chief executive of the UK's largest media agency – a business that seems to be overflowing with gifted women (the chief strategy officer, Sue Unerman, and the managing director, Claudine Collins, are also key players there). Blackett's constant focus on finding and then nurturing talent is a massive factor in MediaCom's success, so much so that, in November last year, she was named the UK's seventh-most-influential black person by Powerlist, in part for launching an apprentice scheme aimed at non-graduates from less affluent backgrounds. That scheme also led the National Apprenticeship Service to choose Blackett to voice a recent radio ad.
Her rise from humble origins in Reading serves as her inspiration to encourage others. As she said in a recent Campaign column: "My race and my background haven't prohibited my development. However, throughout my career, I have struggled to understand why there weren't more people like me in the industry."
Tracy De Groose
chief executive, Carat
It's hard not to admire De Groose for the breadth of her achievement – during her career, she has occupied senior roles as a client, in a planning-led agency and now as the leader of one of the largest and most-improved media shops in the UK.

During her 20-year career, De Groose led Stella Artois to massive success while at Whitbread, became the first UK managing director at Naked Communications and has become Carat's first UK chief executive in recent memory.
She has brought an element of sophistication and modernity to the hard-hitting Carat formula and says of her contribution: "Creating a new vision is something I've done before and I think I'm good at it."
Respected by former colleagues, she is praised as "talented", "imaginative", "collaborative" and "determined" – attributes that make her a massive asset to Aegis Media.
Roisin Donnelly
corporate marketing director, Procter & Gamble UK & Ireland
Donnelly joined Procter & Gamble in 1985 as a graduate trainee assistant brand manager for Head & Shoulders before rapidly ascending the career ladder to take her current position in 2000.
She is responsible for marketing on all P&G brands. She was instrumental in designing and delivering the "thank you, mum" campaign in the UK as well as leading all UK brand programmes linked to the FMCG giant's sponsorship of the Olympic Games. Previous roles include marketing director for fine fragrance in North and South America, where she launched Hugo Boss, as well as marketing director for cosmetics and fragrances in Western Europe, Eastern Europe, the Middle East and Africa.

Donnelly, a Celtic-supporting mother of three, is a fellow and former president of the Marketing Society, a Council member of the Advertising Standards Authority and the chairman of Cosmetic Executive Women.
Elizabeth Fagan
marketing director, Boots
Pedagogy's loss was marketing's gain when Fagan decided to swap career from teaching to marketing. She describes herself as a "vintage marketer" – and, other than a brief stint in general management at The Link and Boots Opticians, her post-teaching career path has followed a marketing route where she has continued to innovate.
Last Christmas, after a four-year stretch, she called time on Boots' "here come the girls" creative strategy, devised by Mother, and replaced it with "let's feel good", which seeks to inspire Boots customers beyond women. The clear rationale was that the old strategy had achieved the task it was required to do by reconnecting with its core customers. This is evidence of Fagan's logical and level-headed approach.
Like Donnelly, Fagan is a member of Cosmetic Executive Women (and a Celtic fan) and is heavily involved in Wacl and the Marketing Society, where she inspires a younger generation of marketers.
Annette King
chief executive, OgilvyOne EAME; chairman, OgilvyOne UK
King helped to build the best direct marketing agency in the UK as the chief executive of OgilvyOne (Campaign's Direct Agency of the Year for the past three years). She was rewarded in 2012 with the top job in Europe, Africa and the Middle East, having already landed a place on the OgilvyOne worldwide board in 2010.
In addition to being smart and dynamic, King has also been a great team-builder and new-business force during her ten years at OgilvyOne.
Before this, she had spent several years at the sister WPP network Wunderman, mostly in the US.
When not pushing her network to greater heights, King also finds time to serve as a non-executive director of London First, representing the capital's creative industries.
Having spent time running Ogilvy Interactive, King has since been praised for turning OgilvyOne into a "true player in the digital space".
Debbie Klein
chief executive, Engine; chairman, WCRS
Klein, a proud South African, is an entrepreuneur (she was part of the management buyout of WCRS in 2004 that eventually led to the creation of Engine) while also remaining passionate about women's role in the industry. Her 2000 study, Women In Advertising: 10 Years On, made a series of recommendations that were adopted by the industry and she is a past president of Wacl.
Starting agency life as a strategist, Klein was credited by the WCRS founder (now Engine chairman) Peter Scott with "grabbing the place by the horns" to fashion a turnaround before she moved into the Engine role.
Somehow, Klein also manages to sit on the Jewish Leadership Council and is the chair of the Jewish Community Centre for London.
Klein's impact on the advertising scene was recognised by other South Africans living overseas when, in 2011, she was named Business Leader of the Year by The South African.
Nicola Mendelsohn
executive chairman, Karmarama; president, IPA
Mendelsohn never seems to stand still, achieving more in a day than most manage in a month. Starting her ad career at Bartle Bogle Hegarty, she moved to Grey London before taking on the role of partner and chairman of the independent agency Karmarama in 2008. One of the best suits and business-development directors in the industry, she has since driven the agency's expansion and helped it to find an investment partner.
As the IPA president, she has impressed the whole industry with her tenacity and belief in her skills-based agenda, which has aimed to "inject fresh talent" into adland. As her tenure in this role draws to a close, Mendelsohn has no shortage of extracurricular activity to keep her busy.
A past president, she remains a member of Wacl, a director of The Fragrance Foundation and the chair of the corporate board of Women's Aid. In November 2012, Mendelsohn was appointed to the prestigious role of chair of the Creative Industries Council. Is there anything this mother of four can't turn her hand to?
Cilla Snowball
group chairman, Abbott Mead Vickers BBDO
One of the most prominent and powerful women in advertising, Snowball joined Abbott Mead Vickers BBDO as its first new-business director in 1992 and now oversees the five companies that comprise the AMV Group in the UK – AMV BBDO, Proximity, Redwood, Fishburn Hedges and Hub+. She also still manages several of AMV's key client relationships including BT, Camelot and Sainsbury's.
Her influence extends beyond just the agency's Marylebone Road headquarters, however – she chairs the Advertising Association and sits on the boards of Comic Relief, the Women's Business Council, the University of Birmingham (of which she is a graduate) and BBDO Worldwide.
In her 32-year advertising career, she has also worked at Allen Brady and Marsh and Ogilvy & Mather. Her drive was evident at an early age – as a Pixie in the Brownies, her earliest ambition was to get all the badges to wear on her uniform. While this challenge may not be widely celebrated, her services to the advertising industry were recognised in 2009 when she was awarded a CBE.
Lisa Thomas
chief executive, M&C Saatchi Group
At an agency that has long been considered (rightly or wrongly) a bastion of maleness, the promotion of Thomas to group chief executive raised a few eyebrows in 2010. Some thought that the task of dragging together the disparate parts of the company, most famous still for being an advertising brand, into a coherent multidiscipline offering would be near impossible, but they reckoned without Thomas' energy and determination.
Early thoughts of entering law were abandoned and, armed with a Spanish and French degree from Cambridge, she started her career at the security printing company De La Rue. Her first advertising job was at Wunderman Cato Johnson, where she launched the British Airways Executive Club, followed by a stint at Craik Jones Watson Mitchell Voelkel. In 2000, she founded Lida as M&C Saatchi looked to expand into direct marketing and, after ten successful years, she was put in charge of the group.
Glamorous (she was shortlisted as a contender for Red's Hot Women Awards 2011) and powerful, Thomas is already turning the company's reputation around.