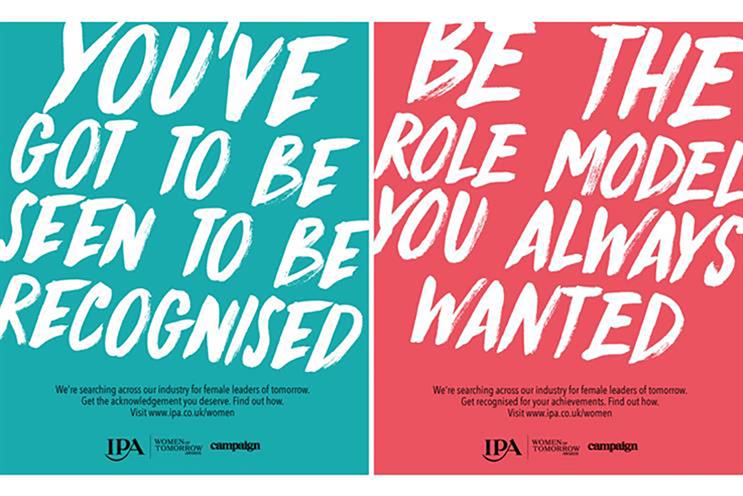 Ten inspiring women have been chosen from nearly 200 entries as the winners of the 2018 Women of Tomorrow Awards, run by the IPA and Campaign. The biennial awards aim to redress the under-representation of women in positions of leadership and were judged by a panel of 12 industry luminaries. Winners were lauded at a celebratory reception and ceremony in central London on 8 March.
The 10 winners of the 2018 Women of Tomorrow Awards are:
Gemma Batterby, new business director, Geometry Global
Caroline Benson, co-founder and director, Cuttsy+Cuttsy
Tainah De Pauli, client business director, Manning Gottlieb OMD
Nathalie Gordon, senior creative, Above+Beyond
Sarah Levitt, associate creative director, Now
Nadja Lossgott, creative partner, Abbott Mead Vickers BBDO
Kim Palmer, strategy director, Wunderman UK
Rachel Pashley, head of female tribes consulting, JWT
Sarah Salter, innovations director, Wavemaker
Marianne Waite, senior consultant, interbrand, and founder, ThinkDesignable
Gemma Batterby, new business director, Geometry Global
"Software engineering isn't for girls." The first of my family to go to university, I was one of two women studying the subject at Sheffield and the only female in a team of coders at the MOD. Being told it wasn't for girls was the determining factor in deciding to do it.
My other love, the law, wasn't open – I hadn't chosen the right A levels. So, I studied as a postgrad, alongside my job at Ogilvy & Mather, qualifying as a barrister five years later.
I believe passionately in the power of personal growth and unlocking potential. This drives me to make our agency and people shine in this crazy, exciting industry and I'm dedicated to leading work that grows team pride, collaboration and recognition for everyone. I love that my role allows me to do all this.
I believe this is what makes me a Woman of Tomorrow:
Resilience & conquering fear
Hired as PA at Ogilvy & Mather, I started on a steep, new learning curve. Seven character-defining years later, I left as new business director for Ogilvy Group UK across direct, PR, design, media, healthcare, advertising. I was part of a brilliant team changing a legacy mindset and culture in the face of new entrepreneurial agencies, transforming reputation and culture through great wins including Philips, Expedia and Kronenbourg. I hired people better than me. I learned the value of failure and unwavering resilience. I worked hard to earn my stripes.
Inspiring & empowering
Seeing the need for agencies to make a step change in a new digital age, I joined consultancy JFDI, nudging teams to regain their new-business mojo with new attitudes and capabilities. I trained 50-plus industry professionals in modern new-business skills, helped G2 win Costa Coffee, redefined Zenith's marketing strategy and won Royal Caribbean International with Lexis.
Today, I lead a crack team of our next-generation leaders empowered to drive culture at Geometry and I'm a mentor, both internally and with the IPA's New Business Group.
Relentless revolution
In 2014 Geometry invited me on board with a task to build UK reputation and growth, fast. As WPP's biggest-ever merger we were the industry's largest start-up, but with zero UK presence and no reason to step inside. In year one we had one pitch – since then we've won more than 30 new clients, and I now sit on the EXCO.
I've had to find new ways to market our brand as an agency for a new world. With a gifted team, I've helped flex the agency offer to deliver against briefs such as store-of-the-future, direct-to-consumer, ecommerce acceleration and more. Clients now come to us for innovative answers to new challenges.
Believing in the power of conversation, I've developed and launched Captivate, our thought-leadership platform, and written for The Drum.
This year I'm leading a pro-bono account for an ovarian cancer charity – something very close to a colleague's heart and an incredible privilege.
My side-hustle? An online business to get experience running a company. It's called Petit Hermite and scheduled to launch in March. I'm terrified!
Annette King, former CEO, Ogilvy UK: "An innovative leader with agility, optimism and charm. Gemma's a natural Woman of Tomorrow."
Stephen Woodford, Advertising Association CEO: "Gemma brought new perspective, led us to evolve and win in a complex landscape."
Michelle Whelan, CEO, Geometry UK: "A sharp strategic thinker with great capacity to lead people forward, Gemma is the beating heart of our agency."
Where have you come from - and where do you want to end up?
Proudly from Lancashire and firmly a Londoner. I was given an opportunity when I joined this industry and remain determined to make the most of it. I love that we never stop evolving and learning so I've no plans as to where I'll end up. I'm very happy on my continually steep learning curve.
Your proudest moments on the way?
Late nights (and all-through-the-nights) with brilliant people dedicated to helping the agency be its best. Being called to the Bar while working all those late nights. Being promoted from within. Earning the job I have today. Being asked to mentor. Being published. Being nominated for WOT.
The greatest obstacle you have overcome?
Finding my self-belief. Sometimes things don't go your way despite all your effort and energy, but what you learn along the journey is what defines you.
Share one strategy for improving the role of women in the advertising and communications industry
Opportunity. We all have a role to play in giving women opportunities to shine, to take risks, to lead.This isn't just about formal initiatives and corporate promises but about everyone doing their bit, no matter how small.
Caroline Benson, co-founder and director, Cuttsy+Cuttsy
I'm Caroline Benson, co-founder of Cuttsy & Cuttsy. We are a communications agency specialising in healthcare. People, and making meaningful connections between them, is at the very heart of what we do.
It was working as a care assistant while at university and then studying for a PhD in prostate cancer that created my passion for health-related communications. I began to realise that there was something missing; the facilitation of real, honest conversations between people, which could lead to meaningful change. I knew that I wanted to make a difference in an industry that was becoming increasingly driven by efficiencies and lessening real personal interactions.
I founded the agency during the recession in 2011, with a three-year-old daughter, mortgage, and no financing. We took any opportunities that were offered, branded a hair salon and did freebies with the hope that they would lead to paid work. Relief hit as we landed our first retainer with a major client, and since then we have not looked back.
We are the only healthcare agency that uses the principles of Emotional Intelligence as the basis of how we work. We believe that by using these principles, we are more self-aware, motivated and can empathise with our audiences. This is vitally important in an age that is driven by data and technology, and for me the future is about not losing the characteristics that make us human, so that we can still engage meaningfully with each other.
The work we do is varied and interesting. What is so special is that it makes a difference to people's lives: our agency team and clients but, more importantly, the end users – patients, carers and healthcare professionals. We could be working on a campaign to raise awareness of a life-threatening disease; interviewing patients who undergo cancer treatment to tell their story to help others. A project I am really proud of is working with a group of cancer patients to identify and create materials to make the experience from diagnosis to treatment easier for other sufferers, in a language they can understand.
Supporting the team members as they grow and develop in their careers gives me great enjoyment and its fundamental to the success of our agency. I am proud to say that we have achieved our IPA Gold CPD accreditation in every full year of membership.
As a mother who juggles family and work, and employs lots of working parents, it is very important to provide a culture of flexibility and respect within the agency. For the past two years we have won The Working Mums SME Top Employer award, something I am very proud of.
We have set up programs to bring mothers back to work after extensive time out of the workplace, developed working practices to enable parents to still have careers while bringing up their families. We have tapped into this massive talent pool of individuals alongside others who have come straight from school, developing them into valued employees.
So far on this journey, I have been the main business developer, FD, CSD, office manager, mentor, listener, juggler, runner and tennis player. I am a member of industry groups including PM Society Patient Engagement Group Co-Chair.
I believe in the power of meaningful connection in healthcare communications – through this we can change people's lives. The future is about building these connections because, ultimately, people matter.
Where have you come from - and where do you want to end up?
I think I was always destined to work in healthcare. I lost friends to cancer at school and uni; these experiences shaped my future. PhD lab life was lonely, and looking at what else was out there, I came across healthcare comms. Starting as an account exec, nine years later I was CSD. When the agency was taken over by a large network, I felt that people no longer mattered. We founded Cuttsy seven years ago with a purpose that still holds true: people matter.
We have grown to 17 people. Seeing first-hand how our work contributes to improve people's health and lives is a real driver for me. When it comes to the future, we are adjusting our model to embrace the fast changes in healthcare. We have experts in comms, tech, science, education and EI, so we can continue to improve lives – after all, everyone is a patient.
Your proudest moments on the way?
I am incredibly proud to have started Cuttsy & Cuttsy and developed a real sense of purpose within the agency. Many moments over the years stand out, most of them involving patients. I have been privileged to spend time with them and fortunate to hear their stories, gaining insights that help shape awareness/support programmes that are not just patient-centric, but other-centric – considering the needs of the surrounding network, not just the patient themselves.
On one occasion, we'd developed patient films, one of which was shared at a European sales conference of 300 people. In the video, the patient explained his emotive story of being on a clinical trial. Silence filled the room and, as the film ended, the patient walked on stage. The audience was brought to tears and he received a standing ovation
The greatest obstacle you have overcome?
Leaving a secure job to start our agency during the 2011 recession, with a three-year-old child, mortgage, and no financing, was scary. Healthcare was our focus. Even so, we took any work we were offered, branding a hair salon, a fitness studio as well a few freebies hoping that this would lead to paid work. Relief hit as we landed our first retainer with a major client. In the early days, we had no funding other than money we could invest ourselves.
This insecurity led us to build a stable financial platform. We have a strong responsibility for the 17 families relying on us to be able to pay their mortgages – we wouldn't do it any other way. The value of this was realised when, through no fault of our own, a large contract was cancelled: due to our stable position, we continued without losing people.
Share one strategy for improving the role of women in the advertising and communications industry
As a mother and employer of working mums it is important to provide a culture of flexibility and respect within the agency. For the past two years we have won The Working Mums SME Top Employer award, which I am really proud of. We've identified great talent in many parents who are returning to work. We support those juggling home and work life by offering flexibility, but are also careful that this doesn't trigger resentment from other staff.
Flexible working has to apply to all so that everyone benefits. We are also avid about ending the long-hours work culture that is so prevalent in many agencies. We don't reward the time spent doing work, we reward the actual work done. These combined approaches allow our people to have influential important roles within the agency, while we retain great talent.
Tainah De Pauli, client business director, Manning Gottlieb OMD
I am passionate about life and try to live with a clear purpose and vision. I don't believe the best things just happen. I always set myself personal and professional annual objectives divided into 10 categories, ranging from wellness to finance. I also develop a yearly theme that serves as a guiding principle for any decision. This discipline and commitment to reaching my very best has lead me to achieve first-class honours in two master's degrees, record a music album, set up and successfully sell two businesses, a boutique agency and a digital publisher with a profit margin over 500%.
I've always followed one principle in my career, which is to be a servant leader. I believe the best way to rise is by lifting others. During my time as an entrepreneur, I had the privilege of developing brilliant people who drove the businesses forward and in less than three years the agency won many prestigious accounts including HSBC and Mondelez.
Rucelmar Reis, founder, HSBC Technology: "Tai is incredibly talented, she sees broader and cares deeper."
Gisah Akel, account director, Sitz: "Tai made me strive for higher goals and achieve things I could only dream of."
At Manning Gottlieb OMD, I have found a place where my entrepreneurial and leadership skills are truly valued. I am a business director, working with an extremely talented team of 15 people and helping some incredible brands to grow.
My role is to provide the right platform for the team to thrive and develop their best work. I've created my own development methodology, which allows me to identify people's potential and invest in their growth. I also became a NABS ambassador to leverage all the resources available in our industry to empower people further. I truly believe that if its leaders get better, the whole organisation gets better.
The work we are producing has lead to a deep level of trust within our team, with our valued clients, secure incremental new business and build a successful model to run complex accounts. This is being replicated around the world in other Omnicom agencies.
Ian Mackey, former consumer manager, MAC: "The relationship we've built with Tai is the best relationship with any agency I've ever worked with. Her team is truly like an extension of ours."
But it isn't just about the work. My passion for helping people has lead me to train as a coach and volunteer as a marriage counsellor. I lead a marriage preparation course and have so far had the opportunity to meet more than 300 couples, equipping them with key principles to build strong relationships.
My journey has given me the opportunity to influence people across many spheres of life. I fully embrace this responsibility and my ambition as a leader is not to create followers but to continue raising future leaders, encouraging them to confidently live up to their full potential. I believe it is this that makes me a true Woman of Tomorrow.
Where have you come from - and where do you want to end up?
I have always been an entrepreneur at heart and I have learned that the key to the success of any business is identifying, developing and empowering the right people. My ambition is to be able to continue encouraging people to live up to their full potential. We have the privilege of working in an industry that is always changing and is at the forefront of innovation, which gives people with different skills great opportunities to expand their knowledge or even find new passions.
Your proudest moments on the way?
I try to celebrate every victory, even the small ones. One moment I will never forget is when we put up the sign with the name of my agency on our very first office.
The greatest obstacle you have overcome?
Having the opportunity to set up and sell a business was incredible but very challenging at the same time. I knew I didn't want to stop there, but I didn't know where to start and what type of job to look for. I had just moved to the UK and finding a job wasn't easy – I was either "overqualified" or had "no UK experience". Thankfully our globalised world allowed me to transfer my experience from working in South and North America, and after two months (that felt more like two years) I was back at work and excited to learn things from a completely different perspective.
Share one strategy for improving the role of women in the advertising and communications industry
There are so many articles published about the small number of females executives in the C-suite and I truly believe there is an opportunity to reverse this by empowering women much earlier in their careers. We need to encourage women to think and act as leaders, regardless of their level.Leadership is not a title or a position, it's all about influence and relationships, and if you build that mindset early it becomes ingrained in their ways of working and enables them to be heard and respected.
Nathalie Gordon, senior creative, Above+Beyond
As a Woman of Tomorrow, it's our responsibility to rewrite the rules and make changes that other women (and men) will benefit from, particularly those in more junior roles. Change is a grassroots movement.
I'm a curator rather than a commander. I mentor at Ad School SCA, run the placement programme at my agency and am responsible for the agency's Creative Fund – used to inspire and encourage creativity. I thrive because of the people around me and they need to be able to flourish every damn day.
As creatives, work extends into play. We're paid to make work for clients but without the ideas we cultivate outside of our nine-to-five, we wouldn't be best serving our clients.
After giving a talk called "Don't dream, do", where I discussed the importance of pulling ideas off the page and making them yourself, I began offering my help to anyone with an unmade idea, in what I call Push Projects.
My first successful Push Project was "Last Man Standing", a community futsal match in which six London youth groups united over a love for sport. The quarterly match is now supported by Nike, Coke, LADbible and SbTV. I knew nothing about Futsal but saw something in Gundeep Anand's original idea when I saw it stuck in his book.
Making, designing and using our lateral-thinking abilities to problem-solve is fundamental to being the best version of ourselves. I push for this as often as possible, and for more thinking to happen outside our confirmation-bias bubbles.
Diversity within the creative industries is incredibly important to me. I've created campaigns like #SOwhiteproject (a photography initiative that shines a light on the underrepresentation of the BAME community within advertising) and Taxi Fabric (an Indian company that seeks to show society that design can create change rather than simply being functional) with the specific intention of expanding hiring pools and breaking down social barriers.
With an almost all-male management team, it's with work like this that my voice is heard. I believe the key to our success as an agency lies in nurturing people who expect more, collaborate and seek out diverse opinions.
I've never hidden my personal voice or agenda. Working hard doesn't inevitably bring success – you have to put yourself out there. And I have.
I've launched Kickstarter campaigns, spoken to the Queen about rape, chaired a talk at The London Feminism Conference and been part of a Berkley University white paper about the science behind happiness. I wouldn't be in the position I am if I didn't welcome being vulnerable.
In advertising, words like "vulnerable" can be used against women – along with "bossy", "confident", "pushy" etc. It's up to us to reclaim this language. As Shelley Zalis, chief executive of The Female Quotient, says: "A woman who wants to be a man is a waste of a woman." It's because of emotion, empathy and compassion that we, the Women of Tomorrow, behave differently and will make a difference.
Where have you come from- and where do you want to end up?
As a South African Dane, I've come from a lot of places, which mirrors my career. I went from making cocktails to planning parties to making ads. I'm chameleon-like just with more hair. I'm a multidisciplinary 'slashie' who's a creative/writer/influencer/mentor/public speaker. Having fingers in different pies makes me better at baking those pies in the first place.
The best advertising exists in culture – how do you make impactful work when you are not part of that culture? I'd like to end up cultivating that attitude in an agency that effectively utilises creative people – seeing them for the different talents they offer. No boxes. No assumptions. No stereotypes. No us-versus-them. More risks. More change. More grassroots movements. More ideas in the real world. More life, less work.
Your proudest moments on the way?
I've won some awards and been on shortlists, but they're not what I do this job for. These are a few of my proudest moments: I'm a published writer. I was invited to meet the Duchess of Cornwall to talk about sexual consent. My work is taught in social studies classes in the UK. I got a Police Constabulary ad banned for giving out the wrong message about sexual consent. I've helped 52 designers in India get jobs. The New York Times cited me as giving an artist their 'big break'. I got Whole Foods Market to stop selling an unethical product. I did a talk at The London Feminism Conference. The BBC asked me to be part of their 100 Women initiative. The So White initiative was cited as progress towards curing marketing of its diversity issue in Campaign.
The greatest obstabcle you have overcome?
I think creatives are their own worst enemy. Imposter Syndrome is often my biggest obstacle, along with that part of me that reminds myself every day what Dave Trott once told me: "You're a middle-class woman, you'll struggle to do well." There's a lot of truth to what he said. Women in the creative industries needs to work twice as hard to be recognised just once.
I am constantly straddling the fine line between being myself and being seen to not be 'too bossy' or 'too confident' or 'confrontational'. But I recognise that my struggle is nothing compared to many other women in the industry, those trying to break through social-economic barriers or WOC who see the poor representation of women in any positions, let alone senior. I have it pretty easy compared to many.
Share one strategy for improving the role of women in the advertising and communications industry
To improve the role of women in the creative industries, community should be our number-one priority. Mentors, role models, networking groups – they all provide integral support systems for those at every level. Change is a grassroots movement. We need to continue to celebrate women who are seen to be trailblazers so young women can see that they have role models they can identify with. But access to these role models needs to happen as well.
No one lifts a woman up like another woman. We need to ensure relationships are cultivated through mentoring programs where women with a voice can empower, guide and grow those who don't. Women need to feel like they have spaces to speak up, speak out and contribute as much as possible, and currently these spaces aren't wholly inclusive or accessible.
Sarah Levitt, associate creative director, Now
I've always had a passion for solving problems. It's one of the main reasons I became a creative. I'm that annoying person. The one who doesn't stop thinking, creating, making and questioning until I can find a way to solve things. And I love it. I always like to do the unconventional, the road less travelled.
Early on at JWT, I felt I could give Rimmel a more defined personality and point of view. I persuaded them to let me blog for them about London life. Rimmel quickly became the voice of London and I continued to blog for them for four years.
At CHI&Partners, The Prince's Trust had a poster brief to drive fundraising. I didn't think posters would do the trick, so proposed a transformable shop – a shop that would host a different entrepreneur each month. We called it "Tomorrow's Store", and not only did it raise money, it gave young entrepreneurs high-street visibility to showcase and sell their work. Winning numerous industry awards, the Tomorrow's Store is still running today, and is one of my proudest achievements.
Last November at NOW, I worked with the Women's Equality Party to create a guerrilla campaign asking women to switch on their email Out Of Office in support of Equal Pay Day. Because if women aren't being paid the same as men, why should they work at all? This campaign united women in workplaces across the UK.
Outside work, my friend and I set up a small, sustainable fashion business, Back of the Wardrobe. We spent our weekends delving into women's wardrobes to create new looks from their existing clothes, reinvigorating both their look and their self-image.
I also helped launch a friend's restaurant in Stockport called Where The Light Gets In, consulting on design, branding and marketing. This year it was named among the top 10 UK restaurants outside of London.
I am part of a volunteer-powered free neighbourhood film festival in Herne Hill giving young, local film-makers a chance to screen their films in front of audiences.
And last year, I started my own alcoholic Candy Floss business, Sweet Mother Fluffer, which has been featured on The Drum.
Back in 2013, I was one of Campaign's 'Faces to Watch'. This had a profound effect on me. I have never had a female boss. It always made me question what kind of leader I wanted to become.
Since then, I have worked with countless young teams, creating a fun, supportive environment, where they are encouraged to step out their comfort zones inside and outside of work. Every year I host workshops with universities to encourage creatives to think differently, and I am part of the IME mentorship program that helps give young unemployed people support and advice.
To be a Woman of Tomorrow is daunting. But I wish I could have had someone to look up to when I was starting out – to show that we can be our own bosses, launch our own ideas and follow our own path.
Where do you come from and where do you want to end up?
Growing up in a little village "up north", I spent my childhood in my school's art classroom dreaming of a career in textiles. My tutor at Leeds Art College saw something different in me and recommended that I come up with ideas for a living instead. He sent me off to London and into the unknown (via Bucks New University). I landed my first job at RMG Connect as a Junior Art Director in a creative team. Ten years and a few agencies later, I continue to push myself into the unknown.
I'd like to end up running a creative agency that instills confidence in people and enables and encourages them to step out of their comfort zone.
Your proudest moments on the way?
At CHI&Partners, the Prince's Trust had a poster brief to drive fund raising. I didn't think posters would do the trick, so instead proposed we create a shop that would host a different entrepreneur each month. We called it "Tomorrow's Store", and not only did it raise money, it gave young entrepreneurs high-street visibility to showcase their work. The store is still running today, and is one of my proudest achievements.
In November last year, I worked with the Women's Equality Party to create a guerrilla campaign asking women to switch on their email Out Of Office in support of Equal Pay Day. Because if women aren't being paid the same as men, why should they work? This campaign united women across the UK. Work like this, that goes beyond advertising, is what drives me the most.
The greatest obstacle you have overcome?
At university I was told that It would be incredibly hard for me to get a job as a female, and even harder if I were to partner another woman. This was one of the first obstacles I had to overcome. Eventually, I went into partnership with a male, as my tutors believed this would help me get into the industry.
Two years ago, I decided to go it alone. It was undoubtedly difficult to "break up" with my partner, as your professional identity tends to get intertwined with theirs, but it was one of the most empowering things I have ever done.
I have never had a female boss, someone who I could look up to, or a female role model within the industry to turn to. I've scrambled up the slippery slope nonetheless, but it would have been great to have had someone paving the way more overtly.
Share one strategy for improving the role of women in the advertising and communications industry
The instinctive reaction is to create more opportunities for women – quotas, flexible working, equal shortlists. But actually, one of the biggest things to influence the work dynamic would be to encourage men to take more responsibility for childcare.At Now, we've introduced paid dad's leave, to match maternity leave. Only when we truly treat the genders in the same way can we begin to shift expectations, attitudes and behaviours.
Nadja Lossgott, creative partner, Abbott Mead Vickers BBDO
My writer, Nicholas, and I are lucky enough to work on some of the agency's highest-profile briefs. We try to use this platform to create bold, successful work that makes a positive difference in culture (and hopefully dispel some undermining myths about female creative ability).
We created #Bloodnormal for Bodyform: ending the 'blue liquid era', showing period blood for the first time in ad history and helping normalise periods. We worked unending hours, fought obstacles and outright nos, pushing against this entrenched taboo. It's been hailed as groundbreaking by major news organisations and I'm proud about the heartfelt global responses.
Our anti-terror podcast for Met Police reached number two in the iTunes chart and has helped move the agency away from traditional campaigns.
While Guinness' "Sapeurs", the story of Congolese dandies, helped put the brand back into positive growth for the first time in years, the most rewarding aspect was seeing it praised for showing Africans as positive role models and cultural equals.
Previously, we were part of the team that did the Black Pencil-winning "Trillion Dollar" campaign that helped The Zimbabwean newspaper survive the brutal Mugabe regime.
I've also CDd awarded, effective work and recently led the winning pitch for Alzheimer's Research.
I sit on international juries like Cannes, D&AD and One Show, and have been named as one of The One Show & 3% Movement's 10 Next Creative Leaders, as well as Management Today's 35 under 35.
The South African phrase "each one teach one" is my motto. I've learned from inspirational people like Cilla Snowball, Rosie Arnold, Sandra deWitt, Alex Grieve, Adrian Rossi and Dave Buchanan. In turn, I mentor a number of young women and teams, help students with their books and do talks and workshops with organisations including D&AD NewBlood and St Martin's. I also help One Show with young creative development programmes.
My mentee, Josie Shedden, says: "Nadja nurtures by example. She's helped me grow confidence and encourages me to have a voice myself. She's like one of the cool older girls at school you want to emulate."
I tackle leadership by looking for the best way to collaborate with others and get the best from them. I'm always honest and straight; I bring humour, humility and complete commitment to challenges and won't rest until I know I've put every ounce of creativity into the task.
My ECDs, Alex and Adrian, wrote something kind about me: "There's absolutely no point us telling you Nadja has talent. That's clear from her body of work. So, what we'd like to tell you is how she uses that talent. How she uses it to make others better. How that talent is honed through Stakhanovite levels of hard work. How she remains humble when she has won everything. How she is fearless in knowing when to stand firm and wise enough to understand when to bend. You can only lead if people want to follow. People would follow Nadja anywhere. She is a Woman of Tomorrow shaping today."
Where do you come from and where do you want to be?
I come from what Trump would call a "shithole country" – South Africa. To me it's the most beautiful in the world. But hey.
I started as an apprentice to senior teams in Johannesburg at TBWA\Hunt Lascaris, helping them with their studio/design work. In turn you worked on their briefs and went on their shoots. It was the perfect in-depth mentoring programme and I was lucky to learn from some kick-ass creatives. They instilled the hunger to make brave work. I also started working with my writer Nick Hulley. In 2010 we joined AMV, learning from new mentors and smart creatives.
I want to end up at the forefront of running a creative business. And that might very well belong to myself and Nick. We want to blur the lines between advertising and entertainment, while pushing creative boundaries.
Your proudest moments on the way?
Having our Zimbabwean "Trillion Dollar" campaign's poster in the British Museum permanent collection is pretty cool, as was winning a black Pencil for the campaign with Nick, Shelley, Raph and Damon.
I'm proud of not completely f-ing up the most scary, exciting brief there is – a Guinness ad – by making the "Sapeurs" campaign.
While it's been the hardest job I've done, "Bloodnormal" for Bodyform, which ended the era of blue liquid, showed period blood and involved men in the conversation, has been the most fulfilling. It comes closest to what I hope to achieve. The job I have at one of the best agencies in the world allows me the privilege of having an impact on the world around me by putting out meaningful advertising for women. Making real the idea that a diversity of views creates a diversity of work.
The greatest obstacle you have overcome?
I competed for South Africa in gymnastics. Negotiating a 10cm wide balance beam while doing somersaults is pretty hard when you have to a) make sure you look elegant doing it, and b) try not to kill yourself.
Before you get it right, you fall. And I did. Badly. Once so badly I thought I'd broken my neck. But getting back up, soldiering on to get it right, has been a great lesson: physical and mental.
My biggest mental obstacle is shyness – magnified by moving (just Nick and I) to England with our funny accents to join one of the best creative departments around. But the resilience l learned as a gymnast, plus the encouragement of some amazing people, have helped me grasp that leadership doesn't have to be loud. We all fight Imposter Syndrome, but it's been empowering to find my own voice.
Share one strategy for improving the role of women in the advertising and communications industry
Change will happen incrementally, over time, so we need to be restless and try everything. We need more creative role models; we need equal judging panels (so more diverse work gets awarded, meaning more diverse teams get hired); we need to help young, less-privileged women (and men) live in London, to take up junior jobs; CDs need to stop approving work that isn't inclusive or diverse; we need the constant pressure of headlines reminding how few women in senior positions there are.
But one thing? Using our scale and budgets as advertisers, to reach millions and do influential, meaningful work that moves the dial. Like Guinness and "Bloodnormal".It attracts diverse talent, and proves diversity gives a competitive advantage and equality is good for the bottom line. It's a virtuous circle.
Kim Palmer, strategy director, Wunderman UK
I'm a strategy director, a small-business owner, a women's coach and a mum. I believe in being able to bring the whole of one's self into the workplace; every skill, strength, passion and, of course, every weakness.
Wunderman has helped me see that a career should be unlimited. I've been able to grow, have developed my own personal resilience method and have been able to help others, too. I'm the lead on a super-exciting account (Samsung), but also have a bigger purpose in life: to help women flourish. I joined Wunderman three years ago. Since then, it has helped me find purpose in both these things; I've helped form a team, kick-started a women's mentoring programme and, like many women, have overcome some pretty big obstacles professionally and personally.
Many women can relate to having periods in their careers where they've lost confidence or found their motivation waning. Prior to joining Wunderman, this had become almost my constant state. When I joined the team here, I was encouraged to be honest. This helped me not only grow in self-assurance but also grow a new role for myself. I now feel like I'm developing every day, and use this experience to help others.
I'm the Champion speaker in our women's leadership training programme, "Pass it on", where women at every stage in their careers learn how to build a professional life that they love. The ambition is simple: give them the tools and network they need in order to be promoted, help them become more fulfilled, and create more women leaders in the industry. This sharing platform has made such a huge difference to women at Wunderman already, and it's only in its second year.
In order to further help women grow, I have my own small business; Clementine is an app that helps women overcome anything from self-doubt and low confidence to overwhelm at work. I juggle this against a Huffington Post blog, a monthly podcast and an experience-sharing community.
I'm grateful to Pip Hulbert, Wunderman chief executive, for nominating me. Through her I was able to make a critical step change in my career and make the Wunderman values part of my personal and professional life: Own It (never dropping the ball for clients, my team, my family), Collaboration (see that I don't have all the answers), Be Generous (because we all have something to offer others) and Get Uncomfortable (I succeed at this every day).
My working style is no-bullshit (not quite as no-bullshit as Cindy Gallop, but getting there) – my team would say dedicated to driving better experiences for clients, and that I'm "all-in" when it comes to teamwork. I don't believe in hierarchies and never will. More than anything, I want to be a good mum (who doesn't?) and always inspire women to do more, because they can have a great career, a great home life and a great side-passion. And there are so many professional women who can help them achieve it.
Where have you come from- and where do you want to end up?
I've come all the way from New Zealand, almost 11 years ago. I've spent almost my whole career client-side, in so many different roles and industries. I've had many ups and downs in my life and at work but I use these to do good work, be a good mum and build a good business. This breadth of knowledge and experience is what makes me a great strategist. I'm definitely a born leader, although I'm only really just becoming more comfortable saying this out loud. I've been so fortunate to have had amazing mentors throughout my whole career and life. I now have a bigger purpose in life, which equates to having a bigger purpose in work, too. The two go hand-in-hand. That's what makes both so fulfilling. Everyone can create this, as I learned, and I'm on a mission to share this with all women.
Your proudest moments on the way?
Last week I was a guest speaker at a women's networking event with two superstar entrepreneurs. I spoke about my career, my struggles with anxiety, and my business, and I shared tips on how to manage yourself and your mental wellbeing at work and at home. I had a moment of Imposter Syndrome – why had they invited me to speak with these two other super-successful entrepreneurs? But I had such overwhelmingly positive feedback from all the women at this event, who were shocked and inspired by my honesty and how I manage to juggle so many different priorities. I felt so happy that my story resonated with these women – that they felt they weren't alone if they were feeling a bit crap sometimes, and that it's OK. And that most of all, you can overcome anything and do anything you set your mind to.
The greatest obstacle you have overcome?
Most definitely when I overcame debilitating panic attacks and anxiety when I had my first son. I was obsessed with climbing the corporate ladder, was a perfectionist and basically crumbled under the pressure and hormones. It's taken me four years to get to today with lots of soul-searching, hypnotherapy and retraining of my mindset, and now I feel better than ever. I have crystal clarity about my bigger purpose, which is to help more women feel confident, worry less, ditch the inner critic and stop being perfectionists. Good is often good enough – in fact, it's great.
Share one strategy for improving the role of women in the advertising and communications industry
I really believe that to help improve the role of women in the advertising and communications industry we need to support women better when returning to work after having children. I know many women who have given up fantastic jobs in this industry because they couldn't see how this could work with raising a family. We lose so many talented women. I also know many women who are not pushing themselves forward because they have lost their confidence to do so after returning, or they are just unable to find a flexible working solution that allows them to be their best at work and at home. These are all things we can solve. The confidence issue is a big one. That's why we focus on building this at Wunderman through a number of training initiatives.
Rachel Pashley, head of female tribes consulting, JWT
As a planner at JWT, for the past five years I have worked on collecting and mining female insight, culminating in global study The Female Tribes, having become frustrated with the narrow lens through which women were represented in popular culture. The project was initially fuelled through extensive desk research but has grown into a global proprietary study covering more than 8000 women, aged 17-70, across 19 countries – perhaps the largest femal- insight study of its kind within the industry. I combined this work with my day job, convinced that the story of what I term 'Female Capital' – the value that women bring to the world as women – needed to be told.
I have used this insight to inspire a more progressive and authentic representation of women through advertising, challenging stereotypes and unconscious bias, but also through product and service design to change the way the world works for women. Female Tribes has been embraced by the agency at all levels, and I have led the initiative to recruit teams around the network to build local expertise, this year launching Female Tribes Consulting, a response to client demand for a bespoke service enabling business to design their products and services through a female lens. I'm also proud to say that Female Tribes has inspired graduates to work with the agency as part of our recruitment programme.
As part of our work on Female Tribes I've championed initiatives to challenge the limited representation of women:
- Produced four-part documentary 'Her Story: the Female Revolution' with BBC World News to tell the story of female progress.
- Led the development of the 2017 #FThePayGap campaign for International Women's Day.
- Championed the development of the Gender Quota Study in partnership with the Geena Davis Institute on Gender in Media – a study of gender representation across the past 10 years of Cannes advertising entries.
- Led the development of the #drawaline Campaign with UN Women UK to end violence against women and girls.
This year will mark the launch of the Female Tribes book, to be published by Penguin Random House, enabling me to further spread the message of Female Capital, demonstrate that femininity is a strength, not a weakness, busting the entrenched stereotypes around women.
What people are saying about Female Tribes:
- "#Squadgoals is over. It's time for female tribes" – Elle Magazine UK
- "At Advertising week last month, I saw an incredible talk from Rachel Pashley of JWT on Female Tribes. Her central premise was that we should start defining women by their possibilities and not their responsibilities" – IPA Blog
- "It is a fascinating look at how we have all evolved away from a single stereotype of stay-at-home mum" – Forensem Marketing
- "The top authors on the matter – such as JWT's Rachel Pashley and the indomitable Cindy Gallop – are evidently female" – Katie Deighton, The Drum, On Gender Inequality.
- "'Change the narrative on women to be game-changing' Great quote from Rachel Pashley" – @APGLondon event #femaletribes @damayanti_p
Where have you come from and where do you want to be?
Having worked in this industry now for over 20 years I felt huge frustration with the narrow lens through which women are depicted. As a planner I'm hugely aware of the persuasive power of advertising, and the degree to which advertising can shape culture, it is part of culture. I felt therefore a strong conviction that we had permission, if not a responsibility, to use advertising and, more broadly, our cultural influence as a force for good. My motivation is quite single-minded: I want to change the way the world works for women through the commercial world, from communication through to products and services. While legislation can take decades to effect change, we move at the speed of culture, so we have such an opportunity – and I'd like to leave a legacy (without sounding too grand).
Your proudest moments on the way?
There are a few moments I can think of:
- Teaming up with UN Women to create the Draw a Line campaign to end domestic violence.
- Creating a campaign with Avon, "Careless words", to encourage parents to increase their vocabulary of praise for their daughters, going beyond telling them they were pretty to include more empowering language to help expand their universe of aspiration.
- Creating a Female Tribes "movement" within the JWT network to inspire us all to embrace the possibilities of being a woman in the work we do, not just the parental responsibilities of being a woman – 'the busy working mum' – which has truly opened up both creative opportunities; but also innovation/ NPD – for example, the Forevermark Diamond Tribute Collection celebrating women for who they are, moving beyond "love gifting".
The greatest obstacle you have overcome?
Having time to do all the things I want to do. This year I worked across three pitches, launched Female Tribes Consulting and wrote a book, the last two while eight months pregnant with my daughter – I finished work on Friday and delivered on the Tuesday. I hope this finally proves that 'baby brain' is a myth and, if anything, motherhood can serve to make you more focused and more determined. I think as women it's really easy to believe that you can't do something, but throughout working on Female Tribes, I've always thought that it's my responsibility to change the things that I feel need to change, that frustrate me. If not me, who else? That's hugely motivating.
Share one strategy for improving the role of women in the advertising and communications industry
Something that I sought to do with my book is to tell the untold story of female achievement, to lay bare all the precedents of 'Female Capital' – the value that we bring to the world as women. Without understanding our legacy of achievement, women are often seen as a risky bet – we're hired on proof, men are hired on potential. I think we have to promote and publicise the incredible work today and the legacy of work throughout the history of the industry to demonstrate and prove we have as much potential and as much right to be leading this industry as anyone else.After all: you can't argue with facts, and I want us to consciously seek out and publicise these amazing women to open more doors for women in the future, and add legitimacy to our contributions.
Sarah Salter, innovations director, Wavemaker
As director of innovation at Wavemaker, I've had a unique career path, from brand to start-up to agency. This diverse experience is the foundation for the areas I am most passionate about – growth, change, education and disruption.
I'm a wife, and a mother to Sebastian, the kindest little soul I know. I love being a working mum; watching my parents work so hard growing up inspired me and gave me strong role models to look up to. I hope to be the same.
I spend at least one evening a week offering career advice to those starting out, whether school-leavers in search of inspiration or start-ups looking to break the mould. I find this particularly fulfilling – I get my kicks from seeing people succeed.
Charlie, graduate: "Sarah helped me find my feet when I didn't know what I wanted to do. Her recognition of my skill set and strengths gave me the confidence to apply for jobs I didn't think I would get, but I did."
Lead by example
I understand the importance of good leadership, having been mentored myself by people who recognised my talents and helped me to realise them. This is how I lead: recognising the unique skills of people, offering support and nurturing them to become the future Women of Tomorrow.
Take risks
From moving to New York and delivering a business plan to taking Equinox's content site to a standalone business. Launching a start-up. And most recently, joining an agency in a completely new innovation role because I believe that in order to be good at marketing, you need to be an innovator.
Champion alternative definitions for success
While my day job is all about client projects, I believe extra work is needed to proactively set an agenda for innovation. I have challenged the conventional approach and believe innovation is a cultural issue. By facilitating and providing tools to everyone, collaboration has meant innovation is on the plan for many clients for the first time.
Make a difference
Last year, I questioned the fact that only 2% of VC funds went to female-founded start-ups and launched an initiative to get advertising agencies to stop tech tourism and support the long-term future of female founders. Beyond mentoring entrepreneurs with the support of some awesome people at Wavemaker, we sponsored a digital academy for female entrepreneurs and drove awareness of the need for change. I was also able to recruit some passionate colleagues to champion the mission.
Amber Atherton, chief executive, Zyper: "Somebody like Sarah is the ultimate person you could look for as an advisor when founding a start-up. Working alongside her as an advocate for innovative start-ups at a grass-roots level has been truly inspiring; She's a true champion of start-ups."
I have followed a path that has been right for me. One that has allowed me to continually develop my skills, drive change, and go to work being proud that I am making difference. For me, a Woman of Tomorrow carves out her own path and is bold and brave enough to take risks. I believe I am a Woman of Tomorrow.
Where do you come from and where do you want to be?
I didn't understand school, until I joined Young Enterprise and set up a business. This, alongside my headmistress telling me I was going to succeed as a businesswoman, gave me the realisation of how powerful opportunity and encouragement are at school. I've had several marketing roles for corporate companies, building new digital experiences, driving growth, disruption and marketing strategy. I launched a start-up, Vrumi. Realising start-up and fundraising is a man's world, I made it my mission to support more female entrepreneurs. My current role has led to innovation appearing on many client plans for the first time.
I want to create a better world. I would like to see an even split of male and female funding, and help more girls know encouragement and opportunity.
Your proudest moments on the way?
- Created and built a campaign that resulted in raising 44 million for cancer research.
- Taking a risk and launching a start-up.
- Seeing my mentees succeed.
- Supporting female entrepreneurs to grow their businesses.
- Ada Lovelace Day – I put on an event for aspiring female founders, leaders, industry and investors to discuss the challenges and barriers for female founders and find solutions for our industry to overcome them.
- IPA Brand Tech board – up until last month I was the only woman on the IPA brand tech board. I recently recruited another female to the brand tech group.
- Thought leadership – I was particularly proud of my most recent article for Campaign, 'How the ad industry can change the future for female founders'.
- Followed by own path.
The greatest obstacle you have overcome?
In a Japanese company seniority and rigid hierarchy determine everything. I made a recommendation for an ad not to be used. My senior Japanese colleague didn't want my opinion – I was too junior and hadn't been in the company long enough. Instead my colleague went and found a man – who had nothing to do with marketing – to seek his opinion. The same thing happened a couple times in different situations; my opinion was overlooked [because of] my age and gender. I began recording my opinions and successes and speaking out. My opinion slowly began to be listened to.
My final obstacle came when I wanted to transfer to New York. They hadn't done this for a non-Japanese worker before and it took much support, persuasion and determination to break down barriers and cultural challenges.
Share one strategy for improving the role of women in the advertising and communications industry
"There is a huge drop off in the number of girls studying core STEM subjects at the age of 16. Just 35% of girls choose maths, physics, computing or a technical vocational qualification compared to 94% of boys."
Girls cited the "lack of female role models in STEM as a key reason they didn't follow a career in the sector".
As agencies become more focused on data and technology it is key that we bring in a greater representation of women in tech roles in agencies.
I am in talks with LinkedIn and Albright to partner this summer and invite young girls and aspiring businesswomen and entrepreneurs to hear from and meet inspiring female leaders. My hope is [that if] we can stream these events we will inspire more young girls to consider STEM subjects, shifting the role of future women in agencies.
Marianne Waite, senior consultant, interbrand, and founder, ThinkDesignable

Waite is a driven leader, committed to making improvements to the world around her both privately and professionally. She is an important voice for disability equality within the creative industry.
Despite only having worked full-time in creative agencies for the past six years, Waite has been quickly promoted through the ranks at several design agencies. Her swift ascension to senior positions reflects her ambition, capability and dedication.
She is now a senior consultant at Interbrand, but having not only found success in her branding career, has also found a way of marrying this expertise up with her passion for disability inclusion.
Waite decided she was fed up with the half-hearted effort made by brands to represent and provide for disabled people, so she set out to make a difference, for those considered 'different'. In 2016, she founded Think Designable, a thought-leadership collective dedicated to evangelising the benefits of inclusion through mainstream design.
Think Designable comprises like-minded creatives from London's agency world. Through open conversation with brands and businesses, the aim is to encourage them to make inclusive products and services central to their business, as opposed to an afterthought. The initiative has garnered support from some of the most influential and innovate organisations in Britain, including the BBC, Lloyds Banking Group, Channel 4, Scope and BT, as well as The Office for Disability Issues, Business Disability International and other global inclusion specialists.
In 2017, Think Designable forged partnership with the Festival of Marketing to reward and celebrate inclusive brands. Waite facilitated the first disability panel at the festival as well as instigating and presenting the first ever Diversity and Inclusion Champion Award at the Masters of Marketing Awards.
Other current priorities include preparation for the next event, Designable 2018, which is being supported by the Minister for Disabled People, Work and Health. Waite is also heading their first brand research paper focused on amplifying the needs of disabled consumers, as well as campaigning for a change in the way image libraries represent disabled people.
Where do you come from- and where do you want to end up?
I started off working in various creative studios as a graphic designer during my time at university. I then joined the agency world, working on corporate reports for a couple of years before making my way into pure branding. Having studied inclusive design at University, I'm an advocate of mainstream brands employing inclusive creative practices in order to open up their products and services to more people. The plan is to build on this and work with a wider network of clients to fully understand what the blockers are for brands in terms of engaging with disabled consumers. At the end of it all, I'd like to look back knowing that I tried my hardest to achieve my vision, treated people well and resisted the temptation to change my style in order to fit in or progress.
Your proudest moments on the way?
I wanted to work for Interbrand ever since before I was born (or at least it feels like that). So being offered a job on the strategy team last year was a real highlight. One of the perks of the job is working with our ECD Sue Daun, who is an incredible female role model. We've enjoyed a number of proud moments together.
Aside from that, I would have to say taking a leap and setting up the Think Designable collective. In the past two years we have been involved in some really amazing initiatives.
And of course, being listed among these amazing woman as part of the IPA WOT Awards. My 18-year-old self would be pleased with me – especially given how many 'cheeky Vimtos' she would have knocked back of a weekend.
The greatest obstacle you have overcome?
My own self-doubt. Even now I need to remind myself that my biggest hindrances are self-fabricated. Imposter Syndrome has haunted me throughout my career and it's always a comfort when leaders and heroes talk about their own experiences with it (thank you Maya Angelou). I am so conscious of everything I don't know that I tend to focus on this rather than appreciating everything I do know. I spent a lot of time holding back for fear of getting things wrong or because I was worried about what people thought of me. One of my ultimate industry heroes, Joanna McGrath (managing partner at Bartle Bogle Hegarty) once said to me: "Don't be worried about what people think of you, they should be worried about what you think of them." I need to say this to myself at least once a week.
Share one strategy for improving the role of women in the advertising and communications industry
Bertrand Russell was right when he said: "The fundamental cause of the trouble in the modern world today is that the stupid are cocksure while the intelligent are full of doubt."
One of the biggest learnings in my career is that there are so many over-assertive blokes winging it while their (usually more capable) female counterparts are sitting quietly worrying about their ability. Too many women wait until they are certain/experienced/expert before taking a chance. The creative industry is a playground for the confident and men are much more likely to throw caution to the wind and just 'give things a go'. We should be encouraging younger women to take risks so they realise the value of learning on the job and pushing beyond their comfort zones – without apologising.
For more information and to hear from the judges.
#WOT18