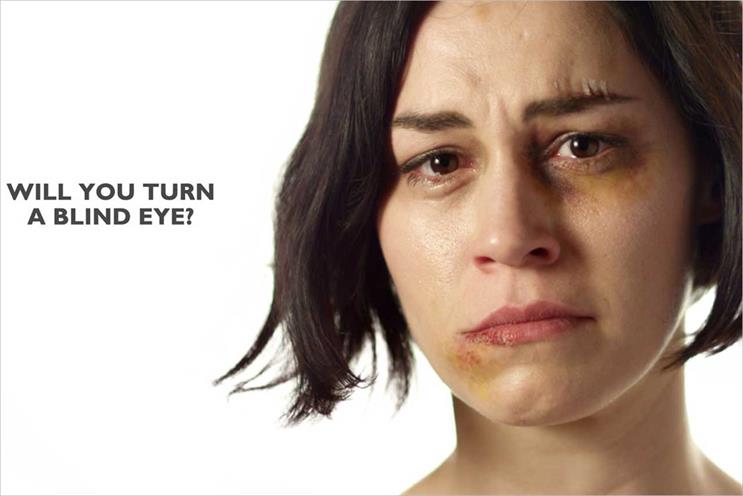 The ad by WCRS will launch across cinemas from tomorrow to coincide with the launch of 'The Hobbit' in 3D.
The spot, called "blind eye", uses 3D stereoscopic technology. Viewers wearing 3D glasses can manipulate the ad by alternatively closing their eyes.
Viewers who close their left eye will see a fruit basket full of oranges and a women happily preparing dinner in her kitchen. However, when they use their other eye, they will see a fruit basket full of apples and a man with the woman who hits her and burns her hand of the hob. The audience can switch eyes throughout the ad to watch the different outcomes.
WCRS has worked in partnership with VFX Studio MPC Creative to develop the technology and direct the spot so viewers are able to edit the hard-hitting commercial in real time by opening and closing either their left or right eye one at a time.
The 65-second film features the haunting soundtrack of Massive Attack's 'Angel'. The ad ends with the strapline, "Will you turn a blind eye to domestic violence?"
The creatives behind the ad were Naz Nazli and Rob Welch. Ross Neil was the creative director who worked alongside the creative technologists Luke Walker and Hiren Jakison. The ad was directed by Chris Vincze.
Ross Neil, creative director at WCRS said: "3D technology has already opened up new exciting possibilities for advertising but we wanted to push it further and use it in a different, previously unexplored way."
Marai Larasi, co-chair of Women's Aid, said: "The technology used to make this advert allows the viewer to choose whether they see the abuse that is happening behind closed doors in a relationship. The audience will have the ability to shut out the abuse and pretend it's not happening, or they can choose to view the reality of living with domestic violence."