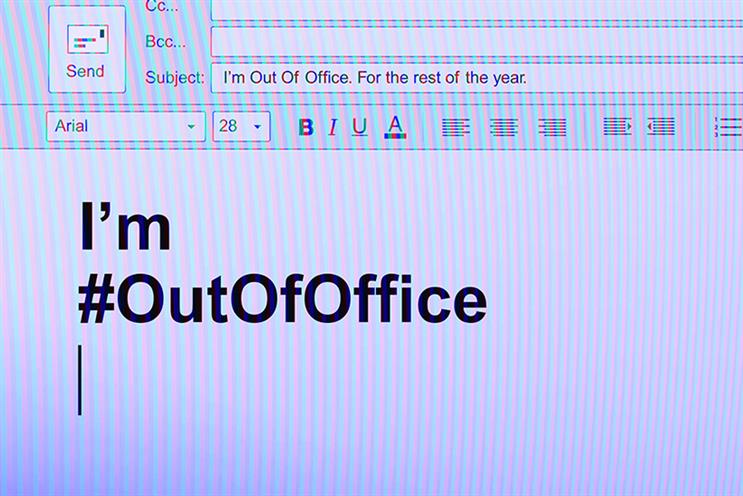 The campaign, created by Now, will see staff at companies including Thinkbox and Bumble symbolically set their Out of Office template with the subject line "Out of Office. For the rest of the year".
Sophie Walker, leader of the Women's Equality Party, said: "The gender pay gap is poorly understood and as a consequence not closing fast enough. We want women everywhere to see the scale of the problem and join us in sorting it out."
The initiative has been embraced but the industry and is being supported by organisations including Wacl, the AAR, Oystercatchers and Campaign.
Kate Waters, co-founder and chief strategy officer at Now, says: "Deloitte estimates that the gender pay gap will be eradicated by the year 2069. We think that's a shocking statistic and we need to make much faster progress to close the pay gap for good."
In a piece written for Campaign earlier this week Waters pointed to the fact that next year, companies with more than 250 employees will have to report their gender pay gap.
She wrote: "It's a start, but let's be honest, it doesn't really go far enough, does it? Only a fraction of UK businesses have more than 250 employees, and women aren't all 'average'. What does the gender pay gap look like for women with disabilities? Or women of colour? Or working mothers? If we want real change, better reporting of the problem, giving better understanding of what causes it, is a good place to start. But as ever, action is the only thing that really matters."
If you would like to support the campaign this Friday, please copy and paste the below and set your Out Of Office accordingly for the rest of the day.
SUBJECT LINE: Out of Office. For the rest of the year.
Not really, I'm just making a point.
Today is effectively the last day women in the UK are paid to work. Because of the gender pay gap the average woman is working for free until the end of the year.
So, if women aren't getting paid, why should they work?
That's why I've switched on my Out Of Office.
This is to raise awareness of the pay gap, which on average is 18.4% and for some women it's even worse.
If like me, and the Women's Equality Party, you think it's time something changed, you can join in by copying this message and switching on your Out of Office too.
This Equal Pay Day, it's time to get rid of the pay gap.