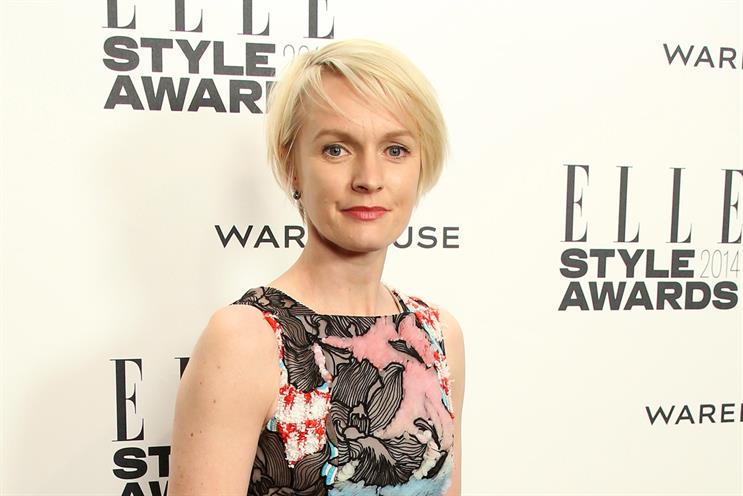 Feminism is firmly back in fashion. UK searches for the term on Google were at their highest in ten years in March, having climbed steadily since around mid-2012.
Elle's "rebranding feminism" campaign, launched last year, made more than 135 million social media impressions – smashing the title's records. Lorraine Candy, Elle's editor-in-chief, knew there was "something in the air" around feminism but says she was "taken aback" by the explosive response.
Candy says: "The point of it is to empower women and look at what you could do around that content we have built – and, yes, there is definitely business around that content." She believes it could pull in advertisers that traditionally overlook women's media, such as banks and telecoms companies.
Elle's publisher, Hearst Magazines UK, is now leveraging that interest for Empowering Women, its campaign and website uniting all of its female-focused titles such as Reveal and Cosmopolitan, with additional content from successful women, confidence tips, events and mentoring schemes. This comes with new ad opportunities.
Connecting advertisers to a publisher's female audience could be commercially savvy: Hearst claims to reach one in three women in the UK. IPC Media made a similar move with its food-focused site Goodtoknow, the most-visited women's lifestyle site in the UK in 2012, according to Experian Hitwise.
But Hearst's choice to focus on "empowerment" may prove more fruitful: readers naturally feel a more emotional connection with issues such as confidence, aspiration and domestic violence than recipes for macaroni cheese.
"We had to tap into an emotion," Candy says. "And what's the big emotion with women at the moment? They want to talk about time management and how they are paid."
Other publishers are aware of the potential. Jo Elvin, the editor of Glamour, says: "The increased interest in feminism is great for us because it plays to the subjects we have always covered in our pages."
But women's magazines do not sit well with feminism in everyone's mind: some feel the focus on beauty and image in some titles compounds the issues restricting women from achieving equality.
Candy is quick to say that Empowering Women's content will be "feminist but not anti-feminine". She adds: "I am perfectly comfortable with the huge level of beauty and fashion in my magazine, because I don't think any of it is anti-feminist."
In 2012, IPC's Marie Claire launched the MC@Work brand based on careers advice. Its publishing director, Justine Southall, recognises the "brand halo" that can be gained with feminism.
"There has been an opportunity perceived to ally brands to something that has been gaining more momentum," she says. "By proxy, your brand talks to the audience of women who are earning money and are able to afford your product and are interested in it. I think there's quite an important subliminal positioning, which is something that is very valuable from a commercial point of view."
Women's magazines can be quick to move on to the "next big thing", but there's no sign of them dropping feminism any time soon.