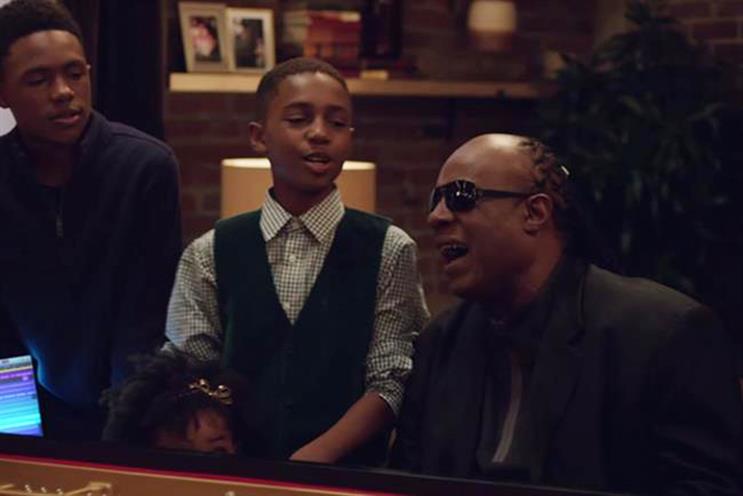 Lucy Barrett, the client director, Radiocentre
Radiocentre has spent months asking clients and their agencies a lot of questions about music choices in advertising. Why isn't it thought about earlier enough in the creative process? Why is it so rarely used as a long-term branding proposition? Why is it mainly used tactically and in many cases not used at all? We launched our findings as part of our research Strike a Chord back in October, revealing that when used consistently, music drives brand recognition, increases familiarity and likeability, and creates deeper engagement with advertising.
It's true that music is given more consideration by brands at Christmas – so who got it right? From what we learnt from our research, it would appear that very few of them have. But as it is Christmas, I will be charitable and highlight three that nearly got it right.
My choice is Asda. It's a joyful campaign portraying all we love about Christmas – from the office party to antlers on your pet dog. Its choice of music reflects those values beautifully. The use of a song by Fleur East called Sax that was about to hit the charts and therefore get a lot of airplay was genius. I listen to a lot of radio (no surprises there) and every time Sax is played I think of Asda, so it worked in the brand's favour to amplify the campaign further.
As always the "cry and buy" offering from John Lewis is lovely. Its music triggers an emotional response. It is also the nearest we have in this year's festive ads to strategic use of music. It may be a cover of the Oasis song Half a World Away by a singer none of us have heard of, yet there's a good chance that we'll still know it's the John Lewis Christmas ad even if we aren't looking at the telly. Perhaps some in our industry are tiring of the formula but the public aren't. In which context it seems an odd decision that the retailer doesn't amplify the effect of this powerful subliminal tool, music, by using it in its radio ads.
Finally, Cadbury has called upon the theme music of Thunderbirds. You wouldn't naturally associate Thunderbirds with both chocolate and Christmas but this is exactly why it works. Advent calendars are how we help to build up children's excitement around the big day. This ad and its music captured this growing excitement well. More importantly, it also stood out against the more schmaltzy offerings from some other brands.
Ultimately, while the emotional impact of these ads is boosted by the music they use, our research suggests that the brands involved would benefit by using music more consistently across the year, perhaps adding a festive twist to an established brand sound at Christmas. Just like a logo, music for brands is not just for Christmas.
Owen Lee, chief creative officer, FCB Inferno
"Music is over 50 per cent of the commercial," the late, great Paul Arden once said.
Levi's knows that. As does the team behind John Lewis – they make us all feel Christmassy not by using Christmas music, but by creating a musical event every year with an original cover version of a much-loved track.
We yearn for tradition and familiarity at Christmas. It makes us feel safe and secure. But that's the problem. How to be original? How to stand out from the music played in every shop, pub and radio and TV channel?
I'm a bit underwhelmed by the choice of music for commercials this year. The John Lewis formula, brilliant as it was, is starting to wear thin. I have always liked Half The World Away, but I can't help but feel it had much more resonance sung by Noel Gallagher as the theme to The Royle Family.
The Co-op has had fun using Bolero, but it is a wry smile rather than the strong emotional connection music can create – especially at Christmas.
House of Fraser made me sit up and take notice. It's refreshing and different from the festive norm. They haven't tried to compete with John Lewis and it's made the brand feel fresh and alive as a result.
And then there's Apple. Unashamedly schmaltzy, Christmassy and emotional, in a way that even us Brits can't help but admire the Americans for. A 90-second spot with just six seconds of Stevie Wonder using MacBook's Voiceover feature.
Apple clearly understands that music can be more than 50 per cent of the commercial and it was prepared to spend well over half its budget on it. How many clients are prepared to do that?