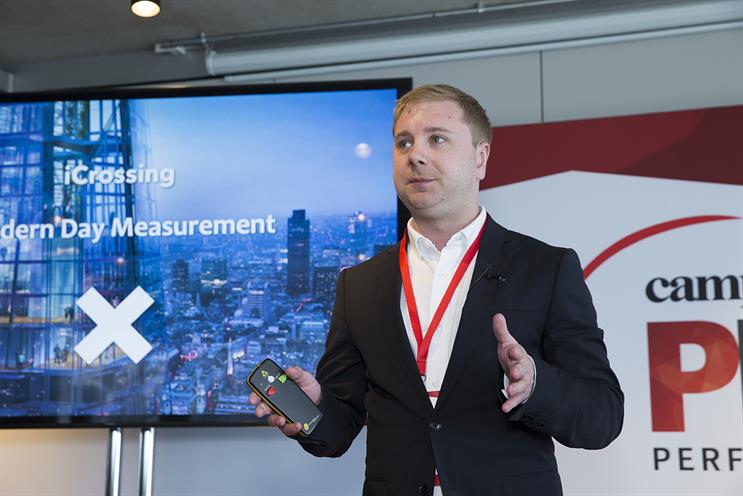 Memories and experiences – rather than more stuff – have become so prized that brands such as Virgin Experience Days are reporting ever higher revenues. In fact, Christmas 2018 saw the brand achieve its best festive period with over 20% growth. The brand largely tracks this success back to its use of first-party data, a seasonal digital-out-of-home campaign… and a spelling mistake.
With more than 40% of the brand's revenue delivered in the last couple of months of each year, from Black Friday to Christmas, it has to get the biggest bang for its buck – and quickly. So the brand began to delve more deeply into its data.
"We needed to be a lot more measurable," says Liam Howard Jones, head of marketing, speaking at PM360 in Brighton. "The experience market has exploded and we are up against Not On The High Street, Red Letter Days, but we're also up against all other retailers, and we needed to analyse our marketing to make sure we were getting the best results."
Data, data, data
Enter digital marketing agency iCrossing, who identified a measurement challenge.
"Marketing communications had grown more complex for the brand, starting with SEO and adding other channels over time, so a customer journey with more potential touchpoints required more sophisticated measurement to understand,"says Sam Vining, head of data and consultancy at the agency. "Using Google Analytics we could see the last non-direct click, but we needed to get a better grip."
The shift came when the companies realised they needed to develop a multi-touch attribution model, looking at attribution, segmentation and activation, to drive genuine growth. Again, iCrossing used Google Analytics to get a data-driven view of where the value was really coming from.
"We got the rest of the business on board by persuading them that we needed to integrate lots of different data sources to create a whole picture," says Vining.
Return or profit?
One example of where this worked really well was the keyword 'romantic getaways', explains Vining. This is an area which is tangential to the usual business – it's not one of those areas Virgin Experience Days is well known for and it isn't the core business.
For this keyword, the data proved its value – although the average return on ad spend was multiplied by 13.6, the brand's profit in this market was actually down by 35%; it's an extremely competitive space that the business wasn't optimised for. Based on these findings, the brand was able to draw a link between data integrations to give a view of profit at channel, campaign and keyword level.
Crowded houses
Now brands are operating in a digital-marketing ecosytem that's grown 50-fold over the last eight years ago. In fact, chiefmartech.com, who charts the size of this industry has referred to it as "unquantifiable". The resulting challenge is that customer data is disintegrated and it's difficult for marketers to create consistent journeys.
"Marketers need a central point of view of who these customers are," says Vining. "Brands have got data on all these audiences, which they need a way to activate in targeting."
Virgin Experience Days had 12 years of good organic search optimisation, so strong visibility in search engines was an important part of the campaign success. This worked in tandem with driving audiences to the website from various media, which allowed the brand to re-engage via cookie-based retargeting for a short time through the campaign.
With a budget of just £6,000 the brand created four new pieces of creative for different kinds of buyers. The series of four short films, delivered via social media, was made in-house and focused on annual festive situations and experiences. With so many diverse experiences appealing to sections of customers, the brand targeted each audience segment using multiple ads, broken down to different end-points, video lengths and edits.
The campaign was also rolled out to digital out-of-home. Here, analytics data enabled iCrossing to plan a digital-out-of-home test, which measured the campaign results concisely, in a two-mile ringfenced radius… and showed a 33% increase in conversion rates in that area.
"With the first-party data from iCrossing, we had some idea of what our customers were most likely to buy. That meant we could reach them based on data," says Howard-Jones.
Overall, agency and client attribute half of the campaign revenue to the activation of first-party data. It led to the festive success.
"We did some incremental testing and took time to build in some rules about patterns and remuneration. Our longest period of testing showed that last click is not necessarily as relevant as we originally thought. We had to consult the idea of multi-touch attribution into the business and convince people that last-click is not where the story ends," says Vining.
No effing way
But it wasn't all quite as smooth. The brand also launched an online Gift Finder, to help customers choose exactly the correct kind of Virgin Experience Day for their loved one. But, the email – delivered to the entire customer base of over one million people - contained a spelling error: "gift" was missing its "f".
"It got us a huge Twitter response and was mentioned on Capital Radio," says a glowing Howard-Jones. The best marketing campaigns aren't always precision planned.
The session…
Modern day measurement, joining up customer data silos with Sam Vining, head of data and consultancy, iCrossing and Liam Howard Jones, head of marketing, Virgin Experience Days – took place at PM360 in Brighton in May. For more information on iCrossing, please see here.