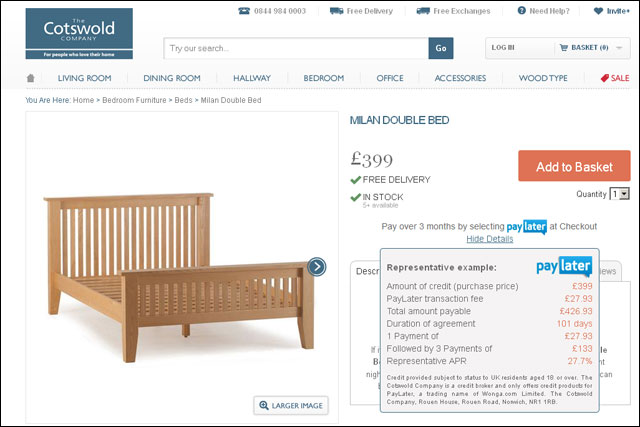 The service is called PayLater and allows the purchaser to pay off the cost of the item over 101 days, through an initial transaction fee followed by three subsequent payments. The branding of the service is similar to Wonga's, although the Wonga name is not referenced, except in the small print.
The annual percentage rate (APR) on Wonga's PayLater service is 27.7%, a significantly smaller amount than the 4,214% APR on its payday loan offering.
However, the PayLater service is across a three-month period, compared to the payday loan's maximum 30-day period.
Cotswold is the only retailer that has signed up so far in a low-key launch of the service, but a Wonga spokesman told Marketing, "We will start making more noise as we ramp up the number of partnerships."
The spokesman dismissed concerns that retailers would be put off by the brand's controversial image.
He said: "I think for a product that is as innovative as this and that provides a genuine controlled alternative to other forms of payment, there's going to be lots of interest in the market."
Wonga is not commenting on whether the PayLater service would be offered to Newcastle fans as a way of paying for season tickets, after Wonga signed up as sponsor of the football club, which has Sports Direct owner Mike Ashley as its chairman.
The launch of the service comes as Wonga pursues a strategy of product diversification through the launch of new products, including its 'Wonga for business' service, and start-up businesses in other countries including South Africa.
Follow @mattchapmanuk