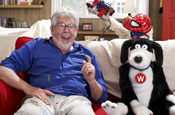 A heavy-hearted, collective sigh could be heard around the UK last week as Woolworths' collapse into administration was announced. It seems that this is a brand that no one wanted to fail and, despite the fact that its demise could long be seen coming, its passing left an emptiness in our hearts that is somehow hard to fathom. But why is that? In our heads, we know that Woolies got nothing more than it deserved.
More than anyone on the high street, Woolworths is a relic of a bygone age. It has big stores with tightly packed aisles of seemingly randomly merchandised, cheap-priced goods. No clear sense of what the store stocks, or why. It is a soulless experience reflected in a na•ve brand identity and bland interior design that have clearly not been invested in for decades. Even the shelves seem to be made of a metal that Health and Safety has probably banned by now. Woolworths hasn't changed in over 20 years, and it shows and this is why it has failed.
Much has been made of the nostalgia that people feel for Woolworths. But the disappointment people feel stems from more than just this. It comes from the deep-rooted knowledge that failure really didn't have to be the case. Nestling beneath that confused, anachronistic retail experience sat a proposition of real, and differentiated merit.
It is a proposition of authenticity, of democracy, of variety, of carefree, guilt-free indulgence. It is the perfect antidote to the over-calculated, over-designed and over-priced experiences that characterise the majority of the high street today. It is a proposition that everybody wanted but that just never got delivered against. It went unnoticed by the management of the company who, instead, pointlessly fragmented the brand into the Big W warehouse stores and a wholesale distribution business. Did anyone there have any idea what Woolworths really was? Their failure to realise where their focus and investment should have been is the true reason why it failed, not the economy.
Potential bidders for the Woolworths retail business may recognise that this dormant opportunity exists. But to awaken it they will have much work to do. Even with a sound fundamental proposition in place, the execution of it will require practically every aspect of the experience to change. So much so, in fact, that I suspect it would be cheaper and more efficient to start a new brand, afresh, than to try and rebuild from scratch.
As a lesson in how not to manage a brand, one need not look any further than this.
Jim Prior is CEO and managing partner of branding agency The Partners.