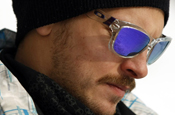 Work Club pitched against the incumbent design agency, PartnersDBMA, Albion, glue London and one other undisclosed agency.

Work Club's first campaign will be a men's lifestyle push in the UK market.

The press, online and retail campaign will focus on the brand's Square O sunglasses collection and aim to drive sales in opticians and specialty stores.

Later this year, Oakley plans to kick off new initiatives with the Olympians Victoria Pendleton and Chris Hoy, the golfer Ian Poulter and the cricketer Kevin Pietersen.

Oakley's last ad campaign, also for the Square O range, featured extreme sports stars and tracked their performances online via blogs, news and personal accounts posted on the Oakley site.

The six stars featured were the surfer Oli Adams, the BMX rider Kye Forte, the wakeboarder Ben Hitch, and the snowboarders Scott McMorris, Tyler Chorlton and Vicci Miller.

In the past, Oakley UK has used digital agencies, including Sennep, on a project basis in collaboration with PartnersDBMA.