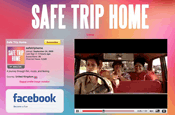 Facebook Connect was launched in May this year, and has been dubbed the third stage of social networking.
Work Club has launched a campaign using the new medium for SonyBMG to promote Dido's new album, Safe Trip Home, on Monday.

The Facebook Connect part of the campaign will launch from 10 November and will allow users to record their activity on the Dido website on to their Facebook pages. This, in turn, allows brands to use Facebook as an advertising medium.

The Safe Trip Home campaign features 12 online short films, which focus on the theme of 'trips home'. The films were shot around the world by filmmakers including Stephen Kijack and Marcos Prado.
Patrick Griffiths, Work Club's strategy partner, said: It's a rapid and essentially free way of broadcasting the online conversation your brand has with one customer to be seen and discussed by all their friends.
"Maybe it's like going for a test-drive but with your 200 friends in the back seat.

In America, Red Bull and the Democratic political lobbying group, MoveOn, have already used Facebook Connect.