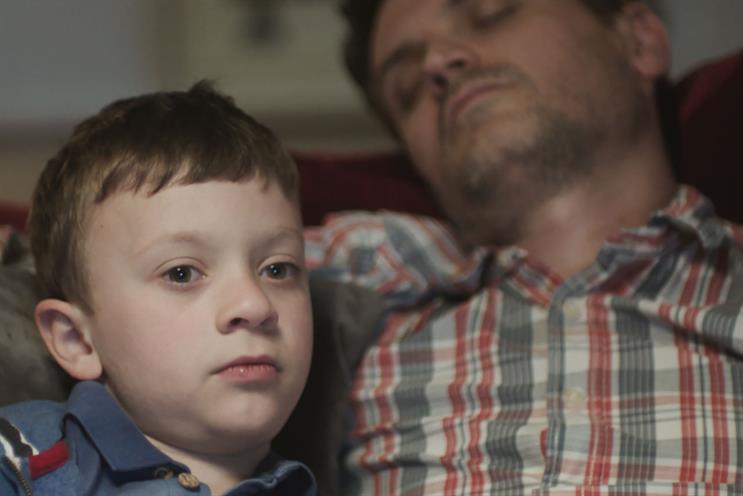 Pitching. Last year. Sat in the office at 11.47pm. Staring, as ever, at Paul Jordan. Both hoping that inspiration got the message; to meet us in the office at midnight. Feeling anxious. Inspiration doesn't always turn up when it's supposed to. Can be a bit flakey.
Elsewhere, my two children lie asleep. Two boys. Crazed bundles of energy. Partial to wrestling. Now at rest. Another day gone. Their mum did their dinner. Their mum made them do their homework. Their mum bullied them into brushing their teeth. Their mum read them their stories. Their mum got them the glasses of water they always ask for but don't really want, just so they can prolong the process before lights out. Their mum now makes her way to bed. Tired. Alone. She's used to it, though. "Big meeting", I'd told her. "Important", I'd reassured her. "Aren't they all?" she'd muttered.
She's right. I say the same stuff all the time. The next meeting always seems like an important one. Most people just accept that if you want to do great work, it's going to take time.
Especially when you're pitching. Let's face it, the secret to winning pitches isn't really a secret at all. The harder you work, the more you win. Simple. And painful.
Whatever the next important meeting is, careful work life balance planning has a habit of going out the window. Drinks with mates. Dinner with loved ones. Gigs. Shopping. Wrestling. It all gets put on hold.
The reality of our business is that there's less money and less time to do things well, so we have to work harder. Work life balance isn't a new thing but it's getting worse.
"Most people just accept that if you want to do great work, it's going to take time"
None of this helps my wife, though. Or my kids. Or, to be absolutely honest, me. When I'm overworked and spending too much time away from my family, my wife casually dismisses my work ethic as misjudged. "It's only ads, you dick", she tells me. I want to point out that it's more about joined up 360 solutions, but I hold my tongue. She'd probably punch me in the face.
Anyway, back to my pitch last year. Back to the 11.47pm hopeful staring. My gaze drifts to one of my son's drawings on the wall of the office. And this beautiful little picture jabs me in the chest. It's hard to imagine a better reminder that there are more important things in life. That's how our film for Nabs came about. We wanted to bring attention to their Working Parents Initiative. An amazing, much needed, program that helps working mums and dads deal with guilt and develop clever strategies.
It's a project we couldn't have done without the lovely people at Nice Shirt and especially Jon Hollis, the director.
I can't remember if we won our pitch, but I'm glad we had the idea for Nabs that night. Work life balance is something mcgarrybowen is thinking about a lot, but the truth is we've got a long, long way to go.
(And I'm definitely not going to tell you what time it was, or where I was, when I wrote this piece).
Richard Morris, chief growth officer EMEA, Dentsu Aegis
"How I made it work? The truthful answer is that it is always a work-in-progress.
The prospect of being a primary carer to two young children and building a career was, in retrospect, more daunting than the reality. That is not to say it isn't tough, because it is. And sometimes very tough. But I don't think this is the exclusive preserve of working parents, but rather central to the human condition. If you're lucky enough to love what you do then determination and passion can achieve a lot of things.
I don't think the notion of a work/life balance is particularly helpful, and in itself feels like an unattainable ambition. Balance implies calm and serentity. Neither my home or worklife reflect this, and neither would I want them to.
The things that help:
Be open about it with colleagues and clients, and be honest with yourself. It's not a weakness, but can be a source of strength. Working for an organisation that understands and supports working parents, through flexible working and rewarding on outcomes rather than inputs, is a big help. This year Dentsu Aegis introduced enhanced shared parental pay, offering dads and co-parents up to 20 weeks paid leave, and launched a coaching programme for working parents and line managers, to help prepare for the period of leave and the transition back to work.
You do become ruthless about cutting out the stuff in between. I don't think I'm ever going to be a school governor, nor that guy encouraging others to have that last drink at the bar. But in the midst of it all you have to, somehow, find time for yourself. This had been pointed out to me more than once before I truly believed it. But making sure you make space for things that make you, rather than others, happy is probably the most important lesson to be able to sustain such a, shall we say, busy lifestyle. It is, ironically, an almost selfless thing to do. To draw upon an aviation analogy, make sure you fit your own mask before helping your children. That's both metaphorical and literal."
Katy Talikowska, managing partner, AMV BBDO
This may sound obvious but the single most important thing when it comes to being a happy and successful working parent is working at a company that allows you to be one. So if you're not in one now, leave. As a very wise advertising man once said 'flowers grow in the sunshine' and the best companies know that their success is inextricably linked to looking after their people; ensuring they are happy, engaged and treated like grown-ups.
You do however, need to reciprocate and treat them like grown-ups too. When I returned to work, I was open and upfront from the start about my childcare commitments. It did take courage but being really clear and setting some parameters was critical. We are all completely used to working around each other's availability and in essence this was all that I was asking for. You do, of course have to accept that your day will inevitably be stretched, as more often than not, I have to catch up on work once my daughter has gone to bed but it's more than worth it.
The things that help:
Be ruthless. Only do one thing at a time. Ask yourself 'Am I parenting now or working? Trying to do both at once will mean you do neither well. The catalyst for me, was my daughter hiding my phone because she was upset that I was constantly checking it when we were together. Just doing one at a time, will mean you have a much better chance of success and importantly for me, that my daughter won't see work as the enemy. This isn't a legacy that I want to leave her.
Embrace the occasional chaos, relish the sense of perspective that you get from being a working parent and console yourself with that the fact that a balanced life is rarely an exciting one; everything worth fighting for unbalances your life. And lastly accept that sometimes you will not get everything right. I am writing this late on a Sunday night, several days past the deadline. If you are reading it though, it's proof that people are forgiving and the world will still turn.