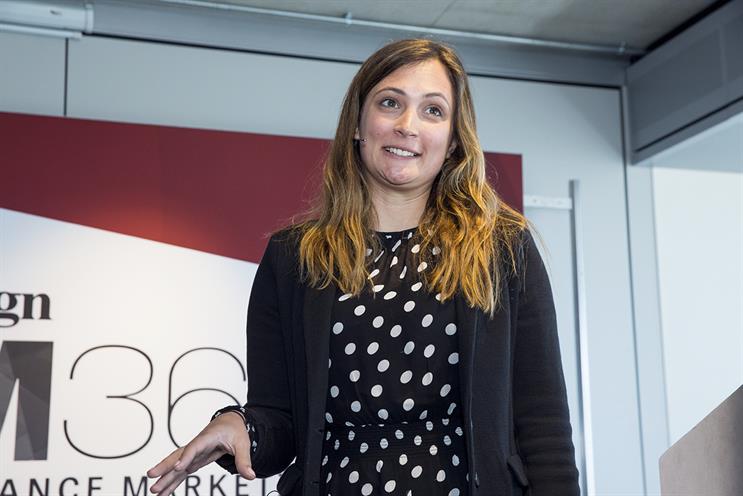 "We're seeing increased spend and performance for clients," said Jack Swayne, chief executive of iProspect. "Not just with what one expects [consumer electrical brands], but particularly from FMCG brands, and brands that don't necessarily have a direct-to-consumer channel."
Swayne was talking during a session at PM360, where Carat strategy partner and former P&G media manager Flora Kessler (main picture) joined him onstage. Kessler worked with Amazon at P&G and her message for clients was less tempered. She argued that Amazon's sheer might and obsessive focus on maximising margins should make brands particularly wary.
Kessler was in part playing a role – devil's advocate to Swayne, whose take on the digital behemoth was less damning.
During the presentation, Swayne (pictured) explained that "there are certainly opportunities for brands", adding that around half the agency's clients are upping their ad spend with Amazon, already the world's most valuable public company, Amazon's appetite for sustained growth is insatiable, having made inroads into advertising, TV, film, search and voice activation.
"Ultimately, Amazon presents a great opportunity for brands to drive volume. But there are long-term threats," he admitted.
Kessler agreed. "Amazon love commercially to put vendors in a difficult position," she said, citing the latest acronym applied to its business model, CRaP. It stands for 'can't realise a profit', referring to those products expensive to ship due to bulk or weight, which Amazon is clamping down on.
Co-opetition not competition
Both for Swayne and Kessler, the solution for brands feeling beleaguered by Amazon is to foster a more collaborative approach, within client organisations, between agencies and with Amazon itself.
"To integrate and not just think about them around competition, but around 'co-opetition'," Swayne said. "Amazon has a role to find new customers, to be complementary."
Kessler agreed. "We're having separate conversations with this big organisation. We need to try and unify conversations around Amazon," she said, suggesting clients and agencies adopt a less siloed approach to commercial and media, instead encouraging teams to work together.
Taking over the world
Clearly, though, Amazon will continue to pursue its strategy of aggressive growth.
"There is a lot of talk about Amazon getting into price comparison," Swayne added. "They haven't done it yet. They're trying to get into so many different areas. There's a chance they will try and take over the world in every different element of our lives, by centring it around being customer-centric. Not just products, but services. They see that as an opportunity to launch different things and test different things."
But while Amazon's growth is seemingly inexorable, the idea of a consumer landscape bereft of choice and populated with homogenised products was dismissed.
"I can't see us as a nation letting Amazon choose everything we buy and the services we take. So there will always be competition," Swayne said.
About iProspect
iProspect is the UK's leading performance marketing agency with 20 years' experience. It works with brands including Diageo, ASOS, Eurostar, Saga and Kellogg's. Globally, it has 91 offices in 55 countries.

Last year, the UK business alone tracked and harnessed more than 100bn unique digital data signals, drove more than 1bn sites to its clients' websites and generated more than 39 million sales and contributed £1.6bn to the UK economy.