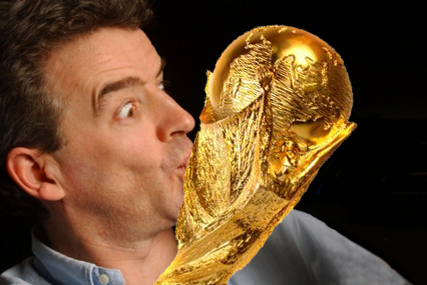 Russia, Qatar and the World Cup sponsors seeking out new markets are the obvious beneficiaries of Fifa's decision to steer the global soccer juggernaut firmly into new territories.
But Blatter's buddies have spawned a host of less obvious marketing winners...and more than a few losers...
WORLD CUP WINNERS
Ryanair and EasyJet
Fifa's decision means Europe misses out on the next three World Cups, but it means England fans (football Gods willing) may well make travelling to the 2012 European Championships in Poland and Ukraine a priority. Book your cheap flights to Wroclaw now, before Ryanair renames it 'Wroclaw (insert name of host city here)'.
Andrey Arshavin and Roman Pavlyuchenko
The Russian footballers are pretty well-known in the UK due to first team appearances for Arsenal and Tottenham Hotspur respectively, with Arshavin a veritable media star in his home nation. Although likely to be too old to play in 2018, they could be a cheap option for UK brands looking for a familiar face from the East to appear in their ads. They're not exactly Beckham, but a safer bet than Uncle Joe.
Helios Partners


Sports marketing consultancy Helios Partners led Russia's bid to become host nation, having already secured the 2014 Winter Olympics for the country. It was the first ever World Cup bid Helios had worked on. Helios co-founder Terrence Burns, speaking to Brand Republic the morning after celebrating with the Russians, said: "Russia actually answered a need that Fifa has, which is to help Fifa grow the sport, to [reach] new hearts, new minds, new places. That was our story - it was really about new potential."
London Evening Standard
The time difference with Russia is likely to favour the afternoon paper when it comes to coverage, while proprietor Alexander Lebedev's connections in his home country may come in useful — if his uneasy relationship with those in power doesn't sour the press accreditation process.
Qatar Airways and Emirates
The Qatari and Emirates airlines' global ambitions could be given a helping hand by arrival of the World Cup in the Middle East — Emirates already has the naming rights to Arsenal's stadium and it has been a World Cup global sponsor since Germany 2006. Nothing confirmed yet as to whether either will branch out as far as Robin Hood airport. (What? People from Doncaster go on holiday as well.)
Translation companies
With the next three World Cups taking place in non-English speaking countries, it's a boon for those low-profile outfits that translate ads for local audiences. If you're an English/Arabic/Portuguese/Russian speaker, you're laughing.
Emerging market agencies
Brazil's hosting of the next World Cup and 2016 Olympics has already sparked a rush by ad agencies to strengthen their presence there. Nike's creative agency Wieden & Kennedy, for one, has just opened in Sao Paolo. Saint@RCKR/Y&R/Doha has got a nice ring to it, wouldn't you say ...?
The ME in EMEA
Expect EMEA chief executives to suddenly become a lot more interested in the furthest reaches of their empires over the next few years. Those gratis World Cup seats aren't going to fill themselves!
The on- and off-trade
With precious few England fans making the trip to follow the England team in person — Moscow is currently the most expensive city in the world to enjoy a hotel break and Qatar is...well...where is Qatar? — boozers and off-licences can expect a surge as we drown our sorrows at another dismal performance, safe and sound in Blighty.
WORLD CUP LOSERS
British Airways
The world's favourite airline managed to back Fifa's least-favourite bid. So no global influx to Heathrow in 2018, but it might flog a few tickets to Vladivostock.
Next generation holographic technology
Japan's losing 2022 bid planned to relay the on-pitch action to stadia around the world in the form of almost-live holographic action played out on the pitch. Unless Fabio Capello puts it to good use replacing a few of the England squad with holograms, expect Princess Leia-style matchdays to remain on ice.
Budweiser
With Qatar's Islamic ban on alcohol consumption in public places, current official beer Budweiser might not go down so well with the locals. Expect sales of beer can baseball caps to plummet. Guerrilla booze marketers might also want to think twice before sending out the dancing girls.
The environment
"It's a bit parky" is not a phrase you're likely to hear that often in Qatar, but when the air-con bill comes through, you might hear a few slightly more colourful colloquialisms. Still, at least the stadiums will find a new welcome new home come 2023. Turns out you can move the mountain to Mohammed if you've got enough cash.
The British media
For many, bad guy Blatter's to blame for (insert pretty much anything here), and while the BBC is at pains to stay out of the firing line after that 'Panorama' documentary, let's not forget The Mail on Sunday's hatchet job on bid chairman Lord Triesman. The News of the World stands to find itself another loser. You would think the "Fake Sheikh" headlines write themselves, but how is Mazher Mahmood going to outdo the real fake sheikhs?