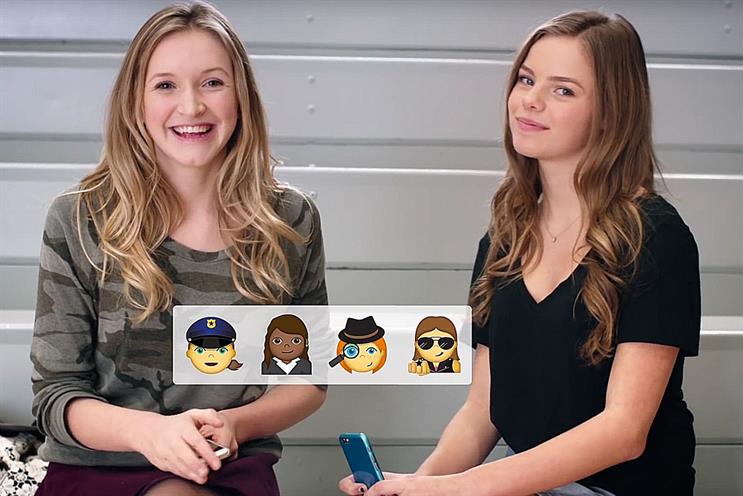 However, in March, Michelle Obama sent a tweet to the Always "#LikeAGirl Emoji" campaign, which calls on girls to ask for more empowering character options, with a request of her own. "We would love to see a 'girl studying' emoji," she wrote. "Education empowers girls around the world."
The Always team created custom images in response: a girl carrying books, a girl in a graduation cap and one of the First Lady herself.
"If you can get the First Lady to tweet out, that is a huge success. If you can get the First Lady to call and partner her 'Let girls learn' initiative with your brand, another big win," says Nancy Hannon, executive vice-president and executive creative director at Leo Burnett in Chicago, who leads the global creative on the account.
Leo Burnett and Procter & Gamble have been working to create positive change in young girls' lives with the #LikeAGirl campaign since 2014, when a three-minute film featuring girls explaining what that seemingly innocuous description meant to them turned into a rallying cry for girl power. It has received more than 85 million views across 150 countries and won more than 200 industry awards, including a Grand Prix and Titanium and Glass Lions at Cannes last year.
Always "wants to change the world, one girl at a time", according to Michele Baeten, global associate brand director on the 30-plus-year-old brand. That lofty ambition had been evident in its "puberty education" work, says Baeten. But before "#LikeAGirl," it was absent from its product-focused advertising. "The brand's purpose, all-round girl empowerment, came to life through education," she adds; it reached 20 million girls in 60 countries each year.
In 2013, P&G asked Leo Burnett, which had worked on Always since 2001, to bring that mission to life for a new generation of consumers. Research showed that more than 50% of girls lose confidence when they hit puberty. The team began exploring the societal messages that have a negative impact on young girls, such as the use of the phrase doing something "like a girl" as an insult.
Deeper meanings
Leo Burnett's Chicago, Toronto and London offices, led by chief creative officer Judy John, brought in documentary-maker Lauren Greenfield to conduct interviews probing the weight of those words. The film revealed a marked difference between how pre-pubescent girls translated "Like a girl" and the ways older subjects did.
"If the stereotype is that women are weak, then they start acting weaker," explains Baeten.
The film, released online, resonated so strongly that the team convinced P&G to run a 60-second cut during the Super Bowl. Digitally, the film was gathering steam virally, but anecdotal evidence showed it was hitting a deeper emotional chord. Teachers were screening the film in class, and schools were hosting "#LikeAGirl" sports days.
"We really needed to take it to the largest stage that there is, and what better stage than the Super Bowl?" says Baeten.
Last year, a follow-up film, "#Unstoppable", asked girls whether they had ever been told they shouldn't do something because of their gender; more than 70% had. The video showed girls, who had been asked to write down those "limitations" on cardboard boxes, kicking those boxes away.
The campaign is proving to be a positive, purpose-driven platform for the Always brand. Soon, the work will have expanded its reach to 40 markets, from 20 at launch. "It's resonating globally, as the insight is so true," says Baeten.
In the "#LikeAGirl Emoji" video, girls tell documentarian Lucy Walker that emojis, their most popular communication tool – girls send more than 1 billion a day – offer them only stereotypical choices: characters that wear pink and do their hair and nails. They go on to share their ideas for alternative ones, such as a female wrestler, soccer player, lawyer or policewoman.
So far, the video has attracted more than 40 million views. Always has received more than 4000 unique emoji requests, which it has passed on to the Unicode Consortium, the maker of the standard keyboard set.
In the meantime, the agency and brand are working on the campaign's fourth instalment. What's most exciting, says Hannon, is the work's long-term impact. "We're looking years into [the future] imagining what the world would be like if half the population stayed confident; what amazing things would happen," she says.
---
Michele Baeten
Global associate brand director, Always, Procter & Gamble
The Always "#LikeAGirl" movement is so special because of its mission: to stop the drop in confidence that girls experience at puberty. The team working on this consists of very passionate individuals, each and every one committed to drive social change and ready to rewrite the rules.
What I love so much about the creative work is that it makes the not-obvious, obvious. It makes us stop and think about all the seemingly small things that have an impact on girls' confidence in a big way.
The relationship across the client and agency teams works so well because we feel united in the Always mission. Our diverse backgrounds and experiences enrich all we do. We have the utmost respect and appreciation for one another.
Together, we have created a movement that really struck a chord and is changing the world, one girl at a time. As our bond grows stronger and stronger, so will the Always "#LikeAGirl" movement.
Nancy Hannon
Executive vice-president and executive creative director, Leo Burnett
Michele is human. She sees the world from the eyes of the consumer (though, of course, through the lens of her laser-sharp business acumen). Keeping the consumer at the centre of it all allows her to inspire hearts and minds to take action.
Michele is an activist. Every goal she sets is within reach and she challenges herself and others to step up to the plate to make dreams a reality.
Michele is a dreamer and surrounds herself with dreamers. She believes that dreaming of what's possible can take great ideas further.
Michele is the epitome of the brand's mission. She has boundless confidence, she is limitless, she is inspired to do amazing things and is absolutely unstoppable – #LikeAGirl.