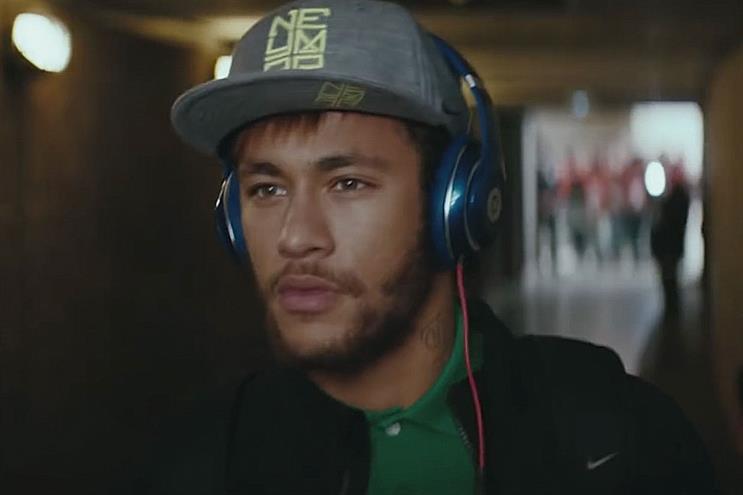 And just like that, the brand dived into the limelight.
To get around the small issue of not being an official partner of either the Games or the International Olympic Committee, R/GA London and Beats realised that presenting the headphones to all the athletes as a gift would quickly place the product in front of the masses. It was the beginning of a partnership that has gone on to up the ante in sports marketing.
After the success of the ambush marketing at the Olympics, R/GA London and Beats continued to operate in the sports space. Their work on "The game before the game" around the 2014 Fifa World Cup shared pre-match rituals from some of football's biggest names, including Neymar Jr, Rio Ferdinand and Thierry Henry.
The pair developed the idea for the 2015 Rugby World Cup, with "The game starts here", which charted the preparations of Chris Robshaw of England, Richie McCaw of New Zealand and Wesley Fofana of France.
Beats may be giving Nike and Adidas a run for their money, but, by working with R/GA London, it has also changed the music market, developing characters for its portable speakers, Beats Pills, and introducing Beats Music, a streaming platform.
Donning a pair of Beats headphones may now be a fashion statement, but the work has also been widely recognised in adland. The relationship has led to several prestigious awards, including two gold Cannes Lions.
This outstanding work finally put R/GA London on the map, having spent so many years in the shadow of its New York sister shop. For Beats, the gains were probably even greater, culminating in its acquisition by Apple for more than $3bn.
---
Omar Johnson
Chief marketing officer, Beats
R/GA London was the first agency I came across that didn't have a problem with our small media budget. They were smart to realise that if we did more on social media, with paid and earned media, we would spark a conversation about Beats among consumers.
When we first met, R/GA London reminded me of Beats. They had healthy competition from their New York office and Beats got the full benefit of them wanting to do better than their "big brother". They had a hustle about them. We all had a feeling that we were going to change this category.
I really believed in the people. I bought them; great people are hard to find. They were open to collaboration and building things together. Rodrigo is a brilliant creative, because he can put his ego aside. With a lot of creatives, their egos start to drive much of what is being sold to you as a client.
We have a very progressive approach to our work and are very protective of each other. You'll never hear: "The agency screwed up." We've never been like that.
We truly like to be collaborative; there's a tension that comes from passion and being objective enough, and that can be from the most junior person on the team. It's really about the best idea.
Rodrigo Sobral
Senior vice-president, R/GA London
The first time I met Omar [in person], he threw me straight in front of Dr Dre to present our ideas for the Beats Pills campaign.
It was the first time I had presented to an artist and I had to pretend that it was the most normal thing in the world. Dr Dre started the meeting by saying: "What up?" When we finished presenting, he said: "So that's what up."
It's been a very collaborative relationship from day one. There's a great level of openness. We work so closely, it's a real feeling of family. We go to shoots together, we go to edits together. That's when you do better work, when everyone is involved.
Asking me to pick my favourite ad is like trying to choose between my kids. The most challenging campaign was probably "The game before the game" for the Fifa World Cup in 2014. As soon as we started shooting, I changed about 50% or 60% of the script. Even though we researched the players' pre-match rituals, a lot of them turned out not to be true. Omar has always supported us in changing the script on the fly. That would make a lot of clients scared, but Omar knows it creates good work.
Collaborating with Beats has forced us to redefine the way we work. We built a model focused on authenticity and moving culture, whereby we need to make sure we are constantly listening to people talking about the brand and our work. Beats is one of the most stimulating brands that I have worked with.