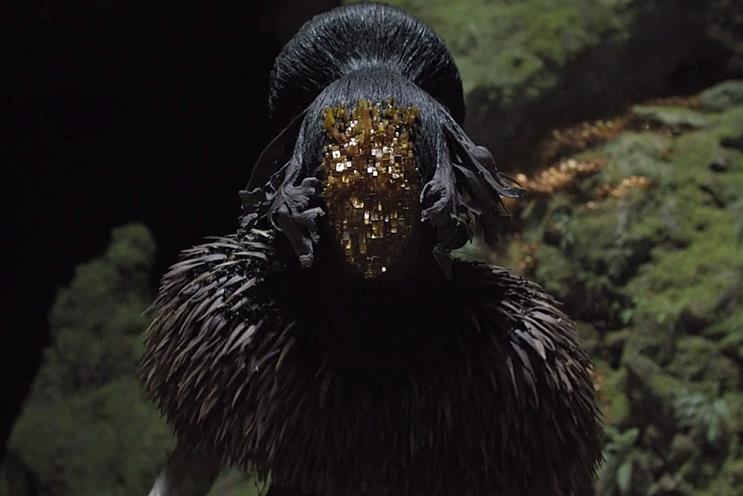 The publicly funded broadcaster's new in-house creative department emerged as a near-carbon copy of 4Creative, right down to the creative team plucked from a hot shop (this time, Adam & Eve/DDB) to run the place.
And why not? No in-house creative team in the UK has been as successful as 4Creative.
When John Allison and Chris Bovill joined from Fallon in 2012 they had the daunting task of following Tom Tagholm, who left after making "Meet the Superhumans" for the broadcaster's 2012 Paralympics coverage, a campaign that won a Grand Prix at Cannes and a D&AD black Pencil.
But the pair have proved themselves fitting successors, picking up a black Pencil of their own in 2015 for their Film4 idents that gave – sometimes fiendishly tricky – visual clues to famous films.
Bovill and Allison's work as joint heads of 4Creative, under chief marketing and communications officer Dan Brooke, who joined the channel in 2011, has embodied Channel 4's mantra of creative risk-taking and its "Born risky" positioning.
As well as spots featuring amputee pop stars, drag queens and a sexually adventurous tortoise, the pair marshalled a surreal rebrand with a set of gorgeous but bafflingly surreal promo films.
Occasionally, agency folk will argue that 4Creative has it easy, selling entertainment and not soap powder – and they have a point. Nonetheless, even within the confines of selling TV programmes, 4Creative still excels.
---

(l-r) John Allison, joint head of 4Creative; Dan Brooke, chief marketing and communications officer, Channel 4; Chris Bovill, joint head of 4Creative
Dan Brooke
Chief marketing and communications officer, Channel 4
What was your impression of Chris and John when they were joining Channel 4 in 2012?
Right away they sounded the part. They certainly looked the part. And so they've turned out to be. More so, in fact. Most of all, the "black sheep" tendencies were there from the start. Always positive too, and always cheerful. I like that.
What's your working relationship and chemistry with them like? How much interaction does your job require?
The covers of our books are different, but we have similar values. We worship Channel 4 and love taking risks together. It's a messy business. You're finding your way through the forest without a path. The compass gets passed easily between us, though. Humour plays an important part, especially when, after hours in the undergrowth, we seem to be back at the same old oak tree. And we're straight, white, able-bodied, Anglo-Saxon men, [who have] ended up with a Brazilian, a Sri Lankan and a Korean. One more thing: we each have a riot with our kids.
Have they ever come to you with an idea that you could not air? If so, can you talk about it?
Ha! Their judgement is so impeccable they wouldn't waste time on that.
What has been your favourite piece of work from the team?
"Superhumans 2" is limbering up well, I must say. But it would be wrong to say more. I don't want to jinx it.
John Allison and Chris Bovill
Joint heads of 4Creative
Why did you leave the agency world to join Channel 4?
We grew up on Channel 4 TV. We've always been outsiders. We've never courted the mainstream. We feel passionately about pushing new talent and championing diversity. Using creativity to make a social impact gets us out of bed. So when Channel 4 came knocking we leapt with reckless abandon into its warm, but spikey, embrace.
What were your expectations when you joined?
On day one our bosses, David Abraham and Dan Brooke, both gave us the brief to "scare" them. We knew we'd joined somewhere special and unique.
What's the reality like, compared with your expectations?
Better. We are creatively spoilt. There is an abundance of risky riches in a building full of amazing, inspiring, creatively ballsy people who are all up for it. James Walker, head of marketing and all-round badass, epitomises this.
What's the dynamic of the relationship with Dan Brooke?
We all get off on taking huge creative risks. We've made the work of our career time and again with Dan. That's because he will push us, and the work, on the grounds that it's too safe. Dan's middle name should be "gerous".
Does he get involved with creative decisions and ideas, or leave that to you?
We want him to get involved. When we're working on the bigger projects, you don't know where the Dan begins and the Chris and John ends. It's a big, unsightly, Channel 4 maelstrom of alternative ideas and varying degrees of facial hair. It's not pretty but it works. We sometimes disagree (never violently – Chris is massive, you wouldn't take him on), which is natural. You need the fighty bits to get to the good stuff.
What sort of manager/client is Dan?
He is our mentor. Jumping from creative directors at Fallon to heads of a 44-strong department, Dan took a risk on us that nobody else would at the time. Having to keep the creative bar high while keeping it running operationally was a huge step for us. He provides us with so many nuggets, pearls and other denominations of wisdom in regards to leadership. In return, we like to think we've taught him a thing or two about creativity.