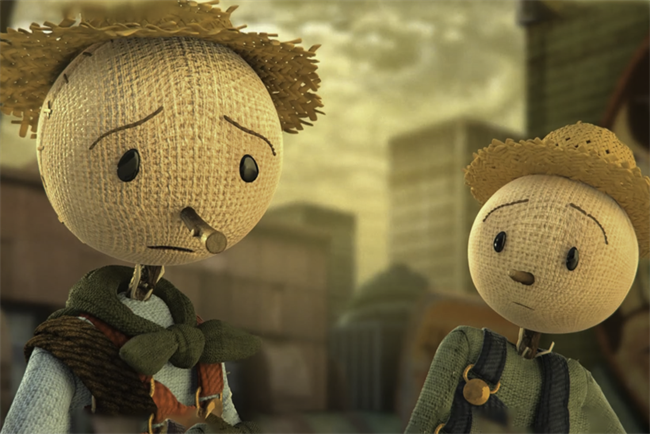 To commemorate the 2016 Cannes Lions, Campaign is taking a look at the world's most vital creative partnerships between chief marketing officers and chief creative officers. Check back all week for more entries.
How sad can you make a cow's eyes? Can you transform the positive pitch of "Pure Imagination" into a dark, cautionary tale about factory farming?
Those were just two of many creative considerations for the Chipotle Mexican Grill and CAA Marketing teams during the production of award-winning animated film "The Scarecrow." It's the kind of debate CAA's co-heads of creative, Tony Fur and Todd Hunter, say fuels the team's six-year relationship with Chipotle's chief creative and development officer, Mark Crumpacker.
"Animation is an iterative and collaborative process," Fur says. It took a year and a half of weekly check-in calls to get the final film and mobile game. "One of the most enjoyable parts of working together is getting into the discourse of, 'Does this work matter? Will it matter, and why?' "
As CAA prepares the next chapter of Chipotle's "Cultivate a better world" story, those questions hang heavier than ever. The brand's "Food with integrity" message has come under fire of late, following the biggest crises in its 23-year history.
Last year, the fast-casual dining chain was hit by a series of E. coli, Salmonella and norovirus outbreaks that, according to public health officials, sickened nearly 500 customers across the US. Restaurants were temporarily shut down. Chief executive Steve Ells apologized and put new safety measures in place. And a whole lot of free burritos were given away.
Back to the start
Now, after a tactical campaign aimed at driving people back into stores, Chipotle is ramping up to tell its "Cultivate a better world" brand story again. In a campaign expected to break this summer, the chain, which prides itself on sustainable sourcing, will continue to provide its unique take on food culture, Hunter says, as it works to "also become the safest restaurant in America." An animated film will show how it differs from rivals, while giving a "historical context of the evolution of the fast-food industry," Crumpacker adds.
The brand has never shied away from making strong statements about the industry. "The food we buy is arguably better for everybody, and that's always been the story we're trying to tell. Sometimes [it's] unpleasant because you're talking about animal abuse or degradation of the environment, so you have to come up with a clever and engaging way to tell it," says Crumpacker, who has a design and agency background. "We do it with artistry rather than documentary-style filmmaking."
Previous films in the "Cultivate" campaign — "Back to the start" in 2012 and "The scarecrow" in 2013 — used animation and music to show the ill-effects of factory farming. CAA's first film for Chipotle, "Back to the start," was inspired by a farmer who caught an antibiotic-resistant infection from one of his pigs. The film, which featured a Willie Nelson cover of Coldplay's "The Scientist," won two Grand Prix at Cannes. "The Scarecrow," set to a haunting rendition of "Pure Imagination" by Fiona Apple, told the story of a scarecrow who sets out to create an alternative to industrialized food production. Among other honors, the integrated campaign won two Grand Prix lions at Cannes in 2014; the film also won a daytime Emmy.
Chipotle first turned to CAA in 2010. "We were on our fifth agency relationship, which had not worked out very well, so I was looking for a different way to do things," Crumpacker says.
The CAA team, led by co-heads Jae Goodman and Jesse Coulter (now chief creative officer at Samsung in the US), began in an unconventional way, with a loyalty program.
Called The Farm Team, it rewarded customers for learning more about where their food comes from. "The idea was to make them evangelists," Hunter says. Invitations given out in stores led customers to an online destination offering inspiration and information.
The activity needed a statement piece, a video that eventually became "Back to the start." Alongside the campaign, CAA introduced the touring Cultivate Festival, bringing food and music together.
"We want to be part of culture by creating culture," Hunter says. Brand and agency share a belief that branded entertainment can change hearts and minds. "That's where we're most philosophically connected, and that's what can build brands."
Entertainment can also help save a brand. Chipotle, though battered, would be in worse shape, were it not for the body of work produced by CAA, Crumpacker says. "The work adds strength to the brand and brand affinity, which is handy when you have an issue like we've had this year, where you are taking equity out of the bank. Our brand has suffered, but it would have suffered more."
---
Mark Crumpacker
Chief creative and development officer, Chipotle
In many advertising agencies, there is a lot of fighting for concept. These guys understand their business enough to know that if we are asking for a change, it's meaningful. They are very smart. But they are also [part of] the entertainment agency. If I worked with a traditional agency, they'd end up calling CAA and going through them to get talent anyway.
They have a very good sense of what is happening and what is topical. They are very plugged in, which is very helpful.
---
Tony Fur
Co-head of creative, CAA Marketing
Mark has always been able to challenge us in a positive way. He asks difficult questions, and a lot of them — all for the benefit of the work. It is never a question of the medium or risk we are taking. It's always about the quality of the work and making sure we are challenging ourselves throughout the process. We always go into the room with the understanding that we might have to start over. That makes it very exciting, and makes us always think and try harder.
It was clear [Chipotle] had an appetite for doing something different. We were eager to do the same. It was obvious that our philosophies about marketing and creating content were very similar.
We have a shared vision in terms of what branded content and entertainment on behalf of a brand can mean for the world.
.
This article first appeared on campaignlive.co.uk.