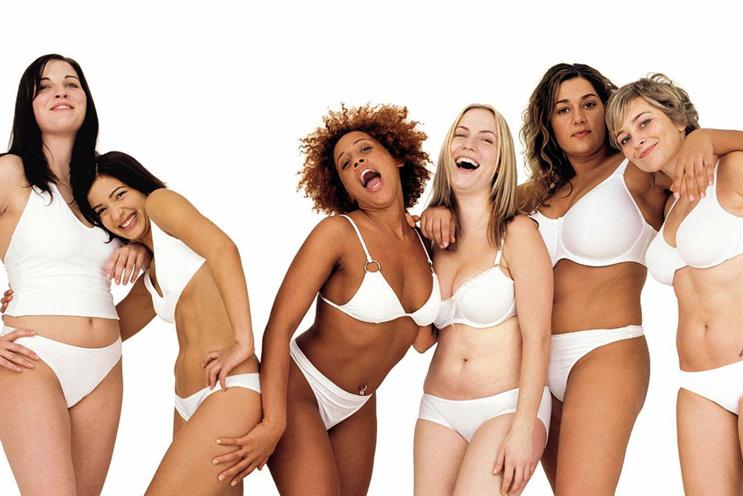 One early ad showed a woman in a bath full of bubbles, while on the telephone. "I'm head over heels in Dove!" read the copy.
Tham Khai Meng, O&M's co-chairman and worldwide creative director, says: "After a tour at the Dove plant in Indiana, [Ogilvy] summed up the explanation of the product he heard from the folks there, by saying 'So Dove is a quarter moisturising cream?' They agreed, apparently, and this line has stuck ever since."
Today, the brand is known for much more than its ability to keep a woman's skin smooth and supple. Dove still touts its ingredients on its packaging, but is now as synonymous with "Real beauty".
For the past 12 years, Dove has led a cultural conversation about the definition of beauty that has made the brand a global leader in personal care and its advertising a "gold standard" for marketing to women.
Dove has built its modern brand with provocative advertising that combines social responsi-bility and brand marketing. Early ads in the "Campaign for real beauty" plastered billboards of women in white underwear in cities around the world in 2005. The theme has evolved: last year's "Choose beautiful" film asked women to walk through doors labelled "average" or "beautiful", based on their perception of themselves.
"Dove is committed to making beauty a source of confidence," Steve Miles, the executive vice-president of Dove at Unilever, says. "As you go around the world, you see many cultural factors that have turned beauty into a source of anxiety for women. Our job is to show that it needn't be that way."
The brand mission was set after a global report prepared by academics, including Susie Orbach, author of Fat is a Feminist Issue, revealed that only 2% of women worldwide considered themselves beautiful. Dove, then led by global brand director Silvia Lagnado, found its purpose – to "democratise" beauty.
Dove's "Campaign for real beauty" began in 2004 with the thought-provoking "Tick box" series. The ads featured portraits of real women and asked consumers to choose between adjectives such as "oversized" or "outstanding". The next year, "Tested on real curves" provided the platform's defining images (below), when six women, pictured in their underwear, were cast to test and advertise the brand's "firming" line.
The brand's challenger-voice gained momentum in 2006 with the news-making "Evolution" ad. The 75-second film illustrated the unrealistic commercial depiction of beauty through a woman's dramatic metamorphosis from "ordinary" to "supermodel".
Promoting the Self-Esteem Fund, which was established alongside the "Real beauty" campaign, the ad received more than 2 million views in its first two weeks online. It was one of the industry's first big viral hits and won two Grand Prix Lions at Cannes in 2007.
A popular follow-up film showing a young girl bombarded by media, "Dove onslaught", furthered that message.
However, the campaign's most explosive production came in 2013, with a film that showed women are more beautiful than they think by comparing portraits created by forensic artists from women's descriptions of themselves with others drawn from descriptions by strangers. Among its many accolades, the evocative film won 19 Cannes Lions, including 10 Golds, a Titanium Grand Prix and a Creative Effectiveness award.
"Dove hit a cultural sweet spot," Tham says. The three-minute video received 200 million views, "which means the total watching time for this video alone is 1000 years," he adds.
The outcome, however, wasn't immediately apparent when it was first presented. "I had no idea how it was going to be done or whether what was suggested would work; nor did Ogilvy," Miles admits, explaining that working with real people on unscripted concepts brings an uncertainty to his job. "We were prepared to take a risk."
Bravery and trust
The agency and brand teams are comfortable sharing their doubts, Andre Laurentino, O&M's global executive creative director on Unilever, says. "If you know everything about an idea and how to execute it, it often means it's been done before," he adds. "It pays to be brave."
Ultimately, trust prevails, Miles says, and the risks are rewarding. "Dove has grown its global market share consistently for six years. Communications and being a brand with purpose are integral parts of that," he argues, noting that Dove has steadily rolled out the campaign in additional markets and now runs Self-Esteem Project workshops in more than 100 countries. "The fact that we are still doing this after 12 years is empirical evidence that it must be working for us."
The cultural landscape is also changing. More-recent studies put the proportion of women who think they are beautiful at 4%, while brands such as Procter & Gamble's Always have joined the discourse with their own messages of empowerment.
"I'm happy that more brands are doing this because it's more likely that social change will happen," Miles says. "At the same time, it is a spur to us, to not be complacent. Competition is always a good thing."
---

Steve Miles
Executive vice-president, Dove, Unilever
What do you look for in any human relationship? Someone you trust. Someone who understands you. Someone who shares your values.
Great agency relationships feel like that, too.
I feel very fortunate with Dede, Khai, and their teams. Being candid with each other – as we are – comes from respect: a feeling that you "owe each other the truth", however hard that can feel, because anything less than that would be disrespectful.
We share a commitment to, sometimes ruthlessly, high standards because we believe that's how you get the best out of each other and how you stay ahead.
I learn a lot; I've always sought to work with diverse and stimulating people who bring me different perspectives and keep us all from complacency.
I like the fact that our conversations have space for humour: we take Dove's mission very seriously but we don't take ourselves too seriously. That's what I get – and what I enjoy.
But at the end of the day, these relationships are only "great" when they produce outstanding work for the brand: ideas that move and inspire, not just rationally convince. Without that, you can have all the fun you want – but it won't be a "great agency relationship".
---
Tham Khai Meng
Co-chairman and worldwide creative director, Ogilvy & Mather
Andre Laurentino
Global executive creative director on Unilever, Ogilvy & Mather
In 2007, after we bagged two Cannes Grand Prix for "Dove evolution", and sales shot through the roof, people thought it was a one-off.
Five years later, the results from this strong collaboration were undeniable, as Dove and O&M created one of the most successful, iconic and talked-about campaigns of the century.
Steve not only shares our creative ambition, he fuels it. He demands and buys innovative work – nothing less. Having a client this open-minded removes a lot of constraints, but at the same time it adds a certain pressure – in a good way. He can spot a great idea when he sees one, which is a prerequisite to fresh work. So we trust his judgment. From there, we challenge the work and go to the edge.
Steve is not afraid to experiment and learn. He and Fernando Machado [the former vice-president of global brand development for Dove] asked us what exactly would happen in the social experiment with "Dove beauty sketches".
We replied: "We don't know precisely, but we know the idea will work, and the only way to truly find out is to do it."
He and Fernando said: "Well, let's go and do it." Such a partnership can only exist when there is trust.
The other great thing is Steve's mind is more than capable of holding two opposing thoughts together. This helps us arrive at ideas that appeal not only to the heart, but also the head. He pushes us to new places. That isn't to say they are easy to get to, but we know the best beaches lie at the end of the most challenging roads.