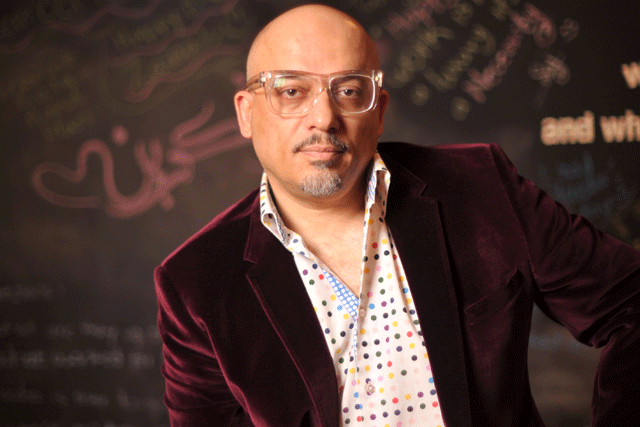 Desert: Looking at it from a distance, the desert looks empty, static and dead. Upon closer view, one discovers a richness of life and diversity. The daily transformations of the sand dunes take place at a very subtle pace that we barely notice, while deep inside it hides a wealth of water and oil.
This is our desert and this is who we are. It may seem that we all wear the same white ghetra on our heads and the women wear the monotonous black veils - but look closer, discover our diversity. We may sound the same - but listen carefully, listen to the cry for identity.
The oil-rich deserts of the Arabian Gulf have given rise to one of the wealthiest regions of the world. Here, we have excelled in adopting all kinds of global brands, but have failed to produce any brands of our own that have penetrated global markets. This deficiency has a lot to do with design and creative communication, which are two of the most important pillars in building global competitive advantage.
Design and creative communication derive their life force from a well-defined cultural identity. In a region such as the Arabian Gulf, where the vocabulary of the contemporary cultural identity is behind closed doors and not well-understood and identified, and where 99 per cent of the creative industry is being run by expatriates, it becomes almost impossible for an indigenous creative movement to emerge - hence no competitive advantage, no global brands.
In the conservative societies of the Arabian Gulf, to be local is to be ... local! In 2009, we decided to be just that - launching DarOtakwin as the "local Gulf Cooperation Council agency" with a majority of local talent to start an indigenous creative movement and design school of thought.
... and the Earth:
There is a revolution of consciousness in the world today. A movement towards responsibility and healing that is fuelled by our decades-long guilt of overconsumption. Consumers are "the people" now, and they are looking to share power with brands - the power to change things for the better.
Global brands today are some of the most powerful organisations in the world. In fact, they are more powerful than many governments as they penetrate geographical and cultural borders without restriction. They dominate our physical, cultural and mental space. However, this power is being questioned. As consumer consciousness advances, we start demanding more for our loyalty. Your product will have to contribute some value to society and "the people" are interested in your contribution to goodness and prosperity.
Marketers are being challenged to go beyond the eye candy and the creative media cocktails and invest their extensive budgets in authentic, value-adding vehicles for the socioeconomic, cultural and environmental sustainability of their local communities, and the world as a whole. This movement redefines the role and structure of the creative agency.
Not only are the lines between the various disciplines in the comms industry blurring, such as in branding, PR, advertising and digital, but, more importantly, the lines between Madison Avenue, Hollywood and Silicon Valley are blurring too. We are in the branded entertainment and content age (or should we call it the branded creative industries age?).
The new agency executive is a creative producer who can work across many disciplines to produce unprecedented content. Not just internet videos, video games or apps, but theatre, festivals, agency-conceived products and services, and whole new concepts that we haven't even begun to imagine.
There may not be a creative award category for it yet, but I assure you that creative works of genius will always be seen.
Agencies will not get away with safe client-maintenance policies any more. They're going to have to take risks and venture where no agency has gone before. The award-winning work of Droga5 is a great example of the effectiveness of such unconventional approaches.
In January, we threw off the shackles of the past and restructured our agency to create a hybrid between a management consultant, a creative producer and an integrated media innovator. We also took the bold move to refocus our brand from DarOtakwin to DaDeDo...
embracing a "brave, fluid and authentic" tomorrow. Please allow me: earth, meet desert ... desert, meet earth.
I believe creative minds can change the world. Our world - and our local communities - face baffling new challenges for which the old models employed by development consultants no longer work. We need to call up "the crazy ones, the round pegs in the square holes", who are accustomed to starting from a blank page. It's time to change the world.

Faeq Alolaiwat is the chief executive and creative officer of DaDeDo
At a glance
Founded: 2009
Principal: Faeq Alolaiwat, chief executive and creative officer
Staff: 27
Locations: Abu Dhabi, Bahrain, Oman, Qatar
Favourite digital campaign of 2012: Kony 2012. Compelling storytelling technique using digital media to inspire a global audience to view, share and act
Learnt anything new lately? The line between imagination and reality is also imaginary