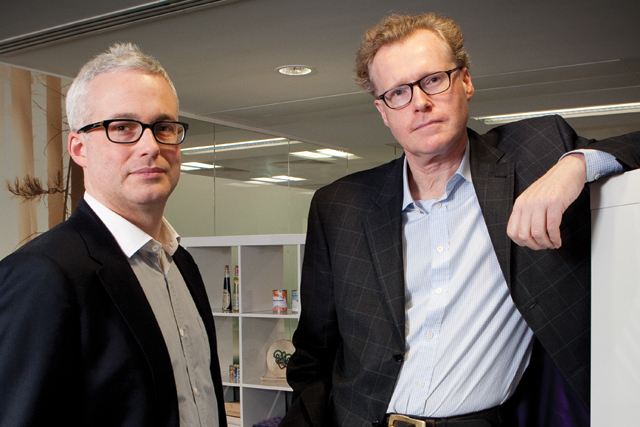 Dealing with change is always hard. Especially when what has changed keeps on changing. The landscape around us is forever in a state of flux as technology evolves to have a more deeply integrated and more meaningful impact on our lives. But people are still people. New technology has simply enabled normal human behaviour to be amplified to a previously unimaginable scale. Emotional ideas still resonate and motivate people.
(Mad Men spoiler) Adapting to changing culture and technology is nothing new for agencies. In series five of Mad Men, Don Draper is out of sorts. His mind isn't on the game and the younger folk are the ones coming up with the ideas. He struggles with the music and references that they're suggesting. But, ultimately, he catches up by applying his understanding of people and communications to the new context that surrounds him.
So, yes, agencies need to adapt to stay relevant. And they need to adapt to being fundamentally more adaptable. Change is constant. Evolving simply to catch up means you'll be outdated again within an incredibly small amount of time. But a lot of what we know and do will stay relevant. The creativity, the ideas, the understanding of human motivation will remain. Of course, these fundamentals must be viewed through the lens of the digitally integrated world, rather than that of Mad Men.
For ongoing success, agencies must focus around balancing these two issues – making sure they are constantly embracing change and also not losing sight of the time-proven fundamentals.
Culture is critical to any business. We believe that agencies should heed what Jack London once said: "You can't wait for inspiration. You have to go after it with a club." We gather good ideas from anywhere and everywhere. We encourage people to hunt and share the awesome they stumble across via our blog Interestingness. We treat creative as a discipline, not a department, frequently briefing the whole agency on projects. People actively seek out lectures and other learning opportunities - in the past 12 months, we've heard from Seth Godin, Henry Jenkins, Mark Earls and Dan Ariely, in addition to secondments to the Squared (Google and Hyper Island) programme. We've been to China, Brazil and the US on fact-finding missions. People come back bubbling with ideas that help shape our approach for clients such as Avios and Amazon's LoveFilm.
Being at the forefront of technological development is critical. We have spoken many times about the special relationship between creativity and technology, with each nurturing the other. MBA has fingers in many pies here - we are a founder of The Bakery (the IPA-backed tech accelerator programme), we participate in the Marketing Society/Seedcamp programme and we are involved with the Government's Technology Strategy Board. We attend events where captains of industry and technology entrepreneurs reveal their secrets. The sum of this is being able to inspire our clients with both novel ways of iterating existing ideas and also new types of ideas. For example, we helped our client Embraer Executive Jets develop a spectacular globe with touchscreen technology for use at air shows that shows the ranges of various jets taking off from specific airports.
Agencies must harness the talents of the next generation – they are already digitally integrated. Soon, people coming our way will have lived their conscious life with Facebook and smartphones. We're actively involved in finding the best young talent that is out there and nurturing them to be brilliant. This is not only traditional graduate recruitment and making the most of the various creative apprentice programmes that are available, but also by creating our very own #ideacademy. This is a global search with a rigorous 24-hour "ideathon" (with several industry leaders in the judging panel) that will lead to a paid internship.
At the same time, we are retaining and nurturing core skills – those fundamentals that allowed Draper to catch up again. We must continue to make an emotional connection with our audience. And we must continue to find ways to encourage them to change behaviour. We must continue to deliver Brand ActionTM. To do this, we're structured around a principle of "architects and developers". The former have "renaissance" minds, able to think broadly across disciplines to solve problems. The latter are specialists in specific fields and able to craft an idea brilliantly.
Agencies must balance the fundamentals of our business (the ability to create emotional connection through creative ideas, the understanding of people and delivery of appropriate content) with the necessity to constantly evolve to stay at the top of their game. At MBA, our way of achieving this is through a learning culture, a cutting-edge understanding of technology, investment in youth and a structure that gets the best from people. We're a creative agency for a digitally integrated world.

James Devon is the planning director and Stephen Maher is the chief executive at MBA


At a glance
Founded: 1994
Principals: Stephen Maher, chief executive; Graham Kerr, chairman and executive creative director; James Devon, planning director; James Middlehurst, managing partner; Paul Munce, managing partner
Staff: 45
Locations: London, Miami
Favourite digital campaign of 2012: Heinz "get well soup" is charming, especially because it spans the digital/real boundary
Learnt anything new lately? The wisdom of years still applies in today's (and tomorrow's) digitally integrated world