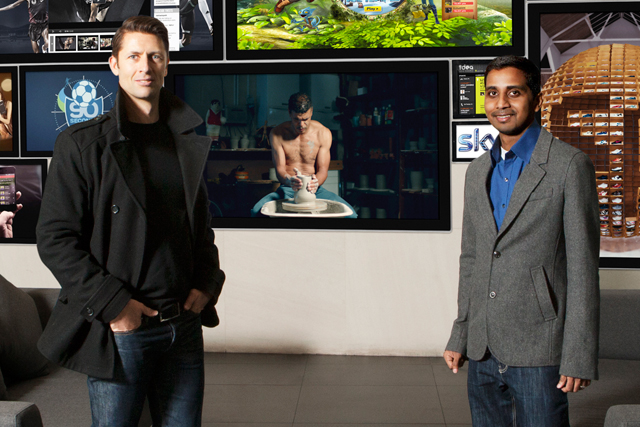 There was a time in history when families and friends would gather around the warm glow of a fire to listen to stories. Fast forward a few thousand years and, in our own lifetimes, tribes of people have gathered around a different kind of warm glow to listen to stories - the warm glow of their TV sets.
This phenomenon enabled people in their millions to soak up the entertainment of choice and, in between, listen to brand stories told in 30 seconds. An entire industry exploded around this highly specialised art form of telling a brand's story in 30 seconds, which, in turn, ignited the successful businesses of media agencies and research companies.
Not surprisingly, the success of these businesses attracted businessmen, who set up holding companies with the purpose of maximising the combined profit from all the individual pieces of the pie that made up the advertising industry.
And then the needle jumped. Digital happened. All of a sudden, we could play something called Pong on our TV sets; we could "time-shift" content; skip the ads, press a red button for more info; take our favourite content with us on a mobile device; write, film or photograph our own chapters and add them to the story; share our opinions; rate things online for all to see. We could even find out whether the "story" was merely that, or if it had substance. And all this happened, the whole 0-60 of the digital age, in just a handful of years. It's as if we blinked and dozens of different planets collided, scattering tribes all over an entirely new landscape.
Thanks to "digital", today we are living in a different world. Tablet sales are through the roof and "couch commerce" ain't far behind. Mobile connections to the net rival desktop and around 30 per cent of Brits did Christmas shopping online this year. This is an anthropological shift unlike any before and we're in the thick of it. We experience brands as much through the hours we spend online at home, on our desktops at work, via mobiles on our way to wherever's next, and even in retail spaces. It's all connected and it's always on.
So, where does that leave the art of telling a brand's story in 30 seconds? It seems to have been reduced to story-yelling - relentlessly pushing out the same one-way 30-second message from as many angles as there are channels, as if nothing had changed.
Meanwhile, born in that moment when the world blinked and everything became digital, SapientNitro is of a new breed. SapientNitro is an "agency", sure, just not as you know it. It's one with a deep understanding of the entire landscape across which consumers run free today with their connected devices and how they interact in each moment. We begin in a different place and so our clients' stories find themselves connecting in different ways, at different times and in different spaces too.
We call our unique approach "storyscaping". At its heart sits a central thought that organises how a brand's story plays out in the moments most relevant to today's consumer.
From this organising idea, we literally construct a brand's story across the emotional, virtual and physical landscape so people can dip in and out, jump on and off, add to, share and draw from as they wish. In a storyscape, the full stop is a dead end, while the comma opens up new pathways to create ongoing brand journeys.
The challenge brands face today is that, if they truly wish to engage with consumers, adjusting the aerial or ratcheting up the volume just won't cut it. Today's consumer landscape requires a fundamental shift in how brands share their stories. It's about ensuring a brand can land sparks wherever consumers are, whenever they are there - illuminating, engaging and enabling them to enjoy the story. By building on the foundations of storytelling to create an appealing experience for consumers, storyscaping allows businesses and brands to take the resources they have and focus their energy on creating a truly connected consumer experience.
This is not a subtle shift beyond last century's business of ending a brand's latest story with a full stop. The shift to a comma is a world apart; one where the old-world order presided over by holding companies and broadcast media deals looks increasingly antiquated and out of step with consumers. In contrast, today's independent agencies, operating without corporate or delineated boundaries, are freely blazing trails across this new territory to redefine how brands connect with consumers in this hyper-connected, always-on world. Welcome to the age of storyscaping.
Malcolm Poynton is the chief creative officer and Nigel Vaz is the senior vice-president and managing director of SapientNitro Europe


At a glance
Founded: 1998
Principals: Nigel Vaz, senior vice-president and managing director, Europe; Malcolm Poynton, chief creative officer, Europe
Staff: 1,474 across Europe; 7,000-plus globally
Locations: 31 offices around the globe including Cologne, Delhi, London, Los Angeles, Melbourne, Miami, Milan, Moscow, Munich, New York, San Francisco, Sao Paulo, Shanghai, Stockholm, Sydney, Toronto and Zurich
Favourite digital campaign of 2012: Curators of Sweden, in which a different Swede is given control of a VisitSweden Twitter feed each week
Learnt anything new lately? More and more clients are seeing the need to move beyond the traditional above-the-line world, where every ad ends with a full stop, and are instead seeking agencies able to use a comma, continuing the story across an always-on, omnichannel world