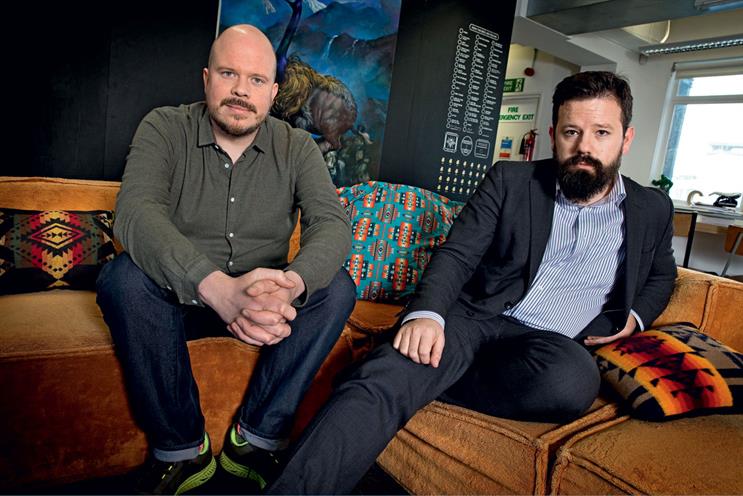 Ideas that genuinely change behaviour have always had cultural impact – from Guinness surfing its way into a never-ending stream of I Love The '90s-style clip shows to Jaws nearly destroying a nascent scuba-diving industry in 1975, great ideas and stories have the power to change culture on a fundamental level.
So that's what we do. We come up with stuff that has an impact on culture because that impact leads to commercial success quicker, more cheaply and better.
At a glance
Founded 2011
Principals Dan Shute, managing partner; Ed Warren, strategic and creative partner; Ben Middleton, creative partner; Stu Outhwaite, creative partner
Staff 42
Location London
Tell us your favourite smartphone apps Madden NFL Mobile, Crossy Road or, possibly, Moment – an app that tells you exactly how much time you're wasting on your smartphone
What's the biggest issue for marketers? That nobody really cares about marketing
At Creature, we believe that the traditional agency animal is now poorly adapted to the modern landscape; we think it's time for a new Creature.
(Sorry. To traditional agencies. Not for the pun. We love a pun.)

Start with the problem
Einstein once said: "If I had one hour to save the world, I'd spend 55 minutes defining the problem and five minutes defining the solution." If Einstein had been running a big network agency, he might well have added: "But, let's be honest, that solution will almost certainly involve a TV spot because I've got 25 TV producers, and sushi and Chardonnay don't pay for themselves."
(We're kidding, obviously. Einstein would have been a digital guy and he would have said the same, only about mobile apps, developers and Red Bull/Monster Munch.)
Because all our production is outsourced (that's right, procurement people – ALL OF IT), we are free to focus on the problem first and then worry about the best way to solve it.

From full service to all the services
We don't believe "full service" is the future; when everything's sitting under one roof, your job becomes selling those services rather than solving your client's problem. We are our clients' strategic and creative partners, working out what the best thing to do is (without worrying about our sushi/Monster Munch bill), and then leading a team of agencies and specialists to deliver it – whatever "it" may be.
It may sound wanky, but we think conceiving an integrating thought that sits behind everything is much more powerful (and fun, and efficient) than doing everything in the same building, which is what integrated often ends up meaning.

We're not collaborative
That "partner" word is important. Traditional thinking teaches us to keep the client out of the creative process because they will only fuck it up, right? Stupid clients. But (sound the revelation siren) good clients tend not to be stupid, and the best work comes from mutual trust and respect.
So, no, we are not collaborative; we just work together. Clients sit in our creative reviews, tissue sessions are working sessions… There are good brains in marketing departments, and we would be idiots not to use them. We will take "shared eureka" moments over "ta-da!" moments any day of the week.

Of course we make stuff
Smart, rich ideas are brilliant – but ideas will only get you so far. At some point, you have got to put your money where your mouth is and make something. And that's where our network comes in.
Without people to make stuff, we are just a bunch of idiots ideating in Shoreditch; fortunately, since the day we opened our doors (and, arguably, for years before), we have been proactively building a network of people who are best-in-class at doing stuff – whether that is making a TV ad, building a website, producing a play or getting Underworld on stage at Abbey Road Studios for Carling. Best-in-class craftspeople don't work in agencies; because working in an agency means working on OK stuff with a high margin, waiting for the perfect opportunity to come along. The best craftspeople are out in the world, working on the perfect opportunity all the time: we work with them.
Being creative is a privilege
If we are going to call ourselves a creative company, we have to earn that title – real creativity needs to be proactive as well as reactive. To put it another way, we shouldn't need a creative brief to come up with something brilliant.
We like to think of Creature in three ways: as an agency to our clients; as an agent to great ideas we encounter through our network; and as the author of things we just make for us. The three As, if you will. (You have to have a three-letter acronym if you want to be an ad agency, otherwise the bigger boys won't let you in the club.)

A new Creature
To put it in human-speak, we're here to make things that people want to talk about, whether that means great ads, great campaigns or something else entirely. Whatever we make, cultural impact is the intention.
---
Ed Warren is the strategic and creative partner and Dan Shute is the managing partner at Creature of London