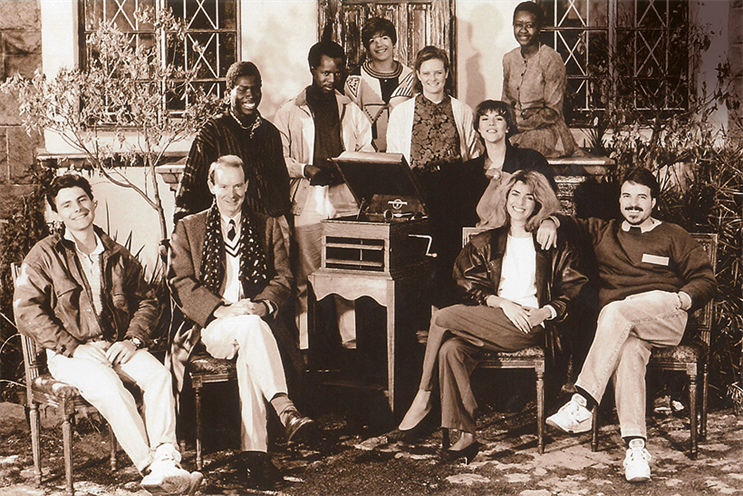 Most of this publication will be filled with writers skilfully communicating the attributes that make their agencies (or at least their perspectives) unique.
In this, the tenth consecutive appearance of The Jupiter Drawing Room, I would like to do the opposite.
I'd like to concentrate on the one thing we have in common.
This is, after all, a publication that celebrates a particular type of agency, one with a very special gene in its DNA, one that perhaps all of us, including clients, sometimes overlook.
Entrepreneurship.
It takes a particular personality type to wish to start an agency.
I have always admired Antoine de Saint-Exupéry's wise words: "If you want to build a ship, don't drum up the men and women to gather wood, divide the work, and give orders. Instead, teach them to yearn for
the vast and endless sea."
As entrepreneurs, in all of us, there was the relentless yearning to build something from nothing, a primordial urge to break free of the herd, to shun the safety of the pack, to favour the chance to run and be free.
Some think us insane to leave the comfortable corner offices of opulent agencies, take a salary cut and put everything we have on the line – even the roof over our families' heads. To lose the infrastructure, the international travel, the subscriptions, the automatic awards attendance and the generous awards-entry budgets. (Come to think of it, leaving all that behind does sound pretty crazy.)
Suddenly, everything we used to take for granted is gone. We find ourselves standing in an empty warehouse space, with that heady mixture of defiance and determination, ready to take on the world.
We launch our own independent agencies.
Simultaneously, we become HR experts, bookkeepers, receptionists and everything in between.
If you're very lucky (and we were very lucky), you wake up one morning and find you have achieved something that makes it infinitely worthwhile.
For us, one such day came when, based on awards won, Advertising Age's Creativity Survey ranked our tiny agency from South Africa as one of the top five most creative agencies in the world.
I'm sure we will all have our own views on the joys of entrepreneurship. Twenty-six years on, here are some of mine:
1. Create your own brand
Having spent time building brands for clients, you finally have the chance to create your own. You can choose to name your agency after the founding partners, or you can completely break with tradition. I chose to name The Jupiter Drawing Room after a room in a bordello in a Guy de Maupassant short story – that's how much freedom one has!
2. The right space
You also have the chance to create the environment of your choosing. We chose to distinguish our agency by gracing it with antiques and Chesterfield sofas, including a very special one that once belonged to Sir Winston Churchill. As one of the world's great agencies declares: "When the world zigs, zag."
3. The breadth of your vision
However, the name and environment will never be more important than your vision and your culture. What you say "yes" to and, as importantly, what you say "no" to.
4. A guiding motto
Does your agency have a guiding motto? Jupiter's is: "Rem tene, verba sequentur", which means "Grasp the subject and the words will follow". It conveys our belief in the importance of doing our homework.
5. Build a company or build a family
If, like us, you choose to build a family, you must be ready to take on the emotional demands that involves. But, in my experience, when you are there for your staff, your staff will be there for you. On the imposing staircase of one of our offices, a large mirror imparts this thought… "Jupiter is like a great mirror. It reflects back what you are; if you are kind and generous and true to Jupiter, Jupiter will be kind and generous and true to you."
6. Learn from your mistakes
If you didn't get an MBA or study business management prior to starting out, you tend to learn as you go. It's okay to make mistakes, just never the same one twice.
7. Doing good
You can decide that you want to have three pro-bono clients or 33. If there's a cause that you feel strongly about, it's satisfying to know you can galvanise the talent you have recruited and do something that makes a difference.
8. Talent
You can also decide whether you want to be an agency that buys talent, or an agency that grows it (we chose the latter).
9. A long-term commitment
Entrepreneurs are vested. We're not paid a salary to be managers or creative heads, with the option of jumping ship when the recruitment company comes knocking. We're in it for the long haul and clients should see the value of that for their businesses.
When The Jupiter Drawing Room went to London to receive Barclays Global Supplier of the Year award, I noted that it was recognition we could not have won unless we'd been working on the business for a number of years (seven in fact). I'm not sure how many procurement departments care an iota about this, sadly.
10. Commercial savvy
We understand the business of business: the importance of growth, motivating staff and building a brand. Entrepreneurs are a great deal more attuned to the imperatives of running a commercial enterprise, rightly placing more value on growing revenue than cutting costs.
11. Beware the cult of awards
For 20 years, Jupiter worshipped at the high altar of creative awards. Then we woke up one day and found that instead of two categories at Cannes, there were 24. That instead of being able to compete with a modest budget in a third-world currency, we were unable to get close to the global network agencies, one of which reportedly entered the same piece of work in 55 different categories at Cannes last year! So, today, we look for something beyond awards to differentiate our offering.
12. Agency building benefits clients
As entrepreneurs, it's unlikely you opened an agency because you thought you could make easy money. Time and time again, I've seen entrepreneurial agencies, keen to build their names and reputations, invest time in briefs that are not justified, if calculated on a ghastly hourly-fee basis. Lucky clients.
13. Create more than money
I'd like to believe we entrepreneurs strive for something more than next quarter's forecasts. Making money was never our primary focus, yet 20 years after starting out with three staff and one client, our agency achieved a valuation of over US$50m.
Hopefully, you too can look back on your agency journey to date with tremendous affection. I find it hard to believe that it's been 27 years since our first annual photograph. The years have, as Meet Joe Black's William Parrish (played by Anthony Hopkins) observed in his birthday speech: "gone in a blink".
Emails from former "Jupiterians", fondly recalling their time at the agency, gives one a special sense of accomplishment. It's nice to know that, even when they've left, they've never really gone.
When our Cape Town office celebrated its 21st birthday, it hired the magnificent old Cape Town City Hall and invited back every person who had ever worked at the agency. So many showed up. Some flew in especially. There were those who now had agencies of their own, while others were heading up international network agency offices. It was a very special evening.
It reminded me of the one thing that's true for all of us.
Life comes along but once, and the years quickly pass. But, as entrepreneurs, we are given that
rare chance to make our mark on an industry, on the lives of the people we employ, on the client brands we serve and, on occasion, on the lives of the people our work touches.
Strangers will meet at your agency and become dear friends. Others will fall in love, marry and have children. Imagine that: the empty warehouse space, where once you stood with a pocket full of dreams, paved the way for other people's dreams, some of which will last a lifetime.
If you are kind (a trait much admired by the late Bill Bernbach) and willing to mentor, you can take pride in a new generation that you have helped inspire to "yearn for the vast and endless sea".
And the cycle begins anew.
Evolution dictates that it's not the strongest, nor the most intelligent of a species that survives. It's the one most adaptable to change.
As entrepreneurs, we must use the freedom independence brings to drive change. We have a duty to lead, not follow. Our ships should always
be the first to leave the harbour.
At Jupiter, it is no longer enough to build brands for clients. We are now building our own brands (without a procurement officer in sight).
As entrepreneurs, that too is in our DNA.
At a glance
Founded: 1989
Principals: Graham Warsop, foudner and chairman; John Warsop, managing director, Africa;Kevan Aspoas, chief executive officer, The Jupiter Drawing Room Cape Town; Denford Magora, chief executive officer, South East Africa
Staff: 200+
Locations: Johannesburg and Cape Town, South Africa; Harare, Zimbabwe; Blantyre, Malawi; Lusaka, Zambia; Port Louis, Mauritius
Above left, is one half of a dilapidated 19th century Chesterfield sofa.
It is the settee Sir Winston Churchill had in his private Whitehall apartment during his second term as prime minister. After purchasing it at auction and having it meticulously restored to its former glory (above right) our total expenditure was £16,500. When news of its provenance and painstaking renovation was released, it yielded an unsolicited offer of £24,500, which was declined.
All of which proves two things: First, the wisdom of investing in a strong brand (we believe people can be brands, every bit as much as products can). Second, a valuable brand commands an enormous premium. Enduring brands do not lose their value. So a wreck became an heirloom, an expense became an investment and a historic piece of furniture, destined for a skip, was restored for future generations. A victory for branding, one might say.
---
Graham Warsop is founder and chairman of the Jupiter Drawing Room (South Africa)