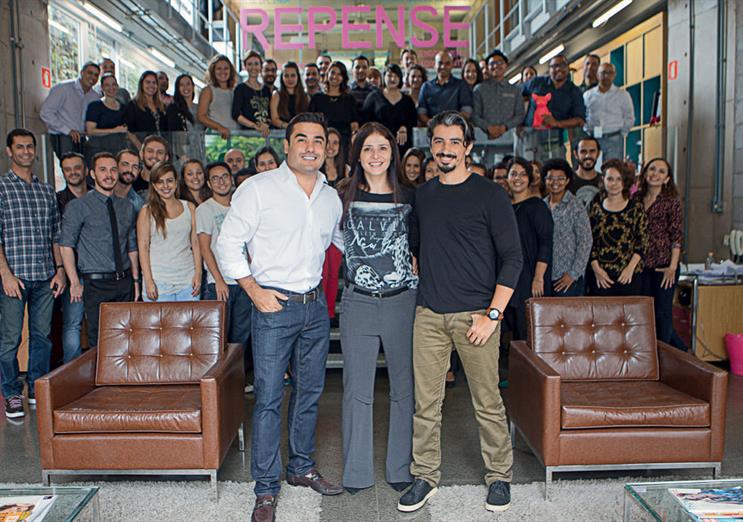 Will today's agencies still be around in 2050? The agency business model is changing dramatically all over the world; to face the future, we must adapt ourselves to the vast technological, media, social and environmental changes the world is undergoing. The challenge for agencies is to balance high standards in planning, media, creative and production work with the ability to innovate through collaboration with external partners, established brands, start-ups and even government and non-profit organisations. All of us should be truly committed to changing the world – and people's lives – for the better.
Direct and digital DNA
Our market is very competitive; advertising agencies in Brazil are very creative and powerful, but most of them are still focused on mass media. Repense found its place as a truly 360-degree agency that brings direct and digital marketing together with advertising and content. Brands shouldn't look at direct and digital as "below-the-line disciplines" any more, but as strategic and transversal disciplines that must be part of everything we do.
Brand essence, brand image, brand activation and brand reputation
Every brand should have a purpose. And the purpose should be reflected in its positioning and truly delivered in every point of contact with every stakeholder. It should be part of everything brands say or promise, but especially in everything they do. Customers are looking for truth and consistency, so agencies must have a planning methodology capable of aligning and integrating all communication disciplines, so the brand can really have one – and only one – voice.
Collaborative creativity
We are living in a new era, where people and companies will partner and collaborate more and more. Successful campaigns are showing us that, in order to deliver integration and innovation, it is crucial to work with professionals from different backgrounds: from traditional advertising to digital and direct marketing, from content marketing to cause marketing.
Rethink, reinvent
It is time to reinvent communication – detached from the past and traditional media, having confidence in the strength of great ideas, whatever the communication discipline. It is time to understand that a brand manifestation can happen anywhere and any time, and can evolve from very small and simple efforts to complex and huge investments. And, for good or bad, sometimes the small efforts can be more powerful and effective than the expensive ones. Communication has gone beyond the advertising industry for good – it's time for agencies to understand that.
A rethinker network
Agencies will undergo a shift: from creators to curators and integrators. Knowledge, innovation and inspiration come from outside and are not limited to agency or clients. That's why Repense created a network of best-in-class professionals from different segments – the creative economy, research, human development and urbanism, among many others – to spread content and build projects and business solutions.
Citizen brands are more likeable
Brands should be part of cultural changes and assume responsibility for building a better world. Brands can help cities to become better spaces to live in. New research shows that helping to improve the quality of life of consumers can be more powerful and effective than good advertising. Share of heart is difficult to measure, but is certainly more remarkable than share of mind. Brands should help people, cities and countries, partnering with governments and non-profit organisations, as well as other brands. This is the new way.
Small is beautiful
Clients want agencies to be an extension of their team. Dedicated team cells can bring much more proximity and depth to the account, planning and creative teams. It doesn't matter how big an agency is. Clients want the feeling, proximity, speed and commitment of the "small agencies".
Measurement and return of investment
Digital tools take the possibilities of measurement to a level no-one could have imagined years ago. Performance media is challenging traditional media and creativity. Instead of being afraid, agencies should embrace them and become part of this movement, finding ways to integrate and improve measurement and ROI of every dollar invested by their clients.
---
Otavio Dias is the partner and president at Repense