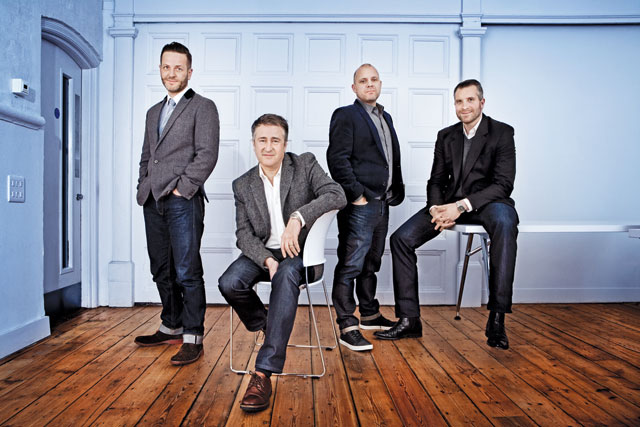 I don't think anyone on this earth would pretend that the world needs another creative agency. According to Ad Age, there are more than 20,000 agencies in the US alone. If you crudely apply these figures on a global basis, the world is selling close to 450,000 agencies to prospective clients and brands.
The accuracy of these figures is not really that important, but I think we would all agree that there are A LOT and it must be slightly bewildering for any client to navigate this particular quagmire. And why, in among all of that, would any client be interested in an independent agency, when presumably Publicis Omnicom or WPP has hoovered up the best ones, or certainly those that are the best run?
We think the answer lies in what we refer to as the "Apple Store Effect". There is a simple reason why there are queues to get through the doors of an Apple Store in your local shopping centre while bigger, more established retailers selling exactly the same products are relative ghost towns. In the complex world of technology, customers crave grown-up sales staff who know their products inside out and who will help make sure you get the best from the products available.
Did the world need another high-street technology retailer when everyone was rushing to buy technology products online? The simple answer is no. But there was a need for a new experience that brought customers and products together in a more modern and interactive way. To deliver that, they couldn't just turn an old shop into a new shop. They had to start from scratch.
Which brings us on nicely to the reason we set up Atomic London back in 2012 and why we think it has grown rapidly to an agency of 42 people working with significant brands as well as big, international clients.
Having worked at some of the world's most creative network agencies, we saw a gap in the market for a new, grown-up agency that could offer clients real and tangible benefits over our network brethren. Not simply through the generic lens of independence affording us to be faster, leaner, more agile and more cost-efficient. To that end alone, it would make us no different from everyone else in this publication.
It's more than that. It's what lies at the heart of what we believe it takes to be a modern creative agency and how to create great creative ideas that actually work across the myriad of marketing touchpoints. At Atomic, we want to create great ideas that don't just get people to think and feel differently, but actually get them to change their behaviour as a result. To do that, you have to combine this obsession with creative effectiveness and a culture, attitude and business model that support making it happen. And it's these principles that lie at the heart of our company:
Obsess about results, actions and behavioural change
That's not just about measuring the success of your campaigns, but about actions and behavioural change being the inspiration for creativity. We expect to have conversations with clients about their business issues, not just their marketing campaign objectives.
Great creative ideas are everything
But making them work across all touchpoints is the only way to ensure they actually shift behaviour. Our creative process helps our ideas connect more emotionally with people. But we don't stop there, we go further, to enable an experience with the brand and give people the means to respond and activate their behavioural change.
Use grown-ups who can conduct, and specialists to deliver
Proportionally, we employ more senior people than most agencies and we focus on hiring experts who help clients navigate our ideas through different marketing requirements. You can never be a specialist in every discipline, but you can appreciate how other disciplines work and help engineer ideas to work across all brand touchpoints.
An uncompromising agency culture to unleash our talent
No great ideas happen without persistence and, sometimes, a fight. We have a simple hiring policy: you have to be passionate about great ideas and be prepared to run through walls to make it happen for your client. This combination of passion and drive is what makes for a healthy client relationship, and we believe it is the backbone of what makes an agency a healthy business.
So are these principles a magic formula for success? Well, we'd be mad to suggest they are. Let's not forget Apple took 15 years to discover a formula that protected it from the bankruptcy courts. Of course, it's early days, but we're attracting some serious brands and clients. Maybe we've tapped in to a universal truth about what clients want from agencies today. What's for sure is we'll have to constantly evolve to be at the forefront of what clients want tomorrow.
---
Jon Goulding and Nick Fox are partners at Atomic London